RELEASED: 14th December 2018
Andy Lee, Conor Lee and Sam
Brother In Charge
Part 29
Well, Conor and Sam might have thought it was all over when they had both got their bottoms soundly smacked not only by their boss, Conor's big brother Andy, but by his irate customer, Mr West.
But this week's new male corporal punishment movie from Straight Lads Spanked, which continues directly from Part 28 in the saga, begins with long-suffering Andy having to break up a fight between Conor and Sam.... and he decides that if they really want to beat seven bells out of each other, they can do it his way - with another good spanking apiece!
He tells the hapless pair that they will take turns spanking each other, beginning with 50 smacks each. Conor is the first to bend over his friend's knee, and Sam seems to take to the task in hand with relish, looking as if he is thoroughly enjoying warming the seat of his mate's work trousers.
After 50 smacks, the lads swap positions and it is Conor's turn to get his own back on Sam.... which he does with a very firm hand that clearly runs in the Lee family!
When Conor has returned the favour and administered 50 smacks across Sam's trousered bottom, Andy tells his brother to take down his trousers and bend over Sam's knee again, for 50 more on the seat of his pants.... adding that he is not to hold back. "Make him feel it!" he says.
With 50 more spanks delivered, Conor is left rubbing his sore bottom while Sam pulls down his own trousers to take his next turn over the knee, as his boss directs Conor on how to proceed. "Fifty of the finest, yeah?" says Andy. "Proper ones!"
There are no prizes for guessing what is the next stage of the lads' ordeal. We all know that in Andy Lee's book, a spanking always ends up with pants down, on the bare bottom! And as Conor removes his underwear, Andy advises Sam: "This is the final battle of the war. Make him feel it!"
It seems that Andy isn't convinced that Sam is making Conor feel it quite enough, though, and he even interrupts proceedings to land a couple of good hard slaps on his brother's bare bottom himself, by way of example.
Finally it is Conor's turn to spank Sam on the bare. "Make your brother proud!" says Andy. And Lee Jnr does exactly that, painting his mate's bottom a shade of red that even Mr X would be proud of.
All's well that ends well, however, and with a slightly awkward bare-bottomed hug at the end, the workmates are finally forced to bury the hatchet. Whatever would they do without Andy to keep the peace? They might both have to sleep on their tummies tonight, but what's a sore bottom between friends!
STREAM
VIDEO
Available streams for iPad, iPhone, Android, Chrome, Safari, IE or Firefox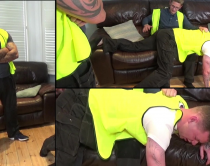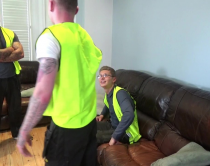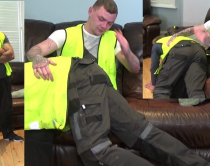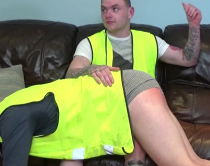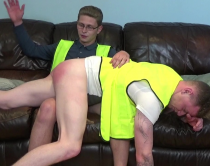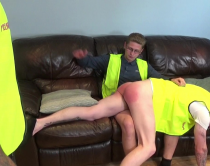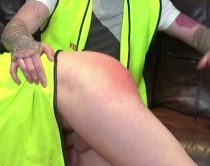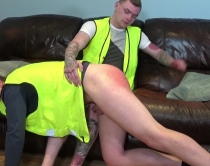 jddavidson61 | 20th December 2018 19:09
To me, these are not my favorite. The boys are fine at getting spanked and spanking but my thing is definitely Dad/Son and domestic spankings. The best videos you make are when they are vulnerable enough to break down over Dad's knee during the spanking,
Reply

mattnyc | 17th December 2018 01:55
I love this latest series in the BIC series. Conor and Sam are the perfect spankees; they're both sexy, great looking, and totally commit to the scenario. Perfect spankable bottoms. Sam isn't quite the natural spanker that Conor is (must run in the family) but he has the biggest, roundest, sexiest bottom so that totally makes up for it. And Conor knows just how to spank. Great job for such a young guy. This would have been a sexy clip without Andy but he makes it WAY hotter. I love how he orders the boys around and smacks his brother's bottom to show Sam how to do it. And I love that he orders them to leave their shorts all the way off for the bare bottom spanking. It's so sexy that the two lads are totally naked from the waist down for that round of spanking. And it seems like it would never have gone that way without Andy's masterful direction. So, thank you, Dave, for another incredibly hot spanking clip. I love this one. More of Andy, Sam, and Conor, please.
Reply

mstr_spkr | 16th December 2018 20:42
Another fine video. Since these two aren't afraid to have their naked bodies touch during a spanking and each can deliver a fine spanking, I think it would be great to see them in a spanking competition, either timed or number of swats per round like this and switch quickly (hence both bare butted) until one quits.
Reply