RELEASED: 13th November 2013
Ben & Karl - The Humilation - Complete Compilation
This movie was originally sold in two parts and is now available in this bonus compilaiton for just $14.99!
This speciall offer saves you $9.99 compared to buying both movies individually!
Part One
The Saga of the Footballers Awards ceremony Continues!
Cocky Ben has behaved very badly! He spiked 18 year old Karl's drink with Viagra and then locked him in the toilets! Karl could not find a way out and was trapped in there all night long! His parents were frantic with worry and called the police!
So Ben has been brought to justice! He was sent to see Mr X (the local community spanker) for punishment! Ben thinks he is a tough guy and reckons a spanking is a small price to pay for the fun of the previous night! He is already over Mr X's knee awaiting his punishment when Mr X introduces the surprise guest. He has brought along Karl to watch Ben receive his punishment!
Ben can't bear it! The humiliation is too much! But he realises he has no choice!
So once again, Ben drapes himself over Mr X's knee to receive his punishment! Ben really struggles and can't stand the fact that Karl is standing there watching and laughing!
Things then take a very interesting turn when Mr X receives a phone call and has to leave the room. Lets just say that Ben soon wipes the smile off Karl's face!!!

""""""More from Mr X! This was a very interesting shoot indeed! It was certainly Ben's toughest spanking to date. This was actually shot just before his birthday spanking. The truth is Ben is in real life a shy guy. He really struggles with the pain of spanking and having Karl there watching was a real issue for him! All adds up to a great movie!"""""""
Part Two
This movie continues from exactly where Part One ends! Mr X walk in to discover innocent Karl over Ben's knee getting his bare bottom spanked!
Mr x rescues young Karl and he is furious! Ben soon finds himself getting spanked again, this time bare bottom and with Karl watching and laughing.
Can the humiliation get any worse for this strapping football player?
Yes it can!
Mr X decides that since Ben aggressively spanked Karl then it would only be fair that Karl gets revenge! Ben can't bear it. He finds himself facing the ultimate humiliation as the older player lies over Karl's lap and gets his bare butt spanked.
Ben will surely think twice before picking on the younger players!
STREAM
VIDEO
Available streams for iPad, iPhone, Android, Chrome, Safari, IE or Firefox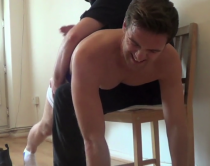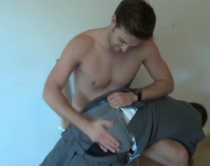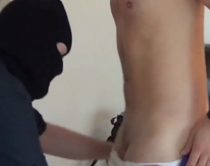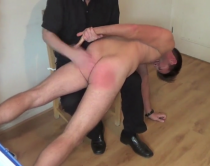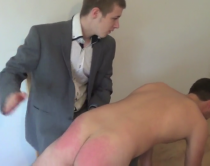 jacko | 5th February 2017 11:43
Part One:
In this movie, Karl's ninth by my reckoning, Ben was a man of few words, perhaps made speechless at the prospect of being spanked in front of Karl. Even Karl's dialogue was restricted. It might have passed as a silent movie if it wasn't for the sound of the spanking and Mr. X's constant banter.

I found the following clever line from a usually humourless Mr. X to be quite amusing. Mr. X is addressing Ben who is guilty of spiking Karl's drink with Viagra. While looking at Karl but addressing Ben, Mr. X says:
"How do you think he (Karl) felt last night? Humiliated! Embarrassed! Locked in the toilets! Missing the ceremony! His drink spiked! In fact the only person who's going to benefit from this is your (Karl's) girlfriend."

In the early stages of being spanked, Ben appeared to be disinterested with hardly any animation. However, when Mr. X left the room Ben suddenly found his voice and the film jolted into reality. But only for a few seconds. After being forcibly dragged across the room, thrown over Ben's knee and spanked, it took Karl more than ten seconds to register any protest. Rather, he lay there motionless, contentedly sucking on his gum like a cow chewing its cud, his only acknowledgement of the spanking being an occasional grimace. As the spanking continued the obvious increase in pain spurred Karl to greater animation and dialogue so that at long last the movie came alive.

For someone who reportedly struggled with the prospect of Karl watching him being spanked, Ben had no hesitation in stripping Karl of his trousers and boxers and slapping his bare backside with considerable energy.

Part one of this movie was very inconsistent both in dialogue and animated reaction although the storyline was innovative.


Part Two:
Amazing how that stud/earring miraculously attached itself to Karl's right ear for only the second part of this movie; similarly, the extraordinary change in Ben's sock colour mid-spanking and Mr.X's clever trick of emptying the contents of his shirt pocket without so much as touching it. Furthermore, I was astounded at the coverage of bristles that appeared on Ben's clean-shaven face over the course of just one session with Mr. X. I won't go on for fear of being labelled a smart arse but I found searching the movie for such continuity errors as these to be an enjoyable exercise. Thanks for the opportunity.

Of course, it wasn't until I read swespanker's query and Mr. X's explanatory comment, that my attention was drawn to these errors. Prior to that they had gone unnoticed. Excellent editing work. Art!

Karl obviously enjoyed his role as a spanker although I found it interesting to compare the power and energy of Karl's strokes in this movie when only an 18-year-old with his authoritative efforts in later movies when he had matured considerably.

When co-stars spank one another, I much prefer that they both be of similar size or that spankings are given over a chair or against a wall to eliminate any advantage.

I have read in the past that some members consider it to be essential for SLS models to have a high pain threshold; able to tolerate harsh spankings without squirming. Personally, it excites me more to see a model like Ben struggling with the pain and producing numerous genuine vocal and physical expressions of suffering. I am not a sadist but I appreciate a movie more if I have proof, in addition to a red backside, that a spanking has been effective. The storyline appears more believable that way. I am not excited in the least when a model is given 36 lashes but reacts passively. I am not turned on by the sight of bruised and severely-marked buttocks. Instead, I am stimulated by a believable storyline and convincing reactions. For that reason I enjoyed the second part of this movie much more than the first.

Thanks for bravely fighting against the pain, Ben. You did very well. Karl, don't let those bullies knock you around without complaining and when you do have a rare opportunity for revenge give it all you've got. I appreciate the effort.

Reply

Domfan | 22nd November 2014 11:05
Love this one too. Ben is so pretty. Love the lingering shots of his cock flopping about while he's being spanked. Karl's laughter adds to the fun of it all, and of course Karl has the perfect butt.
Reply

wardcoleman
|
Voted Video 10/10
| 13th November 2013 23:09 (397 weeks ago)
A very erotic story, seeing Ben humiliated was a delight, almost as much fun as seeing Bailey's comeuppance in "Bailey Bullies Apprentice"



Dave - Straight Lads Spanked
|
Not voted video yet
| 24th November 2013 08:44 (395 weeks ago)
Thanks Ward! Well to be honest, the original idea for this kind of storyline came from yourself! :)

Great story so funny locked in toilet ,spiked with viagra ,couldn't stop laughing when Mr X said Karl's girlfriend would be happy ha ha .Poor Ben really was humiliated but took his spanking well shame he's not much of a talker would have liked him more and Karl my cute little boy those big eyes of yours and that cheeky little grin always makes me want to hug you and you looked so cute in that suit that was way to big for you {was it yours Dave]