RELEASED: 23rd August 2019
Bobby & Alex
Spanked Footballers
Part Three
Members have already seen these two young reprobates both getting a well-deserved spanking over Coach's knee after getting into a fight at football.
As the action opens in the latest male corporal punishment movie from Straight Lads Spanked, we learn what the beef was all about: Alex accuses Bobby of having kissed his girlfriend. Bobby replies that it was Alex's girlfriend who kissed him, but it is a distinction that may well have been lost on Alex!
The lads decide to settle their differences by giving each other a spanking, and Alex bends over Bobby's knee for his, but Bobby's lacklustre approach fails to impress. "Is that all you've got, pussy boy?" he asks, and Bobby turns up the heat as he administers the remainder of 100 hard smacks across the seat of his mate's shorts.
After swapping places, it's Bobby's turn to go over his friend's knee and count out 100 smacks from Alex. But these swats serve only as an introduction. When both lads have had their bottoms warmed, it's time for the shorts to come down!
Alex takes off his football shorts and bends over again for 100 more smacks on the seat of his pants. And Alex's now familiar howls reveal that these ones are hurting a lot more than the first ones!
When it's Bobby's turn again, he too is obliged to pull down his shorts and drape himself back over Alex's knee for 100 more spanks on his tight green briefs.
Now if there's one thing you can say about this pair, it's that they are both very familiar with how a punishment is supposed to go! So they waste no time moving seamlessly on to stage 3: bare-bottom spankings!
By the time each lad has taken down his pants and had 100 final smacks delivered to his bare behind, both are clearly going to have trouble sitting comfortably for a while.... and are beginning to wonder whether the girl was worth it!
They end up deciding to be friends, and shaking on it.... perhaps wishing that they had done so long ago and avoided ending up with two very sore bottoms!
STREAM
VIDEO
Available streams for iPad, iPhone, Android, Chrome, Safari, IE or Firefox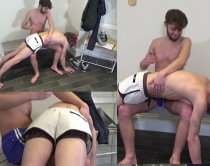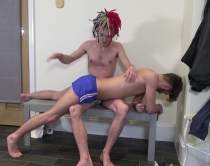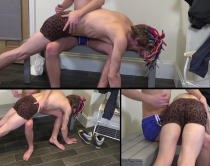 mstr_spkr | 24th August 2019 22:15
Two great guys doing excellently as both spanker and spankee. I liked how Bobby sometimes did not wait for Alex to count before delivering the next swat. I also appreciated that they were not afraid to have a naked guy across their laps. That was a disappointment I had with some of the earlier group of models. They both committed completely to their roles. Well done!
Reply

tinhead | 24th August 2019 09:11
A fine video of two very handsome young guys with lean half-naked/naked bodies delivering some super hard hand slaps. On this occasion, love the counting too! Lush.
Reply