RELEASED: 5th May 2012
Part One
Builders Bailey and Andy have been called out by Dr Barton to fix a blocked kitchen sink. Dr Barton tells the Andy & Bailey that he is nipping out to the shops for 30 mins to by supplies for a "Hobby Party" he is hosting later that evening. He explains that he has a lot of equipment set up in the front room and tells the lads not to wander in there when he is out.
Well as soon as Dr Barton those naughty builders raid his fridge and help themselves to some cans of lager. Of course, they can't help being nosey and decide to explore the front room! They were not sure what Dr Barton's hobby was but they certainly did not expect it to be Corporal Punishment! Dr Barton's collection of spanking impliments has been carefully arranged all around the front room. There are canes, paddles, whips, rulers and plimsols! Dr Barton returns home early to find Andy & Bailey n the forbidden room playing around with his CP equipment! He also discovers that they are drinking his lager!
So Dr Barton tells the builders that since they have disobeyed his instructions and seem so interested in playing with his impliments that they can experience what they feel like when properly applied!
The lads soon find out just how painful they can be as Dr Barton dishes out several swats from the paddle, roman ruler and cane!
Things take an interesting twist in Part Two when one of Dr Barton's guests arrive early! More from Mr X..........
This clip is more of a lighthearted scene and we get to see some fun interaction between Andy, Bailey and of course Dr Barton! The swats are dished out over the jeans. Even though the lads backsides are covered by denim they certainly still feel each powerful hit!
Part Two
.........So the first guest of Dr Barton happens to be Mr X! Andy and Bailey can't believe it! Dr Barton hatches a plan with Mr X, a plan that will leave the naughty builders with very sore bottoms indeed! Dr Barton sit in chairs facing each other, grab a builder each and drag them over their knees! Andy and Bailey are thoroughly spanked, side by side in this humiliating scene! Of course trousers and pants come down for a good, old fashioned bare bottom spanking! Dr Barton & Mr X are having a great time! Andy & Bailey protest and struggle but it is futile as the spanks reign down!
Dr Barton really does throw the best parties!
More from Mr X........ Well this was such fun to film! The action all happened rather quickly! The best bit was that that Andy & Bailey really had no idea what was planned for them as we wanted to keep the reactions as real as possible! For this reason it was all filmed in one take and the camera action is rather frantic! One tidbit I thought I would share with you is that this scene was filmed on the same day that Bailey had his Red Card Red Bottom spanking from Coach Barton. With that thrashing fresh in his mind you can actually see him make a beeline for Mr X rather than face another spanking from Dr Barton! Funny stuff!
STREAM
VIDEO
Available streams for iPad, iPhone, Android, Chrome, Safari, IE or Firefox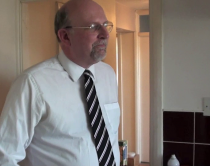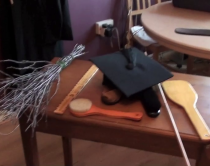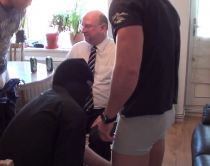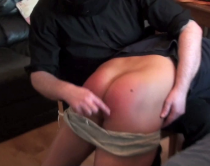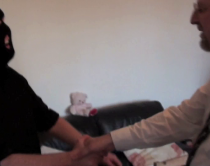 kristi
|
Voted Video 9/10
| 21st August 11:11
The movie that Bailey and Coach Barton are in that you mention, where can I see that?