RELEASED: 6th December 2019
Finn
Lying Can Be Painful
Another new model joins the Straight Lads Spanked stable today, and is set to be a firm favourite with members!
The studio's latest male corporal punishment video introduces handsome Finn, whom we first meet lying on his bed, phoning in to employer Mr Stevens to say he can't come in to work today because he is at the dentist's, suffering from chronic toothache.
He might have got away with it, too.... if Mr Stevens hadn't seen his car outside, and come in to check! Confronted by his angry employer, Finn tries to talk his way out of it, but the game's up. It's the third time this month he has skipped work, and the boss isn't going to put up with it any longer. The firm is facing a fine for being late on its contract, and Mr Stevens is heartily fed up with workers taking advantage of his good nature.
His first instinct is to fire Finn, and who could have blamed him? But the lad is a good worker, and when he protests that he needs the job, the boss asks him if he has heard anything around the site about the disciplinary methods he favours. And just to leave no room for doubt, he spells it out. "You are going to go to work this afternoon with a very sore bottom," he tells Finn, "or you're not going to go to work at all!"
It's clearly not a choice that Finn relishes, and he continues his bid to talk his way out of trouble, but all to no avail. When he is given one last chance to choose, the young scaffolder has no option but to bend over the boss's knee for a firm spanking on the seat of his grey tracksuit trousers.
At this point, most lads in that unhappy position might have kept shtumm and just waited for it all to be over, but not our Finn. "To be honest, Mr Stevens, my girlfriend hits harder than you," he says, to Mr Stevens' obvious astonishment.
Well, if the spanking wasn't hard enough for Finn, Mr Stevens is determined not to disappoint him! He instructs the lad to take down his trousers for Stage 2 of his punishment. Finn makes a bit of a fuss, but when Mr Stevens reiterates the choices open to him, he eventually complies.
When he bends over again, the spanking continues on Finn's tight blue underpants. "Surely you must be finished now, Mr Stevens?" he says in a while, a little optimistically. "I've got to save some for my girlfriend later." The lad's impertinence is immediately rewarded by a rapid-fire volley of hard smacks on his bottom from Mr Stevens, who is clearly exasperated by the lad.... but he's not finished with him yet. Not by a long chalk!
Finn is clearly surprised to learn that Stage 2 is not the end of his punishment. There is also a Stage 3! With his employee still draped over his knee, Mr Stevens pulls his pants down, and a shocked Finn jumps up, arguing the toss and saying that at 23, it's just not appropriate. Once again, however, when faced with the choice between losing his job and getting a spanking on his bare bottom, the lad has no option but to pull down his pants and bend over.
By the time Mr Stevens has delivered a good hard spanking to the lad's now very red bare behind, the smart mouth has been quietened and the protests are sounding a little more contrite.
After 12 final hard smacks which he is told to count out, Finn even apologises for lying and skiving off work, and sounds like an altogether different young man from the one who just a few minutes before had been mocking his employer for spanking like a girl.
As to whether that will be enough to teach the lad the error of his ways, we shall have to wait and see!
STREAM
VIDEO
Available streams for iPad, iPhone, Android, Chrome, Safari, IE or Firefox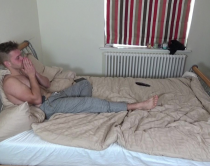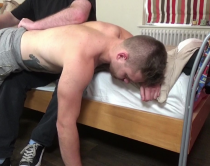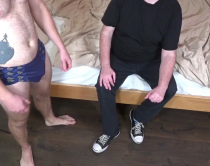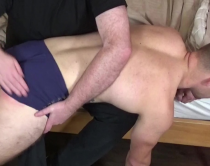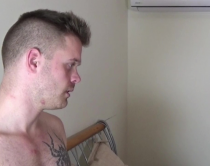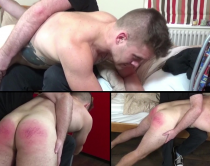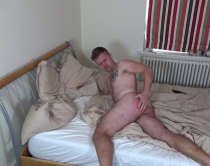 vinniecp | 8th December 2019 20:10
Would be great for Finn to visit Mr X
Reply

Lorn | 7th December 2019 19:57
Wow, I'm usually quite harsh with my rating :) but this is an obvious 10. Perfect!!!
Reply

mstr_spkr | 7th December 2019 16:52
Welcome, Finn! As a premiere video this was great. Most of the time the guys are a bit awkward in their first video but Finn was superb from the start. I'm anxious to see what he does with Stage 4 (as Mr. Stevens hinted there may be more stages). I'm sure he'd stand up to a Bubble Bath Blues or Bath Brush Beating quite well. I hope he does many more videos here. Perhaps if nothing else Finn learned not to insult the spanker. It only ends well for those of us who watch it.
Reply

vinniecp | 7th December 2019 12:18
wow great work Dave Finn now my fav great new star cant wait to see more of him
Reply

Teacherman123 | 7th December 2019 00:11
Great new release this week. Congratulations to Dave, as always; to Art for his characteristically skilful editing; and to the shining new star in the SLS firmament, Finn. A nice convincing performance from him in an entirely plausible (you know...within reason!) scenario of a 20-something lad skiving off work and being caught out by the boss. His protests all felt very authentic, and there was a little frisson in his cheeky remarks that his girlfriend could spank harder....because we all know what that will lead to when Mr Stevens is around! Handsome lad, with a very spankable bottom that I hope we see spanked a lot more in the future!
Reply