RELEASED: 16th August 2019
Jake
Bath Brush Beating
Well, there's one thing you can say for Jake. He might be a badly behaved young man, but he's no fool.
At the start of the latest male spanking video from Straight Lads Spanked, we find a forlorn Jake sitting on the couch, contemplating a fearsome-looking bath brush. When Dad comes in, we learn that Jake has been sent to fetch it because he has stolen money from his mother's purse. And as members will recall, Jake was well warned, the last time he got into trouble, of the consequences in store for him if it happened again.
"Do you have anything you want to say to me?" asks Dad. "Please don't spank me....?" suggests Jake, somewhat optimistically. "What do you think the chances of that happening are?" asks Dad. "Slim," replies Jake. And he's not wrong, is he?
Over the knee he duly goes, for a sound spanking on the seat of his black jeans with Dad's hand and the formidable brush. "Please, Dad, I won't do it again!" protests Jake, but Dad is clearly in no mood to negotiate.
Quizzing Jake on why he took the money, Dad learns that the lad had wanted to buy something new to wear. And to prove that he is nothing if not reasonable, Dad gives him the change of clothes he wanted.... by ordering him to pull down his jeans for the hiding to continue on his skimpy tighty whities!
Jake is already gasping in pain and begging Dad to stop, and by the time his father lets him get to his feet and rub his sore bottom, we can see that it is already very red. When Dad pulls Jake's pants down, there is no hiding the full extent of the punishment; the lad's bottom is bruised and welted.... and his ordeal is still far from over!
Dad hauls Jake, now completely naked, back over his knee and the thrashing continues on his bare bottom, first with Dad's well-practised hand and then with the bath brush. Dad tells him that when his punishment is over, they will be emptying Jake's wardrobe and taking all his designer gear to the charity shop, but you can't help but suspect that his fancy threads are the last thing on Jake's mind at the moment!
By the time Dad has finished with his wayward son, he is sporting one of the reddest, sorest bottoms members will ever have seen on the site. And to prove that he's all heart really, Dad has Jake lay over his lap again while he rubs cream into his sore red backside, and after a final scolding, gives him the cuddle he asks for.
This was a lesson that no sensible lad would ever forget. It remains to be seen, of course, exactly how sensible this lad is!
STREAM
VIDEO
Available streams for iPad, iPhone, Android, Chrome, Safari, IE or Firefox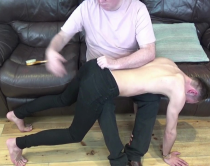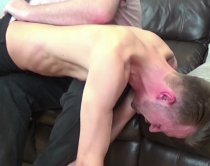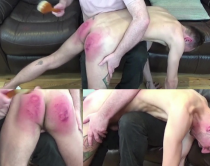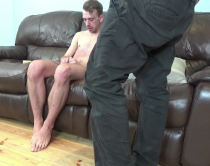 | 22nd November 2019 15:59
That was a real hiding! That lad was amazing
Reply

tinhead | 21st August 2019 10:58
This is an amazing vid. Jake really suffered and his reactions were so genuine. I empathise with him as my bottom has many times been thrashed with that particular type of devil-brush. Well done Dave!
Reply

mstr_spkr | 18th August 2019 20:33
This video lived up to your tag line: Not just spanking, the whole punishment. Jake truly was punished in this video. It was a well-deserved spanking with the humiliation needed (stealing money to buy clothes.)

Jake is a real trooper. It was delivered well and he took it very, very well. It felt real as an observer and I'm sure Jake's bum would agree that it felt real from his perspective as well. I rarely give a video a 10 but this one deserved it. Thanks, to all, especially Jake.
Reply

newspank | 17th August 2019 14:57
By heck, that was one fantastic spanking. Well and truly punished. Kudos to Jake for taking such a larruping.
Reply

LoveGood | 17th August 2019 09:50
Wow!!! Just wow. Possibly the hottest spanking video you've ever done on this site. Let's see more of this please! It felt like you were punishing him for something real, and this was a real lesson!
Reply