RELEASED: 27th July 2018
Simon
Pay Your Rent
Some lads just never learn, do they? Simon, the lazy musician who was sent to be dealt with by Mr X a couple of months back when his bandmates in Blonde Fuzz grew tired of his continually missing rehearsals and turning up late for gigs, still hasn't developed much of a sense of responsibility.
In this week's new male corporal punishment movie from Straight Lads Spanked, Simon is relaxing in his rented flat when his landlord storms in, demanding the three weeks' rent that he owes. An indignant Simon complains that the landlord has no right letting himself in without even knocking, but after waiting three weeks for his rent, the landlord is in no mood to play it by the book.
When Simon gets angry and adds insult to injury by swearing at the landlord, the die is cast, and before he knows what is happening, he is over the older man's knee, getting a very well-deserved spanking! He owes £250, so the landlord informs him he will be getting 250 spanks!
Simon has counted off no more than the first 10 smacks across the seat of his jeans before he is promising that he is sorry. But when the landlord's belt comes off, it becomes clear that he will be a lot sorrier by the time this visit is over!
The infuriated landlord delivers 100 hard smacks to the seat of his hapless tenant's trousers with his hand and belt. But then he stands the lad up and takes down his trousers; the next 100 are going to be administered across his tight blue underpants!
By the time he has counted out 200 spanks, Simon is very clearly a very shaken, sore and sorry boy. But his landlord intends to make sure that he teaches his young tenant an enduring lesson about attitude and responsibility. He pulls down the lad's pants, telling him that the last 50 will be on his bare bottom!
Simon wriggles, cries out and bites the pillow as the smacks toast his already red rear, but his landlord means business. He is going to give this lad the thrashing he deserves if it's the last thing he does!
When it is all over, Simon is left rubbing a very sore red bottom.... and with a whole new determination to pay his rent on time! Especially when the landlord tells him that he will be back next week, and if he doesn't come up with the rent then, he will be sorry!
STREAM
VIDEO
Available streams for iPad, iPhone, Android, Chrome, Safari, IE or Firefox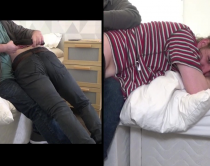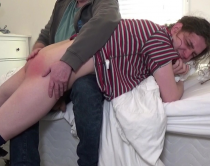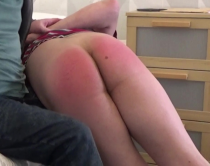 CassieAnne17 | 18th September 2018 03:23
I like Simon but really dislike this kind of storyline. Good job on the spanking though.
Reply

mstr_spkr | 3rd August 2018 18:20
Good job. Simon, you up for a 36 Lashes video? I think you'd do well
Reply

Orla | 30th July 2018 12:12
Good job Simon I liked all his speech at the start telling landlord he couldn't just barge in etc and his reactions to the spanking/belt yes Simon is growing on me and I'd like to see more...
Reply