RELEASED: 20th December 2019
Zane & Alex
Best Mates Spanking
Again!
It's only been a few weeks since Zane spanked his mate, Alex, for trying to muscle in on his girlfriend.
In the latest male corporal punishment movie release from Straight Lads Spanked, however, the tables are turned. But while Zane only caught Alex texting his girlfriend, it seems Alex caught Zane getting up to much worse in a nightclub, cheating on his girlfriend with some other girl.... and what's more, he has photographic evidence!
Alex can't believe that his mate pretended to be all holier-than-thou and spanked him for a few cheeky texts, then did much worse himself.... so now he is determined to get his revenge!
He orders Zane to get over his knee, and begins spanking the seat of his mate's thin trousers. It's not long before Zane is apologising for cheating and swearing he won't do it again.... but Alex isn't ready to stop yet! He gets Zane back up on his feet, tugs his trousers down to his ankles and hauls him back over his knee.
The spanking continues on the seat of Zane's tight white boxers. "I've learned my lesson now!" protests Zane, but Alex clearly doesn't agree. "Do you know how long I couldn't sit down for?" he asks, referring to the spanking Zane had given him. "A week!" He adds that his girlfriend had seen his red bum in the shower afterwards, which had left him facing a lot of awkward questions!
"Stop, please!" begs Zane. "I've had enough!" But Zane hadn't spared his blushes when he was administering punishment, so Alex is determined not to spare Alex's either. Zane's pants are coming down!
Seconds later, Alex has pulled down his mate's boxers, dragged him back over his knee, and is spanking a very red and sore-looking bare bottom!
Alex makes Zane beg him to stop.... but when Zane complies, he ignores it and continues! Eventually, he tells him that he will get 20 more spanks, and after each smack, Zane must count it out and then ask for another.
When his ordeal is over, Zane gingerly pulls up his boxers and sits down on the bed again, and the two friends decide that they really need to try getting along better from now on. Then again, that wouldn't be nearly so much fun for any of us, would it?!
STREAM
VIDEO
Available streams for iPad, iPhone, Android, Chrome, Safari, IE or Firefox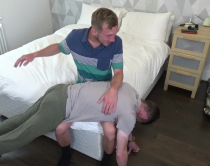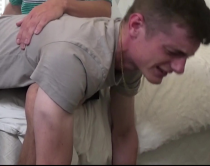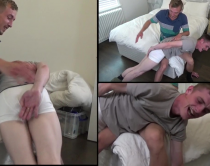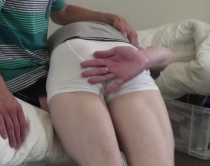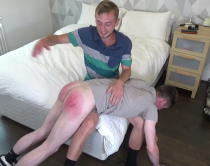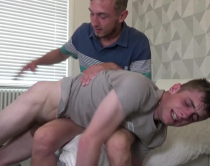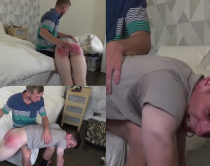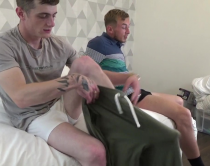 tinhead | 23rd December 2019 00:02
Amazing. This is so exciting and just what this site is about. Two amazing looking dudes and one hell of a spanking.
Reply

mstr_spkr | 22nd December 2019 19:32
I rated this higher than the average was at the time when I rated the video because this was a good, solid spanking. Alex could use a few pointers when spanking such as pulling the hand away from the butt cheeks when Zane tried to protect himself. He could also enforce the rules for counting better, starting over when Zane did not count correctly.

My hope is that both improve their spanking skills in future videos but overall, it was a decent performance for both.

They made a decent pact at the end but I hope they both break it soon and often. They both could use the practice at being a spanker.
Reply