RELEASED: 16th May 2015
Bailey - Spanked Footballer!
Bailey Morgan has had another bad day on the pitch! He abused the ref and got sent off! Coach Barton is not happy at all with his irresponsible behaviour.
Bailey is freshening up in the showers after the game when the coach summons Bailey into his office!
After a stern lecture it is decided that a spanking is in order! This arrogant young man is brought down a peg or two as he faces the humiliation of going over another man's knee!
That gets a lot worse as his pants get pulled down and he is spanked on the bare bottom!
The punishment gets worse though as Bailey is made to bend over the chair and receive some swats from coaches wooden paddle.
"More for producer Dave. This is a movie I shot a long time ago when I had very primitive recording equipment. In particular the quality of the one of cameras was very poor indeed. I decided to pass the movie over to my editor Art to se what he could do and I am really pleased with the results! I hope you enjoy this bonus movie!"
STREAM
VIDEO
Available streams for iPad, iPhone, Android, Chrome, Safari, IE or Firefox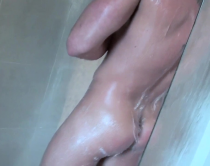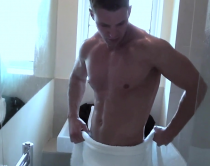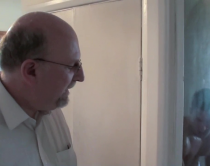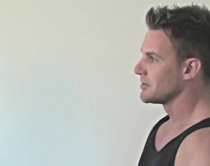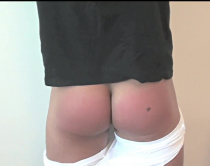 rye4ray | 19th August 2018 06:24
Reply

switchers | 19th May 2015 20:09
Thanks Dave for deciding to go ahead and release this one. I don't know what was wrong with it before Art got a hold of it, but awesome work. Love love love the shower scene! We have a paddle like the one Dr. Barton used and I can attest to Bailey's reactions as authentic. LOL! Nice man bits ya got there Bailey....and then you turn around to reveal your beautiful ass! Awesome!
Reply

Ficwriterjet | 18th May 2015 23:34
I had to smirk at all the unchecked swearing in this one. I suppose I've become accustomed to hearing Dave tell the guys to 'watch their language', but Dr. Barton doesn't mention it at all. I personally don't mind swearing in the least, and probably wouldn't have even noticed it if I'd watched this movie before any of the others, but since I know Dave isn't a fan, it seemed noticeable. I especially laughed when Bailey was told to count - apparently the words 'two' and 'shit' are interchangeable over there in the UK. LOL

Bailey certainly is beautiful. He has an amazing body, and a perfect ass. I love his unhappy verbal and physical reactions to the spanking.

I enjoyed Dr. Barton as the spanker. I thought he did just a fine job with the lecturing and the spanking (though I do prefer Dave).

Art, I'm not sure what exactly you did, but you must have done a great job, because it all looked just fine to me. Thank you for working on it so we all got to see it.
Reply

red1967 | 18th May 2015 11:41
Nice to see Bailey even though it an old movie I love Bailey body very hot . Thank you Art for re-editing this movie , really appreciate the hard work you put into all the movies you edit love the credits at the end. Thank you Dave for giving us a bonus movie, maybe the original movie was not that bad but Dave you always give us great movies even before Art. I'm not a fan of Mr Barton reminds me of my old school teacher lol But Mr Barton is a good spanker Thanks to all of you.
Reply

Domfan | 18th May 2015 00:27
Lord is he beautiful
Reply

Lynne | 17th May 2015 21:49
Yep, that was the "old" Bailey and much appreciated :). I am presuming Art did some magic but am wondering how bad the footage was to begin with; the final product seemed in line with the earlier vids so am wondering if Dave is just too much of a perfectionist :).

Am thinking on those older vids still in hiding in the back of Dave's "closet," so to speak, and who of the early starters we haven't seen in a long while might be lying in wait to be rediscovered :).
Reply

mattnyc | 17th May 2015 16:52
It's so great to see Bailey back. He's definitely one of the hottest models on the site and he's been missed. I love his perfect, smooth, muscular body and PERFECT, spankable bottom. He's super handsome and great with dialogue and role playing. So glad you and Art were able to salvage this great OTK scene. Dr. Barton is also a great spanker. This is an excellent bonus. Thanks!
Reply

welshboy | 17th May 2015 11:35
It's great to see Bailey back even if it's an old film. Bailey has such a peach of a bottom to spank. This film shows how this site has come a long way in a short time. Art you worked wonders with this film. Dave I am so glad you released it in the end. I always love to see Bailey get his bottom spanked.
Reply

wardcoleman | 17th May 2015 09:00
I really love this, Bailey has such a spankable bottom, and such a deserving and seemingly arrogant persona. It's so satisfying (and such fun) to see him brought down a few pegs and get his bare bottom spanked like a naughty boy.

This site has brought us hours (days?) of fun, and it continues to do so! :-)
Reply

kayjoe | 17th May 2015 08:38
GREAT job Art! Thank you for all your effort - well worth it to see Bailey again!! Thanks for the release, Dave. Bailey - time to face your fans again - get back to Dave's and explain your absence!!!! :-)
Reply

nanarr | 17th May 2015 06:33
Bailey ... BAILEY ... B A I L E Y!!!!! Yay!! ::: doing the Happy Dance :::

Thanks, Dave ... love this vid! Dr Barton is always a delight, I like him.

Art, thanks for working your magic and fixing it
Reply

Ooleary | 16th May 2015 19:47
Great job Art so glad you were able to fix it.Thank you Dave so good to see another Bailey oldie he really has the best butt💋.Not a huge fan of Dr.Barton would have preferred Mr.X but i still loved this little gem.
Reply