RELEASED: 28th June 2019
Blake
Bubble Bath Blues
Blake has already found himself over the knee with his pants down on a couple of occasions since joining the SLS stable: first, when he was taught a painful lesson for messing Dave about, and subsequently when he got a spanking and paddling from the strict coach at the football club.
In the latest male corporal punishment movie release from Straight Lads Spanked, Blake is in hot water again - and in more ways than one.
As the story begins, we find him enjoying a long leisurely soak in the bath. But as members will know, bath-time never ends well for the SLS lads!
Dad bursts into the bathroom, demanding to know why his car is filthy and out of petrol.... when he had told Blake in no uncertain terms to have it washed before he got home!
The hapless lad has no excuse, and Dad is livid; he has to go off to a meeting, and Blake has not done the one thing that he was asked to. He tells him to get out of the bath and through to his bedroom; he is going to teach this lazy lad a lesson he won't forget in a hurry!
Before he knows what is happening, Blake is told to drop his towel and bend over Dad's knee, naked from the bath, for a well-deserved spanking on his bare bottom with Dad's firm right hand and his even firmer slipper.
Dad leaves Blake in no doubt at all that he has messed up big-time, and that he is soon going to be "a naughty little boy with a very sore bottom"!
Blake's ordeal over Dad's knee ends with 10 sharp final smacks with the sole of the slipper, which leave him with a very sore, bright red behind. To underline his punishment, even though it is only 5pm, the naughty lad is then sent to bed immediately with no supper.
Maybe next time Dad tells him to wash the car, he will do it!
STREAM
VIDEO
Available streams for iPad, iPhone, Android, Chrome, Safari, IE or Firefox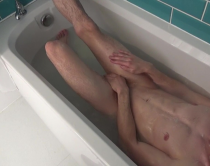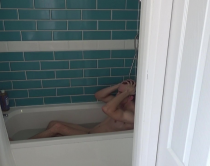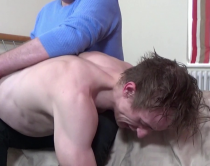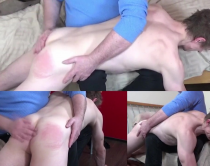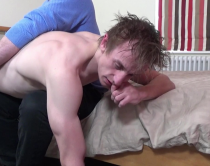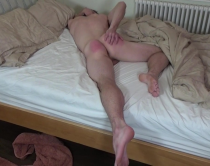 mattnyc | 4th July 2019 20:36
I agree with the other members. This is another winner. You had me at "I'm a naughty little boy, dad." It doesn't get hotter than that. I also love hearing Blake use the word "spanking". As another member said, for some spanking fetishists, hearing the word is a big turn on. Blake is so sexy. He's naturally smooth and muscular and his butt is perfection. Beautiful face and eyes as well. I love how committed his acting is and as I've mentioned in past comments, it's especially sexy when the models are resigned to their punishment but react. It's that classic naughty boy reaction that make a clip like this so hot. Great spanking, Dave. And excellent dialogue. More like this, please!
Reply

tinhead | 30th June 2019 09:54
Yep, fine spankee and fine slippering :-)
Reply

LucienG | 29th June 2019 15:44
Loved this spanking movie! As a spankophile, I love everything about spanking. Hearing the word spanking at least 3 times was marvelous!...😛. Blake did an excellent job. I could actually tell when there was a pause in the action but still good editing.

I think Dad is way over the top for spanking Blake for not washing the car! Perhaps it should have been for a litany of reasons, with the car wash being the last straw.😁. Good enjoyable spanking, lovely bum.
Reply

Serena89 | 28th June 2019 20:31
I love Blake! He is my second favourite of the more recent guys.
I liked the more simple style again it works much better without loads of dialogue and interruptions for me.
I felt a bit bad for Blake (I know it isn't real) but I didn't really feel that the situation warranted a serious punishment but that is a minor gripe lol it's the aim of the video to have a spanking and there are only a limited number of options for reasons I guess.

Blake is a good actor and is very interesting there isn't really anyone I would be like oh her he reminds me a bit of X or Y he has his own look and style of acting in these videos and I love it.
One thing I noticed in most of Blake's video is you (Dave) have him repeat a kind of embarrassing dialogues example 'I'm a naughty boy' ahaha very random observation but it is kind of sexy to have to hear him say things like that which are probably awkward to say.

Look forward to seeing Blake again!

Reply