RELEASED: 17th March 2017
Chris
Real Punishment
Spanked in Bedroom
This MM Spanking Video follows on from Chris - The Ultimatum
For those who have been following my spanking videos you will have known that I have been doing whatever possible to make these videos as real as I possibly can.
The ultimate goal for me was to have a situation where I was spanking someone as a real punishment and they were not getting paid for it. So making is a proper punishment with no reward other than a sore bottom.
Having Chris stay at may place for a while gave me the perfect opportunity. Especially when you are as lazy as Chris is!
So this man spanking spanking video starts off with Chris being unexpectedly disturbed in his bedroom and challenged about the decorating work that he was meant to have done. He really can't give me any excuse at all!
What follows is a proper hard spanking using the wooden spoon and leather strap! Chris ends up with a very sore bottom indeed!
I hope you enjoy watching this spanking video as much as I enjoyed making it!
STREAM
VIDEO
Available streams for iPad, iPhone, Android, Chrome, Safari, IE or Firefox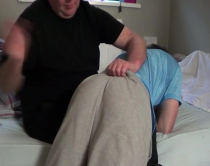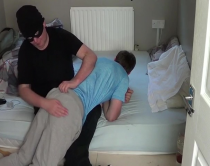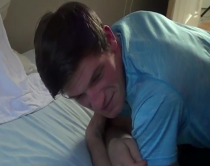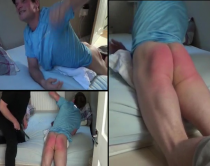 Orla | 19th March 2017 18:28
Thank you Dave for always trying out new ideas and i'm so happy that this turned out so well and Chris went through with it and now he knows you are actually serious and will spank him again i think your house will finally get sorted xx

There's Chris sitting in his room with Jimmy the cat watching tv and you knock on the door, the look on Chris's face when you were explaining what was going to happen. .he really didn't think you meant it,as predicted he did ask about money lol xx but glad to see he could still be cheeky ie when you handed him the spatula and he asked if ye were cooking.

The spanking was hard too and you could tell by Chris's reactions,i loved when you were smacking him on his sit spots ouch( which i love)and you were asking him if it hurt more there but he didn't want to answer cos if he said no you'd smack harder or if he said yes you'd also smack either way he was getting smacked .Always love when the guys throw their hands back and you grab them,the 12 lashes with the strap was the cherry on top ...hope you can somehow get to do this with another one of the lads.
Reply

jacko | 18th March 2017 23:47
I like the idea of the models being penalized by extending or varying their original scenarios without any extra payment in circumstances such as late arrival or failure to arrive at all. Not only should this recompense Dave in some way for his inconvenience and wasted time but it would clearly establish the consequences for models who mess him around. It is not really punishment as such but more a renegotiation of contract due to changed circumstances. As these lads constantly tell us, they are far too old to be spanked as punishment.

However, that's where I would draw the line. I don't like the term "real punishment" being used in any context other than movies that involve more severe spankings where the actual spanking is the main focus without accompanying dialogue, pauses or introductory hand spanking. The "36 Lashes" series, "Prison Punishment" series and in part the "Traditional Punishment" series and "Old-Fashioned Punishment" series could be appropriately described as "Real Punishment."

Apparently I am much less compassionate and considerate than Dave because I would have told Chris to move on the minute the arranged time for project completion had been passed and it was obvious that his mind-set was unsatisfactory. His attitude in his first interview was nothing short of arrogant and movies such as this one have not helped to endear him to me. In this video, Chris did a much better job of portraying an indolent tradesman than Declan did in his "Lazy Worker" film last year. However, as Chris was portraying himself there was no need for special acting skills. (I hope I'm not being too cruel!)

I found three bright spots in this movie which brought me pleasure. First, the well-deserved licking that Dave administered, second the hint of uncharacteristic humility in Chris's attitude and finally the fact that Chris didn't receive any payment for his suffering.

Reply