RELEASED: 20th March 2014
Real Punishment - Andy - The Birch
Another Real Life Situation - Another Real Punishment
Andy Lee seems to find it difficult to keep out of trouble!
This time he was fighting in the gym and a mirror got smashed.
The gym owner was furious and demanded that Andy cover the cost of replacing the mirror or he would involve the Police.
Andy contacted me in a panic as he had no funds. To be honest, at that time neither did I!
So I decided to inform the viewer simply named as 'Sir' who had previously helped out Sebastian back in this movie..
Sebastian - Real Punishment - The Cane
'Sir' decided to help out but of course there had to be a price. In this case it was a severe birching!
Not only that, but Andy had the added humiliation of getting punished in front of his younger brother Patrick.
""""More from producer Dave.......... well I have actually had this movie now for nearly a year. For some reason there didn't seem the right time to release it until now. I must admit, this was one of the toughest movies I have had to film before. You have probably worked out by now that Andy and I have become good friends. Even though we have filmed some heavy stuff in the past it was always with the mutual intention of making a great movie (and of course Andy earning some cash). In this situation I had to dish out a proper punishment. To be honest, my weekend really had been ruined and I was pretty mad with Andy and he knew it. Still though, I was under strict instructions from 'Sir' that if Andy was not punished hard enough then the cash would not be paid. I hope you all enjoy the results""""
STREAM
VIDEO
Available streams for iPad, iPhone, Android, Chrome, Safari, IE or Firefox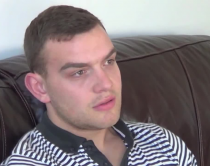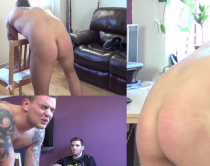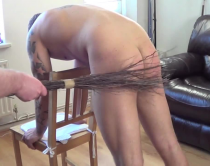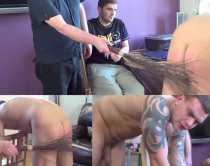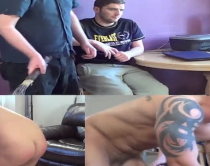 red1967 | 7th March 2015 10:16
I know this was filmed a long time ago and the punishment long forgotten I did find it difficult to watch for a few reason It upset me to see Andy had been so stupid and he lied to Dave We all lose our temper at times but hopefully Andy can deal with it better then he did. Part of me didn't like seeing Andy in so much pain but you did deserve the spanking you got You still my favourite . Patrick asking Dave to stop that brotherly love You could see how hard it was for you to watch You should of learnt from it but months later you got in trouble yourself . Dave You can tell this was a difficult one for you as you where rightly pissed off at Andy and had a hard time getting though to him, hopefully you have now. Thank you Dave and Art for all your hard work

uchikimatsu | 7th March 2015 12:16 (351 weeks ago)
@red - This is The Butch's favorite film. But, you know, she isn't into spanking or this site at all. LOL, she keeps calling for more birching and asking if any new birching clips have been filmed. I've got quite the little closet sadist on my hands.
Reply

welshboy
|
Voted Video 9/10
| 20th March 2014 17:14 (402 weeks ago)
In this film we see a different side to both Andy and Patrick, and it was a hard film to watch too. You do feel Andy's pain with every hit of that switch, Well done to Andy for getting through that. Did andy have tears in his eyes? It did look like it at one point, Well done to all for a top draw spanking video. Art the editing on this one was great as always. To Dave thank you for a new style of spanking film here.

r1108
|
Voted Video 10/10
| 20th March 2014 19:06 (402 weeks ago)
When Dave first announced the number I thought he said 50...glad I was wrong. At the risk of getting flamed here...I am guessing Andy may have been more resentful than truly sorry but his body language in both the before and after interviews clearly showed he was upset and worried. In truth I think it had more of an effect on Patrick, yet, only what, 8 months or so later, Patrick was in the pub fight. It is going to make viewing Patrick's subsequent film that much more meaningful I think. Dave, I can't think of what to say for your side of things other than it sounded like you were having as hard a time getting through it as Andy was, still, I have to be thankful that Andy only broke a mirror and that barbell didn't hit someone; hopefully the lesson stuck. Art, kudos as always as welshboy said.

DoberDork
|
Voted Video 8/10
| 21st March 2014 00:50 (402 weeks ago)
This was rather difficult to watch. Both Andy and Patrick were clearly uncomfortable. In Andy this presented itself as anger in the beginning, which is understandable; people can get flustered and upset when they're called out. Sometimes even if you know you've done something wrong, it's still hard to admit out loud. I don't doubt for a second that he was sorry, though. That birch looks like it has the capacity to make anyone sorry within a few seconds. Part of me felt a little bad for Andy and Patrick, but another part of me says if Andy was punching people then it was rightly deserved, and Patrick would have done well to learn from his brother's lesson. Hopefully they both took it to heart.

The Real Punishment series was very different with Clark and Sebastian. They were two models that we hadn't seen before, and hadn't gotten a chance to know and form a connection with. Andy has been there since the beginning, we've seen him in most of the movies, and I think the audience in general has a quite a fondness for him. As have you, Dave - one can easily understand why this was a difficult movie to film. Were you and Andy alright afterwards?

bruno
|
Voted Video 10/10
| 21st March 2014 10:38 (402 weeks ago)
i felt sorry for both boys from the beginning, i dont know how you got through that movie the pain looked so intense, Patrick looked so concerned for Andrew, it was a hard one on you all, i hope you all remained friends through out the movie and after, ive given this movie 10 out of 10 as the pain endured and the emotions from both boys and the the emotions you showed towards Andrew and Patrick it was just so hard to watch, im glad that one is over for you all

Dave - Straight Lads Spanked
|
Not voted video yet
| 21st March 2014 18:05 (402 weeks ago)
Hey Welshboy, I just watched this back again and you do see a different side to the lads. I pretty sure that Andy was fighting back tears when I was talking to him before the birching. This was an angry young man that is struggling between doing the right or wrong thing in the past he would have just changed gyms and walked away but in this case he was facing up to what had happened and he knew that he had put me through a lot of crap that weekend.....

Dave - Straight Lads Spanked
|
Not voted video yet
| 21st March 2014 19:19 (402 weeks ago)
You are right r1108 , Andy was resentful of the whole situation. He was more sorry that I had to get involved with this situation and that my weekend was ruined. He learned some real lessons!

Dave - Straight Lads Spanked
|
Not voted video yet
| 21st March 2014 19:22 (402 weeks ago)
Hey DoberDork & Bruno, thanks for all the comments. I guess the main thing I want to confirm is that Andy, Patrick and I were all fine afterwards. What happened was that they both left straight after filming and we never spoke for about a week and just did out own things but then a week later we all met up and everything was cool! :)

cami
|
Voted Video 10/10
| 22nd March 2014 19:47 (401 weeks ago)
Patrick looks like he was ready to fight you Mr.X or somebody.. he look like he was really pissed off. & Andy did a great job hanging in their for his 15 whacks. But at 1st i thought you said Mr.X your going to get 50 of these. i was like OMG ARE YOU FREAKING KIDDING ME. & the end of the movie was almost over you said you have 1 more.. Boy i was relived for andy for sure.. He looked sorry & also mad at himself for getting this.. Every time you say stuff to the Lads you all the time act like their father & that is so kool.. i love it that you really care about them......

bruno
|
Voted Video 10/10
| 25th March 2014 12:07 (401 weeks ago)
Patrick i think you should have taken the last three for Andrew

Rasputin
|
Voted Video 7/10
| 28th March 2014 02:09 (401 weeks ago)
I always enjoy Andy's performances. However, this performance would have been helped by the use of more implements, faster pacing, and an OTK sequence - both on the briefs and on the bare butt.

Aimee1234
|
Voted Video 10/10
| 1st May 2014 01:27 (396 weeks ago)
Oh my word poor Andy. It is amazing the difference there is when a circumstance is real and not staged. Not that the staged ones are bad obviously but that you could sense the actual tension in that room and it made it so difficult to watch yet compelling at the same time. For once, I only felt sorry for Andy, especially given that I'm such a huge fan of his. He is my favourite model by a long shot and Patrick too, he just looked so annoyed and angry that this was even happening for real. My heart was breaking for them. I'm sure neither of them want to ever have a repeat performance of this. You seemed to find that extremely difficult to carry through as well Dave.

Aimee1234
|
Voted Video 10/10
| 1st May 2014 02:13 (396 weeks ago)
and just to clarify by "for real" I simply mean the story and circumstance. I know all the spankings carried out on SLS are real spankings & just fabricated stories which is why this is the only site I subscribe to :)

Dave - Straight Lads Spanked
|
Not voted video yet
| 1st May 2014 20:55 (396 weeks ago)
Hi Cami! You are right, Patrick was really mad that day and frustrated! Mad at Andy for getting into the mess, mad at having to watch it all and yes a bit mad at me! I thought it was so sweet when he said "don't you think he has had enough Mr X'
and yes, I really do genuinely care for all of them and do what I can to help. But really, by being members you are all helping these lads. Any financial help I give them comes from you...

Dave - Straight Lads Spanked
|
Not voted video yet
| 1st May 2014 20:55 (396 weeks ago)
You know what Bruno, I do think Patrick would have done if he had the choice....

Dave - Straight Lads Spanked
|
Not voted video yet
| 1st May 2014 20:57 (396 weeks ago)
Hi Rasputin, thanks for your feedback. I'm guessing you missed the point that the punishment was dictated by the 'Sir' who had paid for it...

Dave - Straight Lads Spanked
|
Not voted video yet
| 1st May 2014 21:00 (396 weeks ago)
Hey Aimeeq234, it was difficult for me to carry out as normally there is more compassion from me when working with these guys. In this case I had no choice but to deliver the punishment.. Saying that though. Andy was acting like an idiot. He did deserve the punishment and my weekend with family had been severely disrupted because of his stupidity!

uchikimatsu
|
Voted Video 10/10
| 6th May 2014 01:35 (395 weeks ago)
Oh my goodness. There are no words...
Ok, there are, I just don't know which ones to type, there are so many going through my head just now. This is quite possibly the best real punishment I've ever seen captured on film (bar one, and I'll not advertise another's work on this site)
It was difficult and uncomfortable to watch from the very beginning. Andy's attitude prior to his birching clearly indicates he doesn't believe he should bear any real consequences for his actions. That was hard to watch because we want to believe better about our Andy's character and integrity. We see how upset Dave is at not only Andy's stupidity, but having withheld the truth and making more of mess than necessary. Patrick's discomfort at having to be present and involved with the whole affair is practically palpable.

I would not want to have been any one of them in that room. I felt a deep compassion for Andy, not only for the pain of the punishment to which he was obliged to submit, but the added embarrassment of it being carried out in front of his little brother. I felt deeply sorry for Patrick, who was clearly miserable and squirming with empathy for his brother. I also felt bad for Mr. X/Dave who, while certainly had enough reasons to discipline Andy, still didn't get his Easter back with his family. The method of punishment was also dictated by someone else, and although Mr. X was thorough in his job, I got the feeling it would not have been his choice how to deal with it.
Though the film was mostly distressing to see, Andy redeems both himself and the film when his punishment is over and he utters a contrite "I'm so sorry" and admits, quite believably, that he did deserve to be disciplined.
This... THIS should be the gold standard for "real punishment" films, and a template for any kind of discipline spanking film, really. It was enchanting to observe the genuine transformation in Andy's attitude shift from angry and resentful to remorseful and contrite.
!!!! M A G I C !!!!

Ooleary
|
Voted Video 10/10
| 30th August 2014 16:25 (378 weeks ago)
Oh this was so hard to watch yes Andy was an idiot and deserved to be punished but poor Patrick my heart was aching for him i watched this movie once for Andy's reactions and again just to focus on Patrick and all my sympathies lies with Patrick ,it took Andy til the very end to admit he was sorry and i think he has learned his lesson and will keep his temper in check