RELEASED: 2nd June 2012
In this scene there is no dialogue build up. Just Andy arriving, already knowing what his fate is. 36 lashes from the Chinese Birch!!
Andy assumes the the position with his hands placed against the wall, Mr X starts the punishment. 12 lashes over his jeans, then another 12 over his underwear and finally 12 on his bare bottom. After the punishment is over Andy is simply told to get dressed and leave......
More from Mr X......................
Sadly this scene ended up being full of technical issues and it falls way below the standard of production I am trying to achieve here at Straight Lads Spanked.
So let me be honest about everything here.
1. The camera man shooting the rear action decided in his wisdom to hold the camera to the side. This means that in editing I had to rotate the image. When you do this you are left with two black vertical border stripes either side of the main frame. All of the action is there it just has a black border.
2. There seemed to be some kind of fan whirring in the background!
3. There was a gorgeous dog in the place where I was filming that can be heard scrambling around in a nearby room in the background!
However it is not all bad!
Here are plenty of good points!
1. The whole sequence was captured on film..
2. Andy took a really hard punishment and his reactions to it are raw and very real!
3. There was a second camera placed just underneath Andy that when I switch to that one (which I do often) you get to see all of the front action and face reactions.
4. There has been some requests for there to be some more, arm, revealing full frontal shots of the models. Well in this scene you get to see every inch of muscular Andy in all of his glory! (trust me, there are quite a few inches to see here)! :P
STREAM
VIDEO
Available streams for iPad, iPhone, Android, Chrome, Safari, IE or Firefox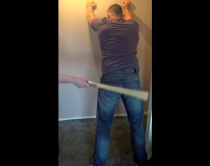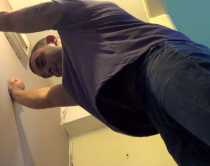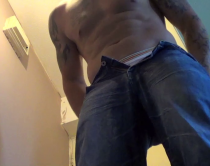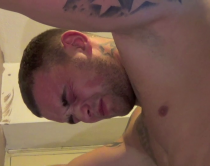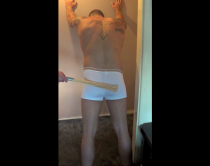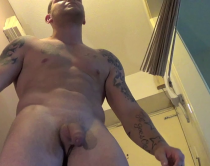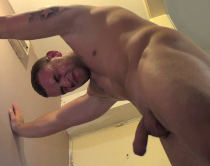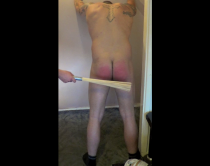 red1967 | 11th January 2015 01:40
Dave even though this is not my type of spanking movie and you had technical issues It was a ok movie Well done Andy that must of hurt nice red bum at the end and loved the front shots of Andy's body ;-) . Well done Andy and Dave
Reply