RELEASED: 25th May 2018
Conor Lee & Sam
Brother In Charge
Part 22
This week's brand-new male corporal punishment movie from Straight Lads Spanked continues directly from the end of last week's release, in which we saw careless plumbers Conor Lee and his mate Sam both enduring a painful trip over the knee of community spanker Mr X after messing up big-time at work.
We heard how they had been sent to Mr X by Conor's big brother, Andy Lee, after they were responsible for flooding a house that Andy's firm was working on.
This week's film opens with a clip showing Sam surveying a disaster zone as water cascades through a roof from the pipe he neglected to cap. Be honest.... some of you thought all this stuff was made up, didn't you?!
These two lads have already been taught that their actions have consequences.... but it is a lesson that Mr X hasn't quite finished delivering yet!
They have already felt the sting of Mr X's hand across the seat of their tracksuit trousers and their tight pants.... but now Conor is told to pull those pants down. It's time for them both to get a good spanking on their bare bottoms! "Sorry Mr X," says young Conor. "I won't do it again!" But it's all too little, too late. Andy has paid for Mr X to give this hapless pair the works, and the works they are going to get.
When Conor has had his bare bottom warmed, it's Sam's turn to take down his pants and bend back over Mr X's knee. He tries to persuade Mr X that he has learned his lesson and doesn't need any more punishment, but that was never going to wash, was it, especially as he has just been caught sniggering at seeing his mate get what was coming to him! Mr X has been paid to teach these lads to take some responsibility, and he isn't going to stop until he has got through to them, with a good talking-to and a good thrashing!
But if this pair thought they were just going to get a hand spanking over the knee, they had another think coming! When Mr X said Andy had ordered the works, that was what he meant; they were now going to get 12 strokes across their bare bottoms with the leather paddle!
Conor and Sam are made to lean with their hands on the wall and stick out their bottoms to be whacked, counting out each stroke. When Conor removes his hands to rub his bottom after the first stroke, Mr X warns him that if he does that again, he will be starting from scratch. Unfortunately for Conor, it is a lesson that he seems singularly unable to remember....
By the time their ordeal is over, Conor and Sam are two very sorry boys with very sore red bottoms. Surely we won't see them back in front of Mr X again.... will we?
STREAM
VIDEO
Available streams for iPad, iPhone, Android, Chrome, Safari, IE or Firefox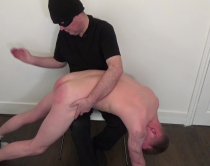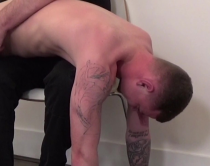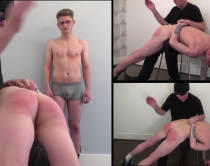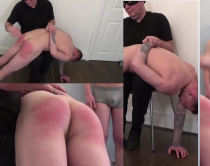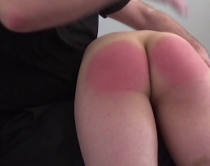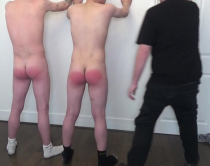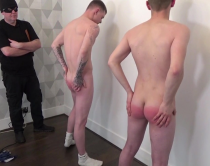 Rasputin | 16th June 2018 21:20
Here is a suggestion, Dave. How about a video in which all FOUR Lee brothers - Andy, Patrick, Dan and Conor - get spanked?

neasaos | 17th February 2019 02:23 (67 weeks ago)
I second that suggestion :p
Reply

Uchikimatsu | 27th May 2018 22:52
I liked this one even better than the previous episode! Awesome spanking and paddling, and two contrite boys...LOVE!

Dave, how on earth did you get footage of Sam in the middle of a plumbing fiasco with water all over someone's home???

Dave - Straight Lads Spanked | 28th May 2018 22:50 (105 weeks ago)
This tragedy really did happen! Sam and Conor really did cause this flood. Sam more than Conor. Andy filmed it and sent it to me. He then sent Sam and Conor to get spanked!

Uchikimatsu | 29th May 2018 16:24 (105 weeks ago)
That's amazing! It's amazing that Andy had enough mind to record theses shenanigans and send you the footage. If it were me i think I'd be too busy committing murder on these kids to film it!

Knowing that this really did happen makes the clip even better, i love it!

flashgordon | 29th May 2018 22:28 (105 weeks ago)
I agree! This is something really special, and immediately joins the list of Things You Only Get On Straight Lads Spanked.

I would love to have seen Andy telling the boys what their punishment was to be - and their reactions! ;-)
Reply

Orla | 28th May 2018 09:02
I really hope we see more of these 2 for sure esp. Conor he's so cute a mini Andy.

Mr.X went easy on young Conor regarding the paddle and keeping his hand on the wall he was told what the consequence was but he let him off with several warnings ...

Orla | 28th May 2018 09:04 (105 weeks ago)
Can't believe that flooding was for real,it really makes this movie extra special.
Reply

mstr_spkr | 25th May 2018 15:48
Conor carries on the great Lee Family tradition here and did not disappoint in any way,shape or form. Sam was fantastic, too. They both took it well. However, I do feel that Mr X should have started over several times. Rules are rules (especially since you can take breaks when it gets too rough for them, as we saw in this video.). The wait for their second video was rough but the video very rewarding.

Can't wait to see these guys back, either together or separately. I hope they become regulars.
Reply

CassieAnne17 | 25th May 2018 15:42
Yay! Enjoyed the first one by these guys so much and looking forward to watching this one! Oh, and another Lee brother is awesome!!
Reply