RELEASED: 1st October 2015
Aaron - Leather Flogger - 36 Lashes
Aaron is resigned to his fate!
Aaron assumes the position!
Aaron is facing 36 lashes from the Leather Flogger!
12 over his jeans
12 over his underwear
12 over his bare bottom
The different camera angles capture every moment of Aarons discomfort as the Leather Flogger hits its mark!
(this movie contains scenes of full frontal nudity)
STREAM
VIDEO
Available streams for iPad, iPhone, Android, Chrome, Safari, IE or Firefox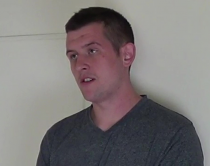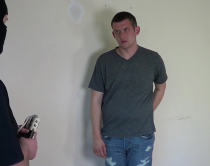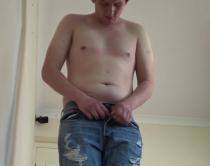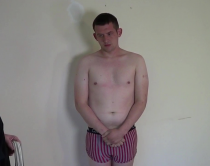 Edmund47 | 10th April 2018 18:24
Hot lad
Reply

jacko | 12th February 2017 10:29
It appears that this was Aaron's second yet unfortunately final video. Such amazing potential! Although Aaron demonstrated in his previous movie his clever use of dialogue, the scope for repartee was severely limited in this movie because of its format. Therefore, he resorted instead to his special skill of conversing with his eyes, face, gestures and body language. So, so good!. His convincing, remorseful appearance in this movie for example was in marked contrast to his previous movie in which his impudent character was anything but demure.

I am writing this more than a year after this film was released so don't expect it will be read, especially as Aaron is no longer with SLS. However, because he entertained me so well in his SLS debut it would be remiss of me if I didn't take the time to thank him for his special effort. Perhaps he joined Rasputin in the gym to "develop his shoulder and upper arm muscles, and firm up his abs.", only to be picked up by Hollywood. Now wouldn't that be great; SLS spanking star destined for Oscar stardom? Personally, I appreciated his puppy fat. More my style!

After watching his improvised interaction with Mr. X I consider that he would have excelled if paired with our more experienced models. Like uchikimatsu I am not a fan of the 36 lashes series because there is little scope for innovative scenario development. However, Aaron fascinates me in any scenario. He is such a good actor that I can't discern if his reactions are natural, clever acting or a combination of both.

It is obvious from the comments below that some members were convinced that this harsh flogging almost brought Aaron to his knees. It is interesting that I view the outcome so differently. At the end of the movie Aaron's backside was certainly glowing red but I noted that he maintained the same calmly remorseful countenance with which he had started. How much of this contrast in viewer impression was due to astute acting and how much to natural reaction? I don't know the answer to that which demonstrates the skilfully disguised line that Aaron created between the two.

Thank you Art for creating split screens which allowed us to focus on all aspects of Aaron's reaction at the same time. His facial expressions were particularly revealing.

It's no good asking for more of Aaron because he is now long-gone. It is regretful that a future SLS star didn't stay long enough to realise his full potential. However, for the privilege of the fleeting glance at greatness, thank you Aaron, Dave and Art.
Reply

NovaDad | 10th October 2015 23:00
Aaron's a nice boy.
Reply

uchikimatsu | 5th October 2015 00:14
I always complain that I'm not a fan of the 36 Lashes series, yet I can always find something enjoyable in each one. Its been so long since we've seen Aaron that I'd forgotten how much I liked his Average Bloke good looks and how his voice reminds me of George Harrison. And there's always that little thrill I get every time Mr. X touches a lad on the hip to reprimand them for not keeping their bottom in position. That one gesture embodies a great deal of (non-sexual) intimacy, similar to face touching.

Speaking of face touching... why don't you touch anyone's face any more Dave? I'ma move this to your Ask Dave Blog, too...
Reply

Cherylkay | 2nd October 2015 18:04
I promise I only hit submit once! Sorry about the double post.
Reply

Cherylkay | 2nd October 2015 18:03
I'm so pleased to see Aaron back! There's something so likable about him, which I can't quite put my finger on. And although he took his punishment valiantly, it was pretty obvious that that flogger got to him a bit. Aaron's facial expressions had me feeling very sorry for him. Well done to everyone involved!
Reply

Ooleary | 2nd October 2015 01:58
Poor Aaron the guy was nearly in tears,i just adore his 'feeling sorry for myself face',well done Aaron xx
Reply

Hunter | 1st October 2015 20:02
Great to have my favorite back in Aaron thank you Dave.

Would you please let us know what Aaron did to warrant the 36 lashes he took them well what a pro
Reply