RELEASED: 19th May 2017
Spanking Game
Karl, Fraser & Jay
Round Three
This continues directly from Round Two of the Spanking Game.
In round three of the Spanking Game all three lads are stripped down to their underwear. Their bottoms are already sore and red from the previous 2 rounds of spanking! The lads really don't hold back with the hits as the game continues. This time they have to pull down their pants to get spanked on their bare bottoms! This could be even more discomfort for three straight lads!
This round had over the knee, bare bottom spanking and lads getting thrashed against the wall. It's lots of fun too!
Due to the acoustics tn the studio some of the dialogue is not clear. I'm really sorry if this affects your enjoyment of the movie and I'll try and do better if there is a next time.
STREAM
VIDEO
Available streams for iPad, iPhone, Android, Chrome, Safari, IE or Firefox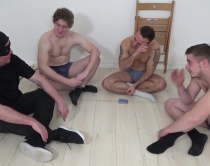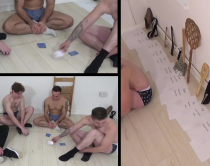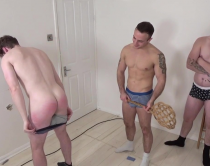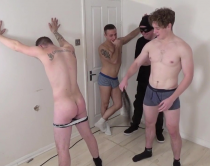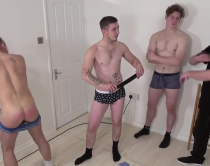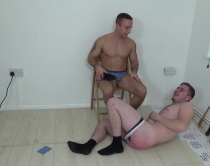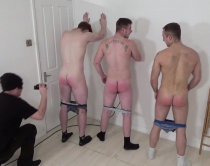 Orla | 20th May 2017 10:51
This was one if my predictions on the random blog cos no teaser this week...

I agree Karl definitely got the worst in all 3 rounds but he took them well ☺

Fraser is a sweetheart by far my favourite out of the 3 lads and he got some nasty marks dowm along his side leg from the birch and carpet beater ☺

Jay my least favourite of the 3 all that jumping about he gives it hard but he can't take it ,i was praying he'd get the butt blisterer 😂😂

Well done Mr.X. ...hope to see another spanking game soon xx

NovaDad | 31st May 2017 21:27 (72 weeks ago)
Perhaps you're a bit too hard on Jay. Based on his previous videos, it seems as if he can take a good spanking. It may be that he is so animated in this video when he's on the receiving end precisely because he can take a good spanking and doesn't want to appear too stoic.
In any case, acoustics issues aside, it's a good video! =:-))

Reply

jacko | 20th May 2017 12:49
Wonderful! A reunion of old friends! How appropriate for Dave to be sitting in and sharing the fun! Perhaps not the most spectacular of spanking videos but for viewers who have followed the memorable exploits of these three lads in recent years, a fantastic exercise in nostalgia. This video might even have been the swan song of three memorable SLS careers although I would hope to see one or more of these lads back again from time to time as a spanker. Once again in this video Karl displayed sufficient aptitude to warrant an audition in this role.

How things have changed! Gone are the cute and cuddly teenagers with their invitingly spankable bottoms, flaunting their sexuality without a moment's hesitation as they issued the challenge to "bring it on!" They have now been replaced with more mature young men without the characteristic pain tolerance but with greater responsibility and goals. Whatever you future brings, may it be ample reward for the pleasure you have given the viewers.

While acknowledging the poor acoustic quality, the constant banter still disclosed regular good-humoured quips which provided a pleasant background for the spanking activity at hand and brought back so many happy memories. Repeated visits to this video revealed even more gems of youthful wisdom. In view of the fact that these lads had already endured two rounds of chastisement, it was creditable that they remained cheerful, cooperative and interested even although the cash on offer decreased in its appeal somewhat as the pain increased.

For general play, I was very pleased to see the initial, distracting and unnecessary three-pane split screen replaced soon after with a more effective switch between two different full-screen views. The increased impact was immediate. The two-pane split which followed would have been more effective if it had displayed the models' heads which I think is essential in game format spanking videos to reveal participant reaction and to involve the viewer in the fun.

For the spanking against the wall I would have preferred a full-screen showing all participants with a superimposed upper body view to left to display the hidden facial expressions. The multi-pane screens were a distraction. For the OTK spanking a full-screen view would have been adequate if it had included all the participants.

I am always appreciative of the courage Art shows when experimenting with different editing techniques and camera angles in these spanking videos with impressive results. Well done!

While watching Fraser receive six whacks with the tawse I could picture him as a schoolboy with his cheeky grin and impeccable manners accepting justified punishment. I got the impression that it encouraged him to reminisce as well. Just as well the cane wasn't offered as a forfeit implement.

The response of the models to Dave's question was interesting. It encouraged a greater awareness of the degree to which models suffer for our pleasure although the display of red bottoms at the end of this video was further striking (pun intended) evidence.

Finally, I must compliment the team for the discrete attitude to nudity which was obvious in this video.

Thank you to Dave, Art, Karl, Fraser and Jay for your hard work in the production of the three entertaining spanking videos in this series.



Reply