RELEASED: 11th May 2018
Spencer
Spanked For Speeding
God bless Mr Smith. So many lads have messed up on his building sites over the years, one way or another, and rather than sack them, he sends them to Mr X to get their bottoms smacked. If only more employers took a leaf out of his book!
At the beginning of this week's new corporal punishment movie from Straight Lads Spanked, a young builder named Spencer arrives looking very sheepish, as well he might. He has had three speeding tickets already this year, and risks losing his job as site supervisor if he gets a driving ban.
To Mr X falls the task of reminding Spencer of his responsibilities both as an employee and as a motorist, and it is a task that he approaches in the usual manner and with his customary gusto. When he puts the lad over his knee and spanks him hard with his hand on the seat of his tight jeans, it's not long before Spencer is promising that he will never speed again!
At the end of this first stage of his punishment, Spencer is already pleading for leniency, but as we know, Mr X is not a man to be easily deterred from his duty. The young man is told in no uncertain terms to take off his shirt and jeans and get back over Mr X's knee for his spanking to continue on the seat of his tight grey pants.
The smacking is interspersed with a lecture from Mr X on the perils of speeding.... not least of which, it seems, is the risk of a good smacked bottom!
Spencer pleads to be spared the humiliation of having to take his pants down, but again Mr X will brook no argument. He knows that Spencer will have been warned about precisely what he should expect from a visit to Mr X. There can hardly be a lad left on any of Mr Smith's projects who hasn't been over the formidable community spanker's knee by now!
When he eventually pulls his pants down, he reveals a rear end that is already very red and sore.... but he has no alternative but to bend over again and get spanked on his bare bottom.
Spencer's punishment concludes with 30 final hard spanks to remind him of the speed limit in town. Maybe from now on, MPH will make him think "My Poor Heinie"!
STREAM
VIDEO
Available streams for iPad, iPhone, Android, Chrome, Safari, IE or Firefox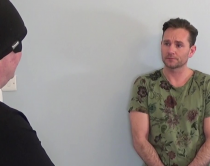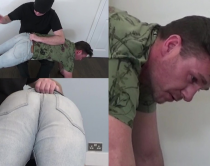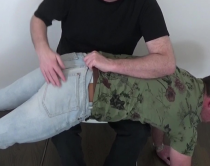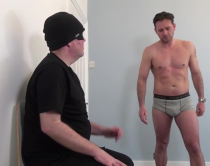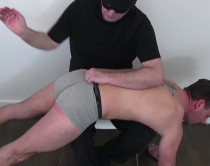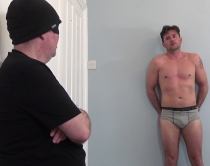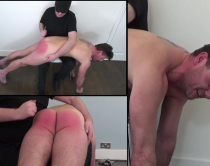 JamieJones | 13th May 2018 21:15
Mmmmm! I like Spencer, he's very nice :-) He did look terrified though...I hope his first visit to Mr X hasn't scared him off.

Spencer did well to take the spanking he did and to not reach back even once, to try and block the spanks, was impressive. Well done Spencer!

Sebastian is one of my all time favourites so the fact that Spencer is a friend of Sebastian is very exciting...I can't wait to see them getting into bother together. I'd be happy with them being brothers, cousins, work mates or just friends so long as we get to see lots more Spencer.

Reply

mstr_spkr | 12th May 2018 03:15
Welcome, Spencer! It's great to have you here.

Spencer has done a great job. He acts contrite and his interactions are reasonable for a guy in his position (literally and figuratively). This was an excellent first spanking and I hope nowhere near the last. I, too, had a recollection of Sebastian in his looks and voice. They could be spanked as brothers at some point and it would be quite believable.

As with all the new guys, I'd welcome an interview at some point.

Once again, thanks for the great job and welcome aboard.
Reply

Orla | 11th May 2018 20:17
Another new model ..I like Spencer ...poor guy was very nervous though.

Dave I'm wondering if he's anyway related to Sebastian cos when I close my eyes and listen to him he sounds exactly like Sebastian.

Dave - Straight Lads Spanked | 11th May 2018 21:50 (62 weeks ago)
Well spotted! Spencer and Sebastian are friends! It's Sebastian's fault that Spencer is here! :)
Reply

LucienG | 11th May 2018 21:06
I enjoyed this one. A well delivered and well received spanking. Spencer's just the right size and age. Loved his reactions and his pink socks. Thanks and I hope to see my of him.

Dave - Straight Lads Spanked | 11th May 2018 21:49 (62 weeks ago)
Really glad you enjoyed this! I'm keen to get Spence back too!
Reply