RELEASED: 3rd May 2019
Bobby & Alex
Spanked Footballers
As members will be aware, club footballers Bobby and Alex have both already had their 'first and last' spankings from the strict team coach.... but although it may have been their first time over a man's knee, it turns out that it wasn't their last!
At the beginning of the latest male corporal punishment video from Straight Lads Spanked, we learn that the lads have been fighting, in front of the visiting team, and have been summoned to report to the coach for a disciplinary appointment. Coach, ever scrupulously fair, gives the lads a chance, saying that if they confess which of them started the fight, the other will escape the spanking that is his traditional punishment.
When both lads try to blame the other, however, an exasperated Coach finds he is left with no alternative but to give each of them a well deserved smacked bottom!
Bobby is first over his knee, for a spanking on his tight blue football shorts, accompanied by a stern lecture on the perils of breaking Rule 5 in the club's rulebook: no fighting!
Bobby complains that Alex started the fight by pulling his pants down in front of the team, but a sniggering Alex, standing waiting his turn, quickly denies it. Coach tells Bobby that it won't be the last time his pants will be pulled down today!
Eventually the lads are told to swap round, and it is Alex's turn to bend over the coach's knee. And as usual, as soon as the first smacks from Coach's firm right hand land on his bottom, he starts "owwing" and "ahhing", much to Coach's annoyance!
It's not long before it's time for Bobby - who has already been told to take off his shorts in readiness - to go back over the knee for his punishment to continue on his skimpy briefs. As the two young reprobates squabble and giggle about who is to blame, Coach tells Bobby that he won't be laughing in a minute!
As the spanking proceeds and his bottom and upper thighs begin to glow red, Bobby is the first of the lads finally to apologise to Coach, and we can see that the message is finally beginning to get through.
It's Alex's turn now to have the seat of his pants warmed over Coach's knee, but the message seems to be taking a bit longer to get through with this one! Again and again Coach says to him, "Not so tough now, are we, young man?", but Alex can only giggle nervously rather than reply with a simple "No".... which costs him rather more smacks than he might otherwise have got!
When Bobby is told to pull down his pants to be spanked on his bare behind, according to time-honoured club tradition, he initially resists, not wanting to be bare-bottomed in front of his team-mate, but Coach is having none of that.
As Part One ends, Bobby is the first of the badly behaved pair about to comply with instructions and drop his undies....
STREAM
VIDEO
Available streams for iPad, iPhone, Android, Chrome, Safari, IE or Firefox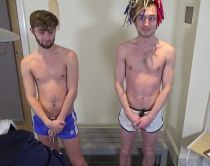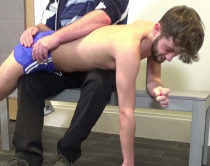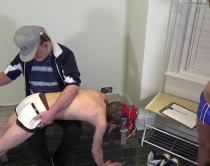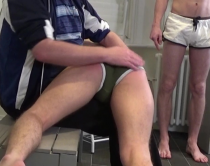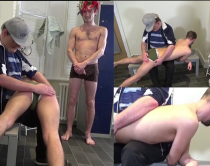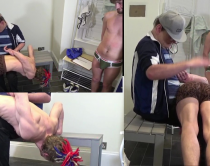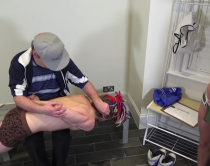 drvans | 8th May 2019 07:45
Something I forgot to point out about young Bobby: this is for the guys who, while relishing the sight of a young lad being disciplined across his bottom, also appreciate seeing him receive corporal punishment on other parts of his anatomy that are suitable for the purpose. Bobby has a lusciously whippable back - smooth, hairless and - unlike his bottom after he's been laid across Dave's knee - lightly tanned! Perfect for a good sound flogging! I'd love to lay my cat-o'-six'tails across those finely-chiselled shoulders until the boy's back looked like a strawberry ripple! It would be impractical to lay him over my knee to whip him, but I'd still make him bend over, as that gives me bigger swing and I would want to alternate the lashes across his back with some good, smarting strokes across his well-rounded bottom!

Bobby's cuteness lies in his boyish physique and his cheeky little face, the youthfulness of which is not in the slightest disguised by his beard (though I imagine he's grown it in an attempt to look older). When he grins, he looks a real little imp but I think he needs to learn that when you're laid over the knee getting your bottom smacked for being a naughty boy, that is neither the time nor the place for it. I am just waiting to see if the next part of the spanking, as Bobby takes his cheeky briefs off to get his naked bum belted, will teach him that badly- needed lesson!
Reply

drvans | 7th May 2019 11:52
There are fewer bigger turn-ons than an older lad laid over the knee for a good smacked bottom, reduced to the status of a naughty boy. And in this case, bare except for punishably short shorts! This gorgeous clip just blew me away!

I can certainly see what the enthusiasm about young Bobby is all for! What a cute, cheeky little monkey! He just looks so naughty and there is a delicious vulnerability about him as he stands almost naked apart from those fantastically brief shorts waiting to be given a spanking! By the sounds of it, a thoroughly deserved one! I just gasped as he turned his back towards the camera at the pertness and cheekiness of his phenomenally smackable bottom which just increase as he bends over Dave's knee to be disciplined! The way he has his hand down the back of his pants, presumably to try and ease some of the pain in his bottom is just a brilliant touch, whether or not he was consciously doing it to get us feeling like that. When he has to take his shorts off to be smacked on his underpants, it is great to get that, for me, all-important confirmation that he is firmly a member of the coloured-underpants brigade and interesting to see how, as in his last video, he tends rather to buck the trend for young lads his age and is wearing briefs.

Alex is clearly completely unembarrassed at how his underpants are so visible under his almost-impossibly short shorts - he ought to be laid over the knee and spanked just for going out like that! It does seem to be a thing with boys these days that they are not embarrassed by other people being able to see their underwear as I probably would have been at their age. It's obviously no big deal to them - their pants are no longer an inherently private item of clothing.

A very spankable duo, these two! As one or two others have remarked, I think the grinning and giggling works in this case because the lads are clearly trying to demonstrate a lot of bravado in front of each other. I've seen the same happen when I've been disciplining my naughty boys in front of one another, too, so I don't think it's in any way unrealistic - in fact I think that it adds a lovely touch of realism if anything.

I can't wait to see Part 2! I did read Dave's remarks on the homepage and I do hope everything's OK. Please don't keep us in suspense too long with this one, though, Dave, hahaha!

Reply

philimare | 4th May 2019 17:21
I voted 10 almost before watching because Bobby was back (at last). I totally agree with Serena89 he is the cutest, sweetest, most adorable model ever. He is now definitely in my top 3. Not to mention he is amazingly sexy but seems to act as if he was not aware of it which makes him even more sexy and charming. OMG he looks so perfect in his little blue short and sexy Aussiebum (hahaha).
I normally don't like laughings during spanking because nobody is supposed to laugh too long when being punished but, here again, I agree with Serena89, it did not bother me too much as it was more ok with the scenario.
I still don't understand why Alex keeps "this" on his head, he was so sexy in his first movies ... and would definitely still be without "this" Anyway, nothing can ruin my pleasure of seeing Bobby back.
10/10, it's all about Bobby :-)


Reply

Serena89 | 3rd May 2019 18:29
Ugh, my first comment did not post.... so here I am again.

YAYYYYY Dave thank you, you gave us Bobby :D All of my going on must have worked. YAY.

I was conflicted when I saw this as I was sooo happy to see Bobby. He is my absolute favourite of the newer guys on here however I think it is pretty obvious that Alex is not and is not to my tastes. However I am so surprised at how much I enjoyed this video. The slightly more light hearted tone worked with two younger models. And I think Alex is definitley more suited to videos where he is along side an other guy as it works with his cheeky personality. The laughing and silly moaning and crying during the spanking did not annoy me as much as Bobby was there as a witness.

What can I say about Bobby! He is my favourite ever on this site OMG HE IS SUCH A CUTIE! I was hoping to see Bobby on his own and with dad!! Maybe after this scenario when Bobby gets home and his dad finds out about the fighting?? When coach asked who started it and Bobby pointed at Alex omg what a cutieeeee. And when he said 'we all know it was him' I was like yasss baby we all know you are a sweet, innocent angel and it was mean Alex and his evil hair HAHAHA. Awww. I love his cute af voice and how he's so innocent and says 'I don't know' to a lot of questions he is just so sweet and adorable.

Thank you Dave!
Well done everybody.

Serena89 | 3rd May 2019 18:38 (89 weeks ago)
I forgot to say also. Bobby had his 'reaction' again at the end and OMG HE LOOKS RATHER BIG. WOW. haha.
Also I think Alex looked to be semi hard toward the end and when Bobby was being spanked. INTERESTING.
Reply

Serena89 | 3rd May 2019 18:31
Also I meant to vote 9 not 7... it's so high mainly due to Bobby! I cannot rest my vote though.
Reply