RELEASED: 5th December 2013
Spank Jenga - Dom, Harry, Wayne, Adam - Part One
It's forfeit time!
Dom, Harry, Wayne & Adam are real life mates. They grew up together, went to school together.
They are all 19 years old.
So now, it is there turn to play Spank Jenga!
This is the forfeit game with painful, humiliating twists!
If you lose you have to get spanked by your friends with a variety of implements!

"""Special note to members!
Check back in just a few days and you will also get Part Two of this latest series of Spank Jenga"""
STREAM
VIDEO
Available streams for iPad, iPhone, Android, Chrome, Safari, IE or Firefox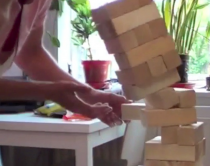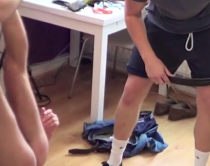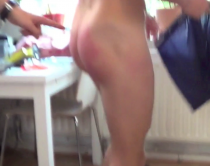 Andy | 19th April 2016 11:56
Reply

Cherylkay | 30th November 2014 02:44
Favorite moments in this one:

The way the other guys giggle while Dom is getting undressed.
Wayne telling Dom he has smelly feet.
Dom telling Adam "I got TWO cheeks!"
Wayne telling Dom "You took that like a man."

Least favorite moment:

During the interview when Dom admits he doesn't know how old his grandmother is and Harry says "A hundred." I wanted to reach through my computer screen and give him a slap. What a horrid thing to say! LOL
Reply

red1967 | 19th November 2014 19:46
Did not think I would enjoy this movie s but I did look like the boys are going to have fun Well done Dom that looked like that hurt lol Hopefully you will get your own back. lol
Reply

lorilee
|
Voted Video 8/10
| 6th December 2013 02:45 (394 weeks ago)
This is one funny game these boys were playing, it was good Dom did well at taking his forfeit hope the others do as well. It was very natural you can tell they have been mates for a long time. loved it can't wait for the next one. Thanks for making it for us. P.S hope Dom's Grandmother had a great birthday.

welshboy
|
Voted Video 7/10
| 7th December 2013 17:03 (393 weeks ago)
I have been looking forward to this one, I do love the spanking game themes , and as all four of the lads are real friends the whole film should be a real treat. As this was the first one, I was thinking the spanking would be a little tame, But as always Dom is a real star and took his spanking very well, by the end of this first part Dom's bottom was rosy red. Well done to all the boys. Looking forward to the second part. Dave by the end of this Spank Jenga will you release all the parts together like in the other Spank Jenga films?

james
|
Voted Video 10/10
| 9th December 2013 17:54 (393 weeks ago)
I love these themes do. 3 or 4 guys in the same movie great. The only thing I don't like is that its all taken in turn, if the game was played properly it wouldn't happen like this so be good to see them come out of sequence.

tinhead1
|
Voted Video 10/10
| 9th December 2013 20:53 (393 weeks ago)
Four great looking straight lads with a cocky attitude having to get spanked by each other. What a superb video.

Neasa
|
Voted Video 8/10
| 11th December 2013 22:44 (393 weeks ago)
I really enjoyed this movie. I loved the interaction between all the guys. Can't wait for the next part :D. Keep up the good work :D.

natasha
|
Voted Video 9/10
| 15th December 2013 04:37 (392 weeks ago)
really loved the video great chemistry all around. quick question, is there any way we could have individual interviews with any of the guys like dom,adam, whoever really, like the one you did with bailey, and andy or would that be weird?

gymshoe
|
Voted Video 7/10
| 30th December 2013 22:12 (390 weeks ago)
Dom is fast becoming a fave of mine :-)