RELEASED: 23rd June 2017
Fraser
Traditional Punishment
Paddled
Someone has broken into the football club in the evening and raided the coaches drink cabinet. The coach is understandably very angry and wants to get to the 'bottom' of the person responsible for this! The coach starts interrogating all the players to find out who is responsible.
No one will own up!
The coach starts making threats saying that everyone will get punished until someone owns up. The coach then tells Fraser that his younger brother will get spanked unless someone owns up! So Fraser confesses!
This means Fraser is going to get punished. An over the knee spanking followed by 18 whacks from the wooden paddle. Fraser has clearly been working out and the sight of his muscular body as he stands in position for the paddle is a sight to behold indeed!
Fraser takes a real whacking in this traditional punishment.
"More from Producer Dave, I really enjoyed making this movie with Fraser. He seems to understand what is needed and just gets on with the job. He takes everything in this stride. I remember that with this movie we both kept in full character from beginning to end. Other than stopping from occasionally to adjust a camera, this was shot in one take. The punishment was hard and real."
STREAM
VIDEO
Available streams for iPad, iPhone, Android, Chrome, Safari, IE or Firefox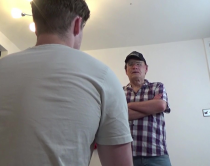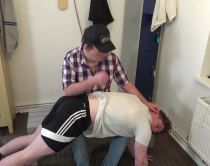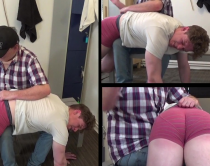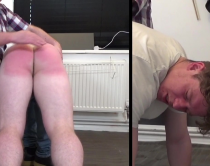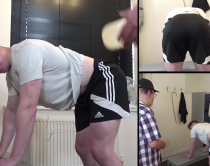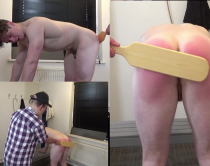 spanker54 | 22nd August 2019 14:01
fraser is so cute, nice too see a top showing his face but too much waffle
Reply

mattnyc | 27th June 2017 20:37
Fraser is amazing. I agree with the other members; he's looking hotter than ever. He's always had a perfect body and stupendous butt but with the extra muscle he's even sexier. I also agree that what makes him so hot as a spanking model is his personality. He's great at playing the obedient, sorry, spankable young man and always stays in character. I also like that he reacts to the spanking. I know Dave rightly never tells the models how to react so the stoic ones just do it naturally. I personally go for the squirming, kicking, wincing, and even crying so Fraser is one of my favorites. Great job as always, Dave. Love the OTK spanking and also like the paddling because it puts Fraser totally on display and naked. Super hot. Thanks for the great work Dave and Art.
Reply

mstr_spkr | 26th June 2017 13:44
Excellent job all around!

Now, did Fraser admit guilt because he was truly guilty or did he do it to protect his brother? Hmmm..... And if he was protecting his brother, what kind of retribution will he require?

Just a thought.

I also cannot wait for Elliot's turn. He is not only guilty but he lied about it on several counts so he should get worse.
Reply

Orla | 26th June 2017 11:11
Well done Fraser that was a tough one. Fraser is such a lovely lad so soft spoken and innocent looking so i was surprised he stole the coaches keys and broke in to go drinking ,he deserved that spanking, which i must say was a hard one his bottom was practically glowing again, I love how he's not embarrassed to let us know how much it hurts with his groans and rubbing his sore bottom and his legs were shaking too.

Standing in the corner to think about what he'd done , what had just happened and what was to come next ~ pure genius~ and bottom rubbing always a favourite of mine.

18 swats with the paddle was a bit much after all he did admit his guilt but he took them well ☺.

Now i can't wait for Elliott, seeing as he lied to the coach and denied even being there i think he needs the cane 😂😂
Reply

LucienG | 25th June 2017 00:45
Love this video. Fraser is so hunky! He's always been one of my favorites and he seems like he's beefed up some. I also love how he wasn't expressionless during the spanking. Clearly it was painful--after all he got spanked by one of the best, even with the mask. I look forward to Elliott's punishment.
Reply