RELEASED: 12th August 2016
Bradley
Real Punishment
Choose The Implement
For those of you who have been following my movie progress here on Straight Lads Spanked you may have noticed I have developed a slight obsession with trying to film 'Real Spankings'. Just to be clear, when I say a real spanking I mean where the model is not playing a part and is getting punished for real.
This is exactly what happened with Bradley.
Everything is explained in the movie, however the brief background to the story is that Bradley was meant to be filming with another model and failed to show up. This meant I had to cancel the shoot.
We rearranged things for the next day and Bradley was really late!
Bradley was given some stark choices to make regarding his punishment and the implements that would be used. I don't want to give too much away here, but what happened was Bradley endured a very harsh, over the knee thrashing with a variety if implements.
This entire movie is presented to you on one continuous real time stream. I started filming from when I opened the door to Bradley right through to after the punishment. You get to see the entire, painful progress!
STREAM
VIDEO
Available streams for iPad, iPhone, Android, Chrome, Safari, IE or Firefox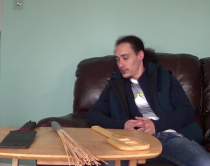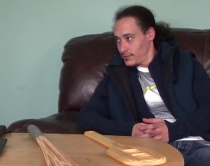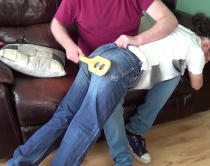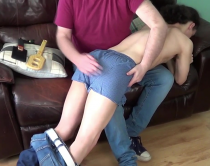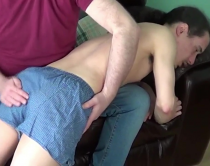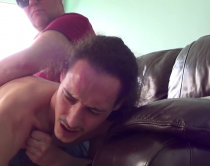 jacko | 30th January 2017 02:57
Really, Bradley was asking for trouble when he didn't turn up at all on the first day and arrived late on the second day. It was not surprising that Dave had prepared a severe punishment for him. And to make matters worse, he totally ignored me when I advised him what implement to choose. Silly boy! I've watched a couple of movies now in which the models were invited to choose their spanking implements and on both occasions poor choice resulted in a harsher punishment. Obviously, there is lack of communication amongst the models.

You were in a stinking mood that day, Dave as shown by your swearing and the following appalling comment when you were spanking Bradley, to which I took umbrage:

"Just for the people at home, this is the type of boxers, ridiculous boxers, that the heterosexual men of the UK wear."

It was obvious that the demeaning comment offended Bradley. Besides being a healthier underwear option, many of us can't afford the branded underwear worn by most SLS models so select this type of boxers as a less expensive, healthy alternative. I am sure that Bradley appreciated his loose, cool undies when he was eventually permitted to ease them back over his tortured backside. Your comment appears to suggest that wearing undies of a different style might indicate a sexual orientation other that heterosexuality.

Bradley wasn't the only model to stand you up, so the anger you directed at his backside was not totally his fault but he ultimately bore the pain. He was quite literally in the wrong place at the wrong time.

This was an excellent movie which featured a believable storyline and purpose for the spanking, a very annoyed spanker, a very real punishment, an obviously suffering victim and a well-deserved outcome. Although Bradley wasn't required to apply his acting skills to the role he played, the characterisation and reaction were superb although once again Bradley's lack of dialogue was a concern. The fact that Bradley lasted the distance without pleading for rescue or constantly apologising, demonstrated that he had resigned himself to submit to the total punishment although it was touch and go at times. Only Dave's generous pauses allowed him to last the distance.

I hope that Bradley has learnt from this episode and will not be tardy in future. I can appreciate the frustration Dave must feel when scheduled appointments are not kept.
Reply

Ooleary | 13th August 2016 01:31
I love the real punishment movies, please keep making them xx
I love Bradley and want to see more of him also.

I'll comment more when I've watched a few more times ,I've already watched it twice and i just want to hug you cos I've never seen you so pissed off and you cursed you were so fed up ...hope your feeling much better now.


Dave - Straight Lads Spanked | 5th December 2016 19:44 (81 weeks ago)
Oh I'm finally feeling fine now! I was annoyed that day though! Very annoyed!
Reply

lorilee | 16th August 2016 21:55
Hi Dave I finely got my new computer love it. Bradley I bet you wont be late again, Dave really gave you a good spanking. your a one of my fav. hope to more of you. this and WTFH are my fav. Thank for all involved wonderful job.

Dave - Straight Lads Spanked | 5th December 2016 19:43 (81 weeks ago)
Good to hear from you Lori and I'm glad you like Bradley too
Reply

| 5th December 2016 14:30
I love Bradley,my favorite!!!!!

Dave - Straight Lads Spanked | 5th December 2016 19:43 (81 weeks ago)
Me too! I'm a huge Bradley fan too! I really, really like working with him
Reply