RELEASED: 12th August 2016
Bradley
Real Punishment
Choose The Implement
For those of you who have been following my movie progress here on Straight Lads Spanked you may have noticed I have developed a slight obsession with trying to film 'Real Spankings'. Just to be clear, when I say a real spanking I mean where the model is not playing a part and is getting punished for real.
This is exactly what happened with Bradley.
Everything is explained in the movie, however the brief background to the story is that Bradley was meant to be filming with another model and failed to show up. This meant I had to cancel the shoot.
We rearranged things for the next day and Bradley was really late!
Bradley was given some stark choices to make regarding his punishment and the implements that would be used. I don't want to give too much away here, but what happened was Bradley endured a very harsh, over the knee thrashing with a variety if implements.
This entire movie is presented to you on one continuous real time stream. I started filming from when I opened the door to Bradley right through to after the punishment. You get to see the entire, painful progress!
STREAM
VIDEO
Available streams for iPad, iPhone, Android, Chrome, Safari, IE or Firefox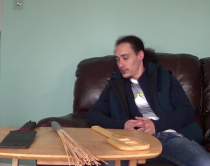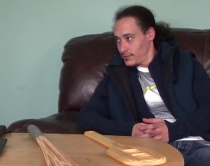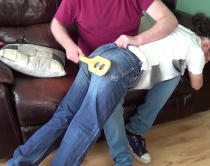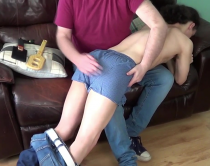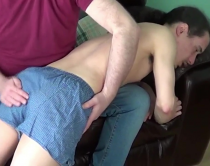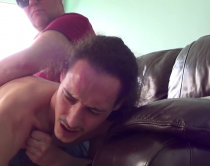 Ooleary | 13th August 2016 02:31
I love the real punishment movies, please keep making them xx
I love Bradley and want to see more of him also.

I'll comment more when I've watched a few more times ,I've already watched it twice and i just want to hug you cos I've never seen you so pissed off and you cursed you were so fed up ...hope your feeling much better now.


Dave - Straight Lads Spanked | 5th December 2016 20:44 (6 weeks ago)
Oh I'm finally feeling fine now! I was annoyed that day though! Very annoyed!
Reply

lorilee | 16th August 2016 22:55
Hi Dave I finely got my new computer love it. Bradley I bet you wont be late again, Dave really gave you a good spanking. your a one of my fav. hope to more of you. this and WTFH are my fav. Thank for all involved wonderful job.

Dave - Straight Lads Spanked | 5th December 2016 20:43 (6 weeks ago)
Good to hear from you Lori and I'm glad you like Bradley too
Reply

| 5th December 2016 15:30
I love Bradley,my favorite!!!!!

Dave - Straight Lads Spanked | 5th December 2016 20:43 (6 weeks ago)
Me too! I'm a huge Bradley fan too! I really, really like working with him
Reply