RELEASED: 8th December 2017
Jason
Caught Peeping At Girls
Part Two
This spanking video follows on directly from Part One
So it turns out we were right to worry for Jason, after Coach announced that he was obliged to inform his father that he had had to put him over his knee and spank him for being a peeping tom in the girls' changing rooms at the sports club. That was the sort of news that was never going to go down well with Dad!
In the latest male spanking movie from Straight Lads Spanked, Jason protests that he has already been punished by Coach and his bottom is still bruised and sore, but something in the way Dad stands lecturing the lad in his bedroom, holding a fearsome-looking leather strap in his hand, suggests that those protests were never going to wash with him...
Dad is both disgusted and mortified that his son has been spying on girls getting changed, but he makes it plain that if anybody is going to be disciplining Jason, it's going to be him.
A nervous Jason steps up his attempts to talk his way out of any further punishment, but all to no avail. Dad hauls him over his knee and warms the seat of his tight grey pants, first by hand and then with the leather strap. He makes it abundantly clear that his son isn't going anywhere until he has been taught a very painful lesson!
It's obvious that it is a lesson that is hitting its mark when Jason does the unthinkable - grabbing the strap out of Dad's hand and throwing it on the floor! That is the signal for a furious Dad, first of all to insist that Jason picks it up and hands it back, and then to yank down his wayward son's pants and spank him hard on his bare bottom!
Draped over his father's knee with his pants around his knees, Jason promises that he won't peep on the girls again... but Dad is going to make absolutely sure that he won't! A damn good thrashing with the leather strap leaves the lad bucking and kicking with a very sore red bottom... and a warning that the next time he has to put him over his knee, he won't be sitting down for a week!
Jason is going to have to get those teenage hormones under control if he wants to keep his bottom out of harm's way in future!
STREAM
VIDEO
Available streams for iPad, iPhone, Android, Chrome, Safari, IE or Firefox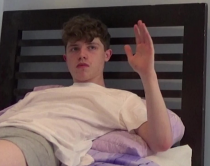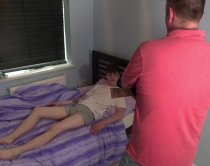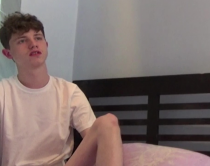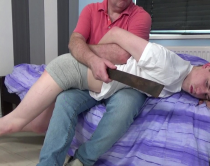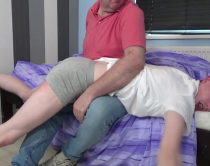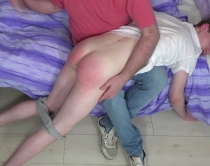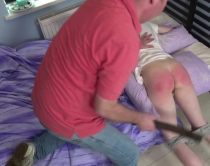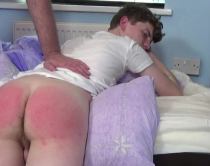 Lee | 6th September 2019 23:18
He is just perfect!
Reply

Nevermore | 4th January 2019 20:13
A delightful spanking! I look forward to more of him!
Reply

LucienG | 9th December 2017 00:24
Excellent spanking! Normally, I wouldn't comment on a spanking where a tawse-like implement was employed, but this was a really good spanking! Jason has an adorable little bum that's perfect for spanking. His acting was certainly believable Dad, of course did an amazing job...Dave, I've forgiven you for that bruise you put on fair-skinned Fraser with the bath brush. You still reign as on my favorite spankers! Thanks to Arts editing too.
Reply

Orla | 9th December 2017 00:11
Can't get enough of Jason such a little cutie and a great actor.Good hard spanking and good hard swats with the strap.I thought Dad would flip out more when Jason grabbed the strap and tried to jump off dad's lap.Dad great job as always.This is one I'll be watching again and again tomorrow. 10/10
Reply

philimare | 8th December 2017 20:20
Wow, this one is one of the best, as was the part 1. Great acting in a very credible scenario, great hard spanking as a real punishment should be and above all wonderful boy, sexy smooth body and very very cute ass :-) Would really love to see more and more from him ! Indisputable 10/10 !
Reply

JamieJones | 8th December 2017 17:55
Dave, I love you so much! XXX Thank you for not making us wait too long to see how Jason's dad dealt with him following that phone call from Coach.

I knew Jason had lied to Coach when he said he hadn't been spanked before...Dad gave it away when he said "You know how this works, you've been over here enough times" and pointed to his knee. It's a shame Coach wasn't there to hear that! LOL!

I couldn't believe it when Jason grabbed the strap from Dad and threw it away!!! Blimey, I'm surprised he was able to sit down after pulling that little stunt! I thought Dad would have got really angry and spanked Jason way harder than he did, but I'm glad Dad didn't go too hard on Jason as I think he is totally adorable and I don't want to see him getting too badly hurt. (Dad is adorable too!)

I really liked the Scottish strap - so much nicer to watch than Dad using his belt as it allowed Dad to keep Jason over his knee for longer which really works for me. I prefer the OTK punishments to those where the lad is face down on the bed or leaning against a wall.

Thanks again Dave, thanks Jason and thanks Art for another amazing movie.

p.s. Dave - I'd never have guessed you grew up in Scotland...not with that accent!!! LOL!

Reply