RELEASED: 5th October 2017
Charlie
Bubble Bath Blues
This movie follows on from Charlie - Foul Behaviour
Charlie has returned with a sore bottom having been spanked by the football coach. He is rather stressed and full of dread as he has to give his Father a letter, written by the coach that describes his bad behaviour and punishment.
Charlie knows that his father will not he sympathetic and is expecting to get it all over again from Dad!
Charlie decides to do what he can to relax and slowly strips of his clothes, revealing a firm, muscular body and a sore, red bottom! The football player heads to the bathroom and relaxes in a warm, bubble bath.
We get to see just how magnificent that hunky str8 lad is as he slowly soaps his muscles as he relaxes in the bath.
All too soon, he has to get out and dry himself waiting for Dad to come home. Charlie wastes no time in giving Dad the letter. He knew Dad was gonna be furious but wow, Dad is really mad!
After a stern lecture he gets his beefy son over his knee and proceeds to give him a dam, good spanking! He uses his hand and the wooden spatula. Ouch! It's extra sore as Charlie already has a sore bottom from a previous spanking.
STREAM
VIDEO
Available streams for iPad, iPhone, Android, Chrome, Safari, IE or Firefox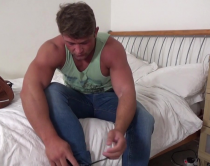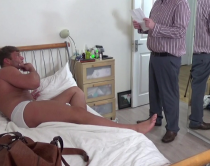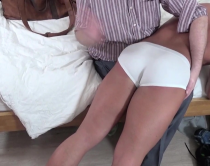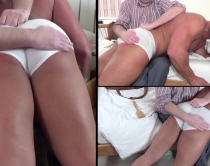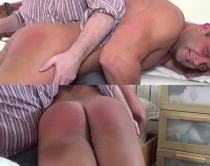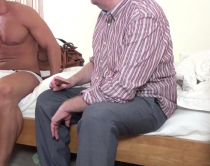 mattnyc | 8th October 2017 14:37
Charlie is now officially the hottest model on the site. Maybe the hottest ever on the site. And there's some tough competition for that title. He has a PERFECT body: Beautiful, muscular, and smooth. He's big but he's not overly pumped. His butt is science fiction hot and he's really handsome. He's also a fantastic actor. I love how serious and committed he always is to the scenes. It adds so much when the models throw themselves into the scenario and don't seem uncomfortable. Great work on the spanking and directing, Dave. And perfect, sexy briefs. Always a huge plus. I loved seeing Charlie do the spanking in his last clip but it's also great to see that flawless butt over your knee. Lots more Charlie, please. He's a star.
Reply

I'm completely in love with Charlie, but knowing how hard he spanks I can't wait to see him being in charge again.
Reply

JamieJones | 6th October 2017 17:09
On paper this has almost everything I like in a movie; it's a domestic scene, the dialogue between Charlie and Dad is great, I love the storyline although it does make me laugh that at 23 years old Charlie still needs to get a note signed by his Dad, but then I know life is very different in SLSville. The editing is brilliant - thanks Art - I don't know how you do it, making every movie different but so, so good. It features Charlie and let's face it what's not to like about Charlie? A gorgeous guy with a really cheeky attitude - I can't believe he tried to delay his spanking from Dad until the next day - he should have been given extra swats just for that! But somehow it's just missing something and I can't put my finger on what it is.

I've watched this movie four times now, twice as a standalone and twice having watched 'Charlie - Foul Behaviour' first but I'm going to persevere and watch it a few more times until I find whatever it is that I'm missing. Imagine how tough this is going to be for me! LOL!

Despite all of this I still want to say massive 'thank you' to Charlie, Dave and Art for another fantastic movie. :-)

Reply

Orla | 6th October 2017 11:43
Super sexy Charlie. Drop the 🎤.
Reply

Rasputin | 6th October 2017 01:44
Splendid video! I just gave it a "10 out of 10" rating.

Where to start? To begin with, Charllie is a great model - good-looking, masculine, smooth muscular body, and a round, firm, spankable bottom. He reacted in the proper way to his punishment - lots of squirming, kicking, grimacing, groaning, and yelping. That way the viewer could tell that his spanking both humiliated and hurt him.

Charlie's wardrobe was great too; he looked wonderful in those tight, skimpy briefs, both when they were pulled up and when they were pulled down. The fact that his briefs were tight, skimpy and white enabled the viewer to see the outlines of his physique and ass quite nicely.

Art did a wonderful job getting the right camera angle for us to see how the spanking was hurting and humiliating Charlie, and enabled us to admire his smooth, muscular body and bottom. The three-way split-screen camera work was spot-on.

Dave, as you were the director, you deserve a lot of credit for this video.

The only thing that I might have done differently would be that I would have Dave spank Charlie with a large, wooden bath brush instead of that small wooden spoon.

Still, this was a wonderful video, worthy of the "10 out of 10" rating that I gave it.
Reply