RELEASED: 7th April 2017
Elliot
Bubble Bath Blues
This spanking video follows on from Elliot - Banker Gets Spanked.
What a day Elliot it has. He was caught at work watching naughty movies and ended up corrupting the companies internet network. Elliot was sent to Mr X to be punished and is now home with a sore bottom and a bruised ego.
This spanking video begins with Elliot stripping off and soothing his muscular body by soaking gently in the bath. We really get to see every inch of this buff man as he soaps his muscles.
However this spanking video is not just about taking a bath! Dad comes home and has heard all about Elliot's bad behavior! In fact everyone seems to have head about it as pictures of Elliot's spanked bottom seem to have been shared around social media.
Dad is not happy and decides that he needs to punish Elliot too! If you enjoy a spanking video that has OTK spanking then you will enjoy seeing this naked lad over Dad' lap getting his firm, round bottom spanked hard! It's not just hand spanking though. Dad also gets the wooden spoon out which really pushes Elliot as each whack leaves it's mark on the poor lad's sore bottom.
STREAM
VIDEO
Available streams for iPad, iPhone, Android, Chrome, Safari, IE or Firefox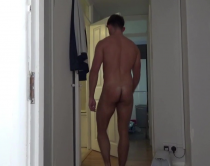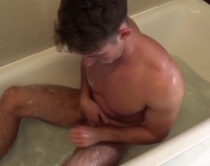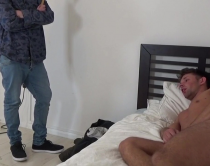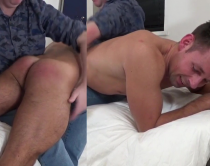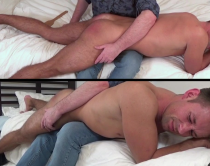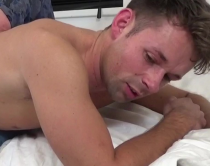 Rasputin | 10th April 2017 02:11
A good, solid video. Eliot is a good-looking, athletic lad and he gave a demonstrative performance. I love OTK spankings.

I gave it an 8 out of 10. I would have given it higher marks if Eliot had first been spanked while wearing tight-fitting, skimpy briefs, then "Dad" had pulled Elipt's briefs down in back for a bare-bottom spanking. It also would have been better if Dave had spanked Eliot even harder.

Still, I enjoyed this video.
Reply

mattnyc | 9th April 2017 03:13
Elliot is a super sexy new model. Instantly one of my favorites. What a great addition to the site. He's muscular, masculine, and an excellent actor. I love his beefy thighs and he has a perfect bottom. He's also super handsome. I like that his torso is smooth and his legs and butt are a bit hairy. Sexy all around. He's also a really good actor. He really went for it in his first clip and is even better in this one. I like that he's comfortable playing the obedient, sorry, young man type character. Great job, Dave with the acting, too. Love all the OTK action, loved seeing Elliot in the tub first, and loved the wooden spoon. My only request would be to include a round on sexy, tight, underpants when it's possible in the Bubble Bath series. You've done that in the past and I love it. Love the anticipation before the bare bottom spanking and I love how sexy the models are in their underwear. Great work, Dave, Art, and of course Elliot.
Reply

jacko | 8th April 2017 12:58
A thoroughly convincing and entertaining movie, once again highlighting Elliot's fantastic acting skills. The interchange of dialogue in this video is superb, the reality enhanced further by Elliot's apt reactions and facial expressions. Thank you Elliot and Dave for working so hard to ensure that this memorable movie would reach a very high standard.

As usual, the bathroom scene didn't appeal to me. In fact, I lost interest in the bathroom activities once the management accepted a bribe to provide a bubble bath without any bubbles to ensure pellucidity. However, the bedroom scene more than compensated.

As the 24-year-old Elliot lay on his bed, accentuating his beefy thighs he pleaded that he was far too old to be spanked with a wooden spoon. I tended to agree with him. Perhaps the tawse or wooden paddle would have been a better choice. Besides, it was not his idea to plaster photos of his naked bum all over social media. He tried to explain to his nagging father that this was part of his punishment, not a scheme to ruin the family reputation.

However, the father was intent on imitating the grandfather's reaction to his past misdemeanours so the OTK spanking went ahead. I hope that in the many years that had intervened since it was last used for spanking, the spoon had not been used to stir the Christmas pudding. I am concerned that it might be quite a while before Elliot will have the opportunity to use the same wooden spoon on his own son if he continues to spend so much of his time on the Luscious Lesbians website. He will require monitoring.

I welcome the introduction of the father-son discussion at the end of recent movies. It is a positive feature that provides intimate and loving closure following necessary punishment.

Such an enjoyable film! It motivated me to watch again, Elliot's first film and to read my review. Unfortunately, I don't appear to have reviewed Elliot's first effort despite its impressiveness. Very slack! However, judging by his first two filming performances and the accolades they have generated, Elliot has enormous talent and potential so I agree that his skills should be utilised regularly. He would be ideal in a game movie with models of his own age and size, would excel as a co-star and as suggested, has the competence with improvised dialogue to qualify him as a spanker.

Super effort! Art, your contribution was appreciated as well.


Uchikimatsu | 8th April 2017 14:36 (66 weeks ago)
ROFL @ jacko!!!

I can assure you it was not I that bribed production to pilfer the Mr. Bubble from the bathroom, however I did let Elliot borrow my login and password for Luscious Lesbians ;-)
Reply

Orla | 8th April 2017 11:08
Good job Elliott , just needs to work on the dialogue too much cmon dad , I'm sorry dad. Dad was great I liked the whole picture in the board room and 3 generations working in that office etc love all these little back stories .The wooden spatula is my favourite weapon so that's another plus for this movie and i loves the little sit down chat at the end.I'd like to see Elliott again 😊
Reply

Uchikimatsu | 8th April 2017 03:51
Did I catch a "stay at peace?" Oh how I've missed those.... I'm going to make a Stay at Peace compilation one of these days....
And a conspicuous lack of wet towels in this BBB! Bah!


Reply

mstr_spkr | 8th April 2017 02:32
Elliot is rapidly becoming one of my all-time favorite models. Excellent job, Elliot and Dave.

Of course we literally cannot see more of him than we saw in this video but I wait in anticipation for other appearances by Elliot in future videos. He has set a very high bar for himself. I hope he can be incorporated into some ensemble videos with other guys. I would hope to see him also as a spanker if he's up for that as well.

Thanks for a great job.
Reply

Billenkoek1984 | 7th April 2017 20:52
Perfect ! Next time again with Levi's 501 dave?
Reply