RELEASED: 8th March 2019
Alex
First & Last
Locker Room Spanking
The football club has another new recruit in the latest male corporal punishment movie released by Straight Lads Spanked.
Alex, last seen getting into trouble with his dad for breaking his curfew for a second time, and being suitably punished for it with a sound spanking and belting, turns up for the obligatory interview with the club coach, who explains the strict rules of the club as far as matters disciplinary are concerned.
Players must turn up for practice on time, Alex is told; there is a zero-tolerance approach to fighting; and the club has a 'first and last' tradition in its discipline policy - a policy in which new players are provided with a taste of the club's slightly unconventional approach to discipline, in the hope that the first time they encounter it will also be their last.
As members will almost certainly recall, the disciplinary method favoured by the club for dealing with bad behaviour and rule-breaking is not a fine or a three-game suspension, but a trip over the coach's knee for a good spanking!
Coach wastes no time introducing Alex to the celebrated 'first and last' policy. He pulls the lad over his knee and spanks the seat of his jeans, exhorting him to "toughen up" when he starts to make a fuss about his bottom hurting.
It's not long before Alex is told to drop his jeans and bend over again for the spanking to continue on his tight blue boxers. The attire may have changed, but Alex's whining shows no sign of doing the same!
Eventually, the young player is allowed to stand up again, but we all know that his ordeal isn't over yet. In keeping with time-honoured tradition, he is ordered to pull his pants down for the final part of his punishment, and bend over for a spanking on his bare and rapidly reddening rear end!
Alex's vocal response to the coach's discipline, although punctuated by nervous laughter, clearly takes the older man by surprise. It seems not many new players have ever made so much fuss about getting a smacked bottom! If it serves its purpose and ensures that Alex's first spanking will also be his last, I dare say the coach will think it has been worth it.... but maybe we shouldn't bank on that just yet!
STREAM
VIDEO
Available streams for iPad, iPhone, Android, Chrome, Safari, IE or Firefox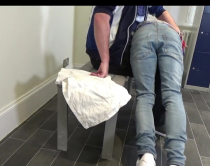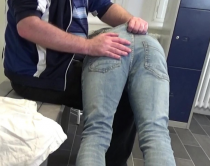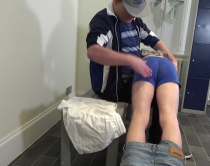 Serena89 | 10th March 2019 04:05
I'm a little dissappointed with this video... like last weeks wasn't my favourite at all either but I could appreciate its quality and that it would appeal to some people...
To be honest I am really sad to say this but I am considering not renewing my subscription as I feel the price is too much for only having one video a week especially when you can't guarantee it'll be at least quality or enjoyable to some degree...
Alex just doesn't seem to try to give any performance at all. I get being natural but if I were doing this job I'd be concious of the audience and giving a performance they'd enjoy... he gives the same vocalisation over and over and over... not much facial expression and no interaction and limited and bland dialogue before and after the punishment. I understand everyone is different and have different types and I'd very rarely ever ever criticise appearance but the hair is just too much as it just takes me out of the moment big time and I cant convince myself to any degree of realism because like hardly ANYONE ever has hair that crazy and mad ... I like to have some like thought like oh this is I could you could picture being here or there or like this or whatever and I can't get that from any of his reactions, personality and look.

I've been a bit underwhelmed with about 9 of the last 15 videos

There's still an amazing catalogue of work on this site and clearly a lot of care usually put into it... I just believe the scenarios, acting/reacting and dialogue has reduced in quality in a lot of the morr recent videos.

jddavidson61 | 10th March 2019 14:47 (64 weeks ago)
Agreed.

Dave - Straight Lads Spanked | 10th March 2019 19:26 (64 weeks ago)
Thanks for the feedback and I'm sorry to hear you are thinking of leaving.

My cheapest Streaming Only package works out around £3.00 per week. Personally I feel that is great value for the movies. Though I completely understand that the price is irrelevant if you are not enjoying the product.



Serena89 | 10th March 2019 20:14 (64 weeks ago)
You arw right that is very cheap when you work it out, Dave! And you put in a lot of work with recruiting models and editing and production so thats a very good deal and I appreciate all you do. I was a bit dramatic haha. I don't really even care about price I guess it's just I look forward every week to a new video and when I find the quality has went way down of the acting and I just don't enjoy it it's very disappointing. Probably just as I watched a lot of amazing videos im bulk and am now left just waiting on new ones is why I feel that way.
I may come bacl after a while and do the same again :)

Nata1974 | 15th March 2019 02:53 (64 weeks ago)
I love this site. I join up again every 2 or 3 months or so if I can afford it. I think it is good value for money though. Really look forward to new films to see when I become a member again.

Serena89 | 15th March 2019 07:59 (63 weeks ago)
It is very good site you are right! I've just not liked some of the more recent updates as much and I may do the same as you and come back every few months:) it actually is great value I just didn't realize how cheap it was I didn't even remember what I had paid lol.
Reply

LucienG | 9th March 2019 23:20
Sorry to all the Alex fans but he is now my least favorite model. Formerly, it was the unkempt Ashley. Anyway, the clownish hair and the non-existent bum makes me not even want to watch the video. From the lack of comments, I don't think I'm alone. Totally disappointed with this week's video.

jddavidson61 | 10th March 2019 14:48 (64 weeks ago)
Yup

Dave - Straight Lads Spanked | 10th March 2019 19:18 (64 weeks ago)
Thanks for the feedback :)

wardcoleman | 10th March 2019 22:05 (64 weeks ago)
I don't agree that Alex's bottom is "non-existent" it is not exactly plump and it is certainly not what you might call a "bubble butt" but it's an okay bottom, and certainly serviceable. He also has nice legs when he bears them all. Alex's problem is not really at that end at all. It is what is on top of his head which is the issue. That of course could be corrected, if someone could get him to see sense.

Nata1974 | 10th March 2019 23:35 (64 weeks ago)
Hi LucienG, hope you don't mind me asking but in what way is Ashley unkempt?

LucienG | 11th March 2019 20:17 (64 weeks ago)
Nata1974, he looks like he doesn't give a bleep about his appearance. That stupid thing on his head, the slovenly looking facial hair. He just doesn't look clean.

Nata1974 | 14th March 2019 02:33 (64 weeks ago)
LucienG, thank you for responding to my question :) I do not agree with what you say about Ashley, I think he is lovely and would like to see him again. I think Bradley was a bit scruffy looking myself. Horses for courses. LOL
Reply

philimare | 11th March 2019 06:40
This is not my favorite video and I must admit that for me too, the hair look is the issue.
Now this being said, I totally disagree on the generalization that "the quality has went down". On the contrary, for me I really loved most of the recent videos. Josef, Christian, Jerry, Bobby, Jason (with or without Marco) and even Alex in his first videos ... all were terrific updates to me. There were even noticeable improvements to me : more credible stories, more Dad&Son, less and less Mr X (and his mask I really did not like), cuter boys etc ...
When you see what other spanking sites propose sometimes (ultra-short, faked, mega-soft so called "spanking"), SLS is definitely on the top.
Now Lucien, I know what you feel, you are waiting the weekly update with excitement and you hate to be disappointed. I have been too this week. It is ok, we all have very different tastes and I just wait for next week with the same excitment :-)


Serena89 | 11th March 2019 18:20 (64 weeks ago)
I really do awknowledge that this site is one of the best if not the best there is for this market. I kust personally feel that a lot of the acting/reactions of some more recent films have felt either forced or a bit underwhelming like sort of just blase in a way. I can't help but feel that way. I by no means think this website was made for just me and every update has to suit me and my many personal check lists or preferences. I just like to be honest.
I definitely agree less Mr X is good and dad son videos as well. I don't want to be mean but just there has been quite a string of performances or just models I don't enjoy and I could go into reasons for them all and say what I would change in depth but as I say I am aware this is not all about me haha. I agree that Jason, Christian and Bobby are great but I said over half of say the last 15ish videos haven't been my favourite... maybe I sounded too harsh. Maybe Alex's hair sent me a bit mad LOL :')
Btw I am replying to you as I think you got me mixed up with Lucien as it was me who commented about being excited each week and then dissappointed.

philimare | 11th March 2019 18:28 (64 weeks ago)
@Serena89, yes sorry I got you mixed up with Lucien even if both of you were equally disappointed by this week update :-)
Any way, would love to exchange further our point of view, I am like you I love to talk about it lol but it might not be the right place
[email protected]

LucienG | 11th March 2019 20:13 (64 weeks ago)
philimare, you summed it up accurately. I am not looking to cancel my subscription. I'm sure Alex with his ridiculous hair and flat like an ironing board ass appeals to someone, just not me. I was venting. Yeah, I was disappointed. To be honest, I never liked Alex, I just never said anything. Friday's just around the corner. :-)
Reply

Orla | 11th March 2019 08:25
I'm sorry Dave but wtf is that cheerleading pom pom doing on his head ,like I know he's trying out for the football team and all but seriously it's ridiculous and so distracting. His overreaction and laughing are annoying too ,he was same in his other movie and I put that down to nerves but I couldn't enjoy the movie I just wanted you to slap him harder . So no I won't be looking forward to seeing Alex again ,til he cuts his hair and changes his attitude .
Reply

Bobbyfan | 10th March 2019 23:52
Alex is lovely. Nice legs, nice bum, nice dick. And his laugh is so cute.

Reply