RELEASED: 4th July 2014
Parker - Mini Interview
Hey Everyone, so here is a very brief interview I shot with Parker after his first day of filming. I must warn you that I kind of sprung the interview upon Parker, we had not really previously discussed it and he was keen to leave so he would not get stuck in traffic.
So it is not as relaxed as the normal interviews. To ne honest, Parker was a bit nervous about it all!
I know how much you enjoy these though, so I thought I would post it anyway!
STREAM
VIDEO
Available streams for iPad, iPhone, Android, Chrome, Safari, IE or Firefox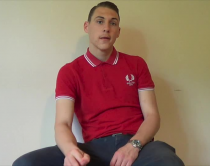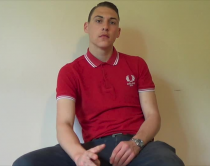 welshboy
|
Not voted video yet
| 4th July 10:55
From seeing this mini interview I wonder if we will see Parker again?. I do hope so as he did so well in his first film. But he does not look so shore in the interview. Maybe it was the shock of it all, well lets hope so.

Lynne
|
Not voted video yet
| 4th July 14:01
Yep, he didn't want to do that interview but was a good sport about it :). Dave, you really need to put up a chair rail..I see a mark on your freshly painted wall already.

uchikimatsu
|
Not voted video yet
| 4th July 19:21
Hi Dave, I'm glad you were able to get this little gem before Parker scurried off!

Is this the interview you were talking about that discussed the slippery? Was it filmed before or after I posted all my questions and nonsense about how silly I thought it looked?

I agree with welshboy, Parker didn't seem keen to return (although I would dearly love him to.) Any hints as to whether you've filmed with him again already?

Dave - Straight Lads Spanked
|
Not voted video yet
| 4th July 23:57
Hi, yes this was the model that spoke about the slipper and I'm fairly sure it was filmed before you mentioned it. There is more of Parker in the can! :)

Lynne
|
Not voted video yet
| 5th July 05:32
Chiki...you disappoint me :) that you haven't experimented with the slipper as yet yourself. Go to Walmart, pick up a pair of house slippers you don't mind sacrificing for the cause and have at it :).

Domfan
|
Not voted video yet
| 5th July 12:13
Don't know what everyone's going on about. He didn't seem too bothered to me.

uchikimatsu
|
Not voted video yet
| 5th July 20:27
@Lynne - well I've never been a self-spanker, and I don't really think a person can get the right angles or leverage for an authentic experience. I also don't really have any spankers to help out, just spankees, and I don't cross those kinds of lines with them. I've never actually been spanked much, except for a weeks long initiation and training on use of the cane (in which everything was done to me first, good and bad, right and wrong...and I learned to speak a little German in the process, but that was 20 years ago!)

ein! swei! drei! vier! ..... Er. Um.

Ja, I think we starting over, girly.

fuck.

Und that is extra.



Lynne
|
Not voted video yet
| 6th July 11:48
@Chiki...there must be one that... in a moment of actual good behavior, would allow you to experiment a little :). Bribery always works well.

uchikimatsu
|
Not voted video yet
| 6th July 17:57
@Lynne - you're right! Though I've never smacked any of them with footwear before, I could probably just spring it on one of the more domestic-y ones, lol! I'll make a visit to the department stores soon to look for men's house shoes that look like Dave's ratty old slipper....

kristi10
|
Voted Video 3/10
| 11th July 20:58
I think Parker looked very distracted, like he was really ready to get out of there. In the movie though , I thought his reactions were exceptional , I especially liked when he was first pulled over the knee, had an "afraid" look on his face, loved that in particular! Not a great interview , but, the movie was good.

Alg
|
Voted Video 7/10
| 12th July 02:07
He is so hot. Cuter even that Dom. My god, those lips.

Domfan
|
Not voted video yet
| 14th July 13:21
This video gets sexier every time id see it. Several reasons: 1. Love the slicked back, retro-gangster boy look

Domfan
|
Not voted video yet
| 14th July 13:26
2. The way his tongue keeps darting out 3. The way he fights to keep his undies on 4. The way he peels his undies off using his feet at the end 4. The way he pulls at his own sore buttocks at the end 5. His voice. It's weird coz he's not quite as cute as Dom or Andy or Ollie, yet this video is sexier than a lot of theirs and I keep cumming back to it. More Parker please.

Cherylkay
|
Voted Video 6/10
| 1st November 10:08
Parker did say he would "probably" return. I think he was just in a rush and so that kind of comes across as "Let me out of here I never want to come back here again!" in the interview. Physically, he's not really my type, but I love he male form in all of its lovely varieties. Besides having an unbelievably spankable bottom that colors beautifully, he has beautiful, expressive eyes and he's a kicker (which I love!).

@Domfan, I also like it when one of the guys grabs their underwear to keep them from being pulled down. I'm not much of a fan of women doing it in videos, but there's just something about when a male does it that is so sweet. Maybe it's the modesty aspect? I don't know, but I find it very sweet.

Ooleary
|
Not voted video yet
| 1st November 10:30
I want to c more Parker and a longer interview too he is so oooohhh cute

Domfan
|
Not voted video yet
| 1st November 17:11
Totes agree Cheryl. Love the guys struggling and kicking and trying to stop their pants being pulled. So cute!