3rd May 2014 22:15 | LAST COMMENT 346 weeks ago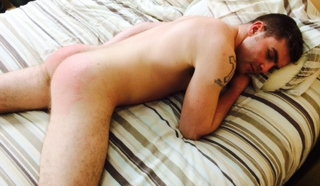 Patrick finally turned up for filmimg, a week late!
I interviewd him before and after filming.
I hope you enjoy and feel free to leave any comments below.
Here is a link to the movie that we made!

Ooleary | 30th August 2014 00:01
Patrick is adorable love his big smiley face and he has a great attitude more Patrick xxxx
Reply

uchikimatsu | 6th May 2014 03:22
So, this begs the question of whether Patrick got arrested for fighting before or after having to watch his brother Andy punished for losing his temper and fighting? (Andy Birched)
I'd hate to think of Patrick as the incorrigible type....

Dave - Straight Lads Spanked | 6th May 2014 10:30 (363 weeks ago)
Well Uchikimatsu, this was filmed a long time after Andy's birching. Andy's birching was just after Easter 2013 and Patrick was fighting at the end of last year.

uchikimatsu | 6th May 2014 12:48 (363 weeks ago)
Ah, sometimes it's hard to tell when the movies were filmed vs. when they were released. At last we know the lesson stayed with him for a while ;-)
Reply

gus | 4th January 2014 14:49
Lovely lad. Wondering why Patrick's never been caned? Perhaps we could see him give it - though I suspect he wouldn't be as hard on others as Mr X is on him.

Reply

welshboy | 30th December 2013 04:31
I was just glad to know that Patrick was ok, I was thinking that after a night in the cop shop he would be charged, but I am glad to know he was only in the cells to sleep it all of. You spanked Patrick real hard Dave, I can't wait to see think one. I have always loved the interviews you do with the guys. \\keep them coming.
Reply

lorilee | 29th December 2013 23:10
Patrick you are so good, bet getting arrested again is out of the question but can understand the why behind it, I feel sorry for you staying with uncle Dave and all but I must say I am really looking foreword to seeing this video. And I must say you are looking good and healthy glade to see you back. Oh and Dave thanks for the interview with Patrick I like this side of him as well and it is nice to see you both relax a little.

Dave - Straight Lads Spanked | 29th December 2013 23:36 (381 weeks ago)
Hi Lori, it was great to see Patrick again and you are right, I think it shows a lot how relaxed we were with each other in this movie. Other than Patrick getting arrested he is in a really good place at the moment and was in such good spirits. He did get a hard belting though!

lorilee | 30th December 2013 00:02 (381 weeks ago)
I know he got it good and it was deserved , next you need to work on anger management with him. Happy to hear all is going well for him.

r1108 | 30th December 2013 00:47 (381 weeks ago)
(tilts head at lorilee)...hmmmm...when is it anger and when is it self defense and protecting a buddy? :) OK, yes, bar/pub fights are not exactly hard to get started when the involved parties are feeling no pain, so to speak. Listening to Patrick I can actually picture the whole thing. One question I have that I don't think Dave addressed in the interview, although my system always has it stopping and stuttering so I miss parts in the translation; did Patrick have any anxious anticipation of the next shoot figuring Dave would take full advantage of the real life misstep?

lorilee | 30th December 2013 02:08 (381 weeks ago)
(In replay to r1108) I think he was very nervous about the shot because it was with the belt I think and he does not like the belt. And as for his anger I just meant he needs to be careful I for one do not want him in jail long term, I would miss him on SLS. And they were talking about him doing the spanking in the next video. hope this answer you question. I could see it to just as though I was there in the pub myself. been there done that as well.
Reply

wardcoleman | 29th December 2013 22:39
It seems that Patrick's on screen persona is the real Patrick! He is living a Straight Lads Spanked lifestyle! :-)

Dave - Straight Lads Spanked | 29th December 2013 22:48 (381 weeks ago)
He is a very naughty young lad Ward!
Reply