RELEASED: 29th March 2018
Alex
Real Punishment
Bad Attitude
For the third week in a row, a new model gets a smacked bottom in this week's exciting brand-new release from Straight Lads Spanked.
In something of a departure from the studio's usual format, however, the punishment meted out to the star of this week's male spanking movie is very real, and very well deserved!
Eighteen-year-old Alex had originally arranged to film a spanking movie on Wednesday. Dave even shelled out for his train ticket from the north of England, and went to the station to meet him. The problem was that Alex had decided in the meantime that he didn't want to get spanked by a man after all, didn't bother to let Dave know.... and instead used the ticket to go on a day trip with a mate! And Dave? Well, let's just say that he wasn't best pleased...
Fast forward to Saturday. Alex is still broke, still needs to make some ready cash, and has now decided to go through with the filming. Generous to the last, Dave has agreed.... but on the condition that before he gets paid to make any spanking movies, Alex is going to be punished for real, for messing Dave around and letting him down. He is going to get the good spanking that he thoroughly deserves!
Alex isn't thrilled by the prospect, you can tell, but he does at least admit that he probably deserves it, and in any case, if he wants to make some cash, he has got no choice! So over Dave's knee he goes, for a spanking that Dave admits he is going to enjoy administering!
The teenager is smacked first on the seat of his black tracksuit trousers, before being told to take them down and bend over again. "Ow ow ow!" comes the steady refrain as Dave's hand warms the seat of the lad's tight white pants, and by the time he is told to take down his pants to be spanked on his bare bottom, the nervous giggling has stopped, and instead Alex is wriggling and squirming around on Dave's lap, kicking his legs uncontrollably.
Dave is clearly keen for the lad to reflect on his attitude and his obvious sense of entitlement, and punctuates the spanking by asking repeatedly if he is sorry for letting him down and using the train ticket to go on a jolly. It's fair to say that by the time the punishment is over, Alex is indeed a very sorry lad with a very sore red bottom, who will think twice before he ever does anything like that again!
STREAM
VIDEO
Available streams for iPad, iPhone, Android, Chrome, Safari, IE or Firefox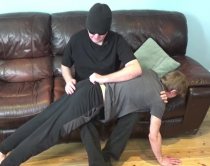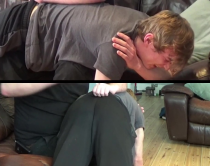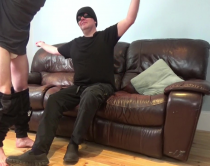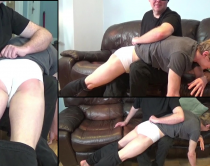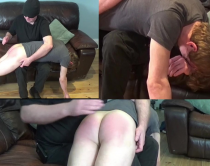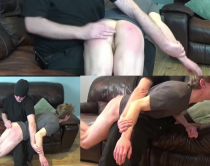 bearcreek51 | 16th June 2020 17:46
Like all your videos it is great---but I admit I I could not understand the young man's accent at all----but I am American so maybe that is why\... I like videos with conversation great work
Reply

Serena89 | 11th March 2019 06:22
I feel a bit bad about my comment on the most recent Alex video as watching this it seems he has potential and could be quite good. Hmmmm am I actually shallow maybe and subconciously I thought it was so bad mainly because of his hair :') ahahaha like I literally fancy all types of guys (and girls as I'm bi) like with varying styles and looks and usually its more so someones mannerisms and how they present themselves and their personality and even accent and way of speaking that I like more so than looks but I think Alex's hair has shown me that I have a line ahahahaha I don't even feel mean because it is ... well... um... mental? AHA. Like he looks so pretty and adorable here it's a shame he decide to go for his current look. AGAIN- I am for being unique and self expression and all so good for him if that's what he wants. Just, in this capacity it doesn't work for me as I explained in my last comment.
But his attitude and all here is so cute and classic like naughty boy and nervous and giggling but in more recent videos he seems over rehearsed like giving pre planned noises and responses with no variety or authenticity.


Reply

Paddleboy | 21st May 2018 07:34
ThaNk u Dave for another new model Alex was very naughty not to turn up u had every right to punish him the way you did
Reply

FraserFan | 13th April 2018 20:24
Hi Dave

I'm looking forward to seeing Alex again and soon, hopefully. The only thing about Alex is - he is hard to make out. But that is a tiny thing compared to another great model.
Reply

JamieJones | 3rd April 2018 20:34
Due to the wonderful Bank Holiday weather in my part of the UK (rain, rain and more rain) I've watched this movie quite a few times now and while I stand by my original comment that I think Alex got let off lightly, this movie gets funnier and funnier each time I watch it.

Alex's mumbling is an issue but Dave repeats a lot of what Alex says so you don't really miss out on the dialogue. If you've only watched this movie once, and Alex's mumbling or accent put you off, I'd say give it another go - it's totally worth it.

What makes me laugh is that Alex claims to have been spanked by both his Mum and his Dad when he was younger and describes them as being 'extreme' and 'OTT' but still he says things during the spanking like 'It's getting sore now...' Really! What was he expecting? He's being spanked so his bottom is meant to be getting sore! Then when he has to take his trousers down 'This is going to hurt now isn't it?' Did he actually think it wasn't going to hurt? But my absolute favourite bit is when Alex says 'Wow that was pain, like it's gone numb, fully numb. Is that what it's supposed to do?' First of all if his bottom had gone numb why was he still yelping in pain and then, if he'd been spanked before wouldn't he know what was supposed to happened and how it was supposed to feel? There are so many little gems in this movie that make it so, so funny! I just love it. :-)

Thanks Dave and Art but especially Alex. I can't wait to see Alex getting spanked again - sorry Alex!

Reply

james | 3rd April 2018 10:04
Excellent addition. Love the accent as well. Good to see a different performance having giggles ia different to the other models.

Hope the distance does become too much off a issue.


Reply

JamieJones | 30th March 2018 01:04
OMG - Alex is 18 and he's 'sick of work.' How is he going to cope when he realises he's got another 45 odd years of work ahead of him?

Dave - I know it was Alex's first time filming, and that he was nervous, but I still think you let him off a bit lightly especially after he had the cheek to use the ticket you paid for to have a day out with his mate because he 'deserved it'. His sense of entitlement was unbelievable!!! I'm sure in real life Alex was very sorry that he messed you around but he didn't come across as being that sorry on film. I'm going to put that down to first time nerves and say I'd really like to see Alex again as I'm sure it's just a matter of time before 'Dad', Coach or Mr X hear about all the naughty things he has been getting up to.

I used to think Liam was difficult to understand at times but Alex takes mumbling to a whole new level! I hope Alex speaks a little more clearly next time as he certainly seems to have plenty to say for himself!


Uchikimatsu | 30th March 2018 23:20 (200 weeks ago)
JJ, I thought the exact same thing when Alex started speaking... oh no! another Liam!
Reply

wardcoleman | 30th March 2018 15:21
I enjoyed this, and can't understand why some people seem to have voted it down. It comes across as very real.

Alex behaves exactly as a lad like him would behave

Uchikimatsu | 30th March 2018 23:17 (200 weeks ago)
Hi Ward! ***waves***

I haven't seen you in ages! Hows it hanging'/
Reply

Uchikimatsu | 30th March 2018 23:16
Well, that millennial punk got exactly what he deserved!

Ah, all joking aside I think Alex is nice looking, charismatic, and very real. I loved towards the beginning when he did admit he thought he deserved the spanking he was about to get. Its always nice to hear something like that without Dave having to laboriously draw it out from a model.

I found all that nervous giggling endearing rather than annoying, and besides, I just pretended they were the heartfelt sobs of a truly sorry lad, which I really don't think Alex was! I hope he can put aside all that anxiety and ends up being able to work with Dave in a storyline movie.

Like others, I had a devil of a time understanding anything that came out of his mouth, but I am further hampered by hearing loss. Maybe one day we can get closed captioning or something! LOL!
Reply

tinhead | 30th March 2018 11:25
Alex is a proper disrespectful English lad-come-scally.
I LOVE HIM!
Especially now he has a red arse.
Reply

mstr_spkr | 30th March 2018 03:01
Welcome Alex! I hope you have gotten over another man touching your bottom because I hope it gets touched a lot in many future videos.

Alex took the spanking well. I think a lot of the laughing was probably due to nerves. Nevertheless I agree with the others in that I think that he was let off too easy. Maybe that's partly because you had the other film to make that day, but what he did did deserve more, possibly with a brush or strap.

Overall I liked the video because it was real but I downgraded the rating due to the sound.

I watch a lot of PBS and BBC America so I can usually understand British accents but Alex flat-out mumbled. He was very difficult to understand. Straining to understand his words definitely detracted from the quality of the video. Perhaps since he hates work he can take some enunciation lessons (I saw "My Fair Lady" so I know it can improve!)

Add to that the poor sound quality overall (echoes, rustling, wind, and the like) and it was one of the worst audio performances. For that I cannot hold Alex responsible but it did affect the rating.

Nevertheless, I very much look forward to seeing the other video for which he had come to film. I think he holds much promise as a rising star in the current collection of models.
Reply

Nat74 | 30th March 2018 00:14
Surprised and so glad to see a new movie on a Thursday. I like Alex! More Alex please.

Reply

Orla | 29th March 2018 22:53
Not sure about Alex he's very hard tto understand he needs subtitles but he definitely deserved the spanking and he was not sorry and he'd do it again. Mr.Champagne he's 18 for Christ's sake and what a sense of entitlement.

I'd like to see Alex again in another movie before I make up my mind about liking him or not .

Happy Easter Dave 🐣🐣
Reply