RELEASED: 28th September 2018
Alex
Bubble Bath Blues
When members were first introduced to Alex, earlier this year, he ended up getting a sound spanking from Dave after messing him around, arranging to film a spanking movie and then using the money given to him for his train fare to go on a day out with his mate instead.
This week's brand-new male corporal punishment video from Straight Lads Spanked reveals that, sadly, Alex hasn't learned anything in the meantime about responsibility or consideration. Dad comes upstairs to find not only that Alex has used his bathwater, but the lad's dirty clothes strewn all around the landing, discarded wherever he took them off.
Adding insult to injury, when asked if he has been to college that day, Alex can only snigger and say "F*** college!" - before telling his dad to "P*** off and use the door"! Dad duly obliges.... but only to go and fetch his spanking slipper! The lad is going to be reminded of Dad's house rules in no uncertain terms, with a good smacked bottom!
Infuriated by his son's attitude, Dad pulls the lad out of his bed and hauls him over his knee for a well-deserved thrashing on the seat of his pants with his hand and the sole of his slipper.
Ignoring the lad's protests, eventually he stands him up again and pulls his pants down, before putting him back over his knee and continuing the spanking on the brat's bare bottom. Alex complains, says he is sorry, promises it won't happen again.... but it is all too little, too late. That appalling attitude is going to earn the boy a very sore red bottom before Dad is finished with him!
Twenty final smacks from Dad's firm hand and his even firmer slipper, which Alex is made to count out, ensure that this is a lesson that Alex will remember every time he sits down for the next day or two.... and just to drive the lesson home, the lad is grounded and sent to bed with no supper. Maybe he'll think twice before he talks to his father like that again!
STREAM
VIDEO
Available streams for iPad, iPhone, Android, Chrome, Safari, IE or Firefox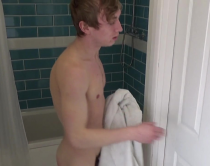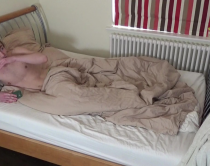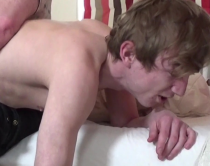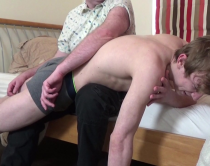 Paddleboy | 2nd October 2018 01:40
Yet another great movie Dave keep em coming
Reply

mstr_spkr | 29th September 2018 22:37
FWIW, I agree with the others. I loved the video. Alex, being new, was probably just a bit too nervous to be believable with the laughter. I have high expectations for this new lad, as evidenced by his debut in his first video. Please bring him back to us again and soon. Perhaps a one-take bath brush beating will help him get his mind off the acting and cameras. Nonetheless, as I said, I loved this one.
Reply

mattnyc | 29th September 2018 19:51
I agree with the other members. Alex is super cute and a perfect model type-wise for getting spanked. Great legs, sexy, smooth butt, everything the other members mentioned. There is something a little odd about how uncomfortable and not really in the scenario he is. It makes you appreciate what a great actor Jason is. They're a similar type but Jason is a natural actor. In the balance this is still a really hot clip. The scenario is great, the spanking action is great, Dave's scolding is perfect. I think Alex could become more convincing if he keeps shooting clips. His natural bratty personality is kind of great for getting him spanked but he never really goes with the scenario to become less bratty. Or something. In any case I love seeing him get spanked and hope to see more. Great work, Dave and Art.
Reply

wardcoleman | 29th September 2018 13:17
Nice to see Alex back, I like his long legs, he acts well too
Reply

philimare | 29th September 2018 09:23
Yes, Dad/Son movies are my favorites too, I love this one. Mostly because Alex is super sexy, ideal for this role (beautiful legs, sexy body, bubble butt, ...). Although the spanking was pefect (Dad is brillant in this one). I tend to agree with TimeForASpanking though, the constant laughing along the video kind of kills it a little bit. For me it was not because Alex was acting but more because he was a bit uncomfortable ?
I am sure Alex future movies will be perfection ... 9/10 for me.
Reply

TimeForASpanking | 28th September 2018 23:08
I thought this video was okay. The Dad is always brilliant. The model, Alex, is adorable and super cute but he seemed a bit too bratty through out, even almost like he was laughing. I would love to see a scene like this but with the model really (or at least acting like he was) really going through the process of actually getting spanked by Dad. From Bratty tantrums to breaking down and just sobbing over the knee.
Reply

| 28th September 2018 19:39
Father/son movies are my fave movies ,cute boys and deserved red bottoms tick.I knew he was going to be trouble the minute he walked in dropping his clothes all over the place like Hansel and Gretel with the breadcrumbs did he think he wouldn't find his way out again 🤣🤣. Swearing and giving Dad the finger and just his general mah attitude and shrugging shoulders irritated me and Dad should have given him a couple whacks with the belt or spatula.

Like I commented on the first movie I'm still on the fence with Alex he ticks all the boxes but there is still a little something missing...Maybe he needs more banter or something but I want to see him get spanked again and maybe harder spanking with belt or spatula...sorry Alex 🍑😘 Orla xx
Reply