RELEASED: 17th May 2019
Jake
Mouth Soaping
We've already seen Jake getting his bottom smacked by his dad for being disrespectful to his mother, but it's beginning to become clear that it didn't teach him the lesson it should have!
In the latest male spanking movie from Straight Lads Spanked, we are catapulted straight into the action when Dad hauls Jake into the kitchen by the ear and starts to leather the seat of the lad's jeans with his trusty slipper for being cheeky to his mother again!
To make matters worse, Jake claims he doesn't even know what he said, but when pressed by Dad, he manages to recall that he told her to f*** off!
Dad impresses upon the lad that his attitude is completely unacceptable.... and decides to drive the message home by washing out his potty mouth!
Bending Jake over the kitchen sink, he uses soap and a flannel to wash the cheeky young man's tongue and mouth. And when he has done that, he makes his son hold the bar of soap in his mouth while he picks up his slipper again. "I am going to give you a hiding you will never forget!" he says.
After giving the lad a sound whacking across his tight jeans, Dad pulls down the trousers and continues to warm the seat of Jake's black underpants with his hand and slipper.
"Pull your pants down!" he orders the young man eventually. "Not on my bare bottom, Dad!" protests Jake, but Dad is clearly in no mood to argue, and Jake has no choice but to comply and take down his pants.
The lad's rear end is already red and sore, but Dad isn't finished yet. Holding Jake firmly around the waist, he thrashes his behind with his hand and slipper, scolding him all the while and warning him that if his behaviour doesn't improve, he will be getting the bath brush across his bare bottom! As a taster, he fetches a wooden spoon and gives him a dozen or so sharp smacks with that, which Jake is told to count out.
By the time his ordeal is over and Jake is told to pull up his pants and trousers, his buttocks testify to the sound thrashing he has been given and Jake is a very sorry lad, promising to behave himself and not be disrespectful to his mum again. But then, he said that last time, didn't he?!
STREAM
VIDEO
Available streams for iPad, iPhone, Android, Chrome, Safari, IE or Firefox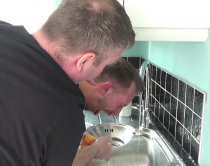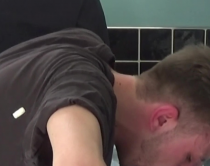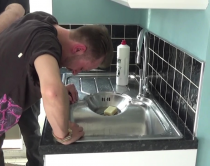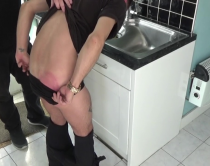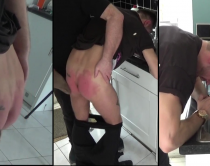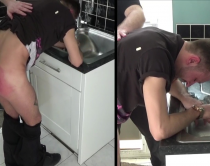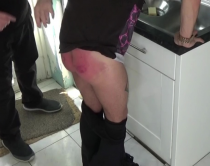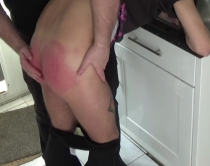 philimare | 20th May 2019 18:59
There are a lot of things I love in this movie. Above all the dad & son scenario, Jake's reactions and the dialogue, the spanking itself (hard as deserved) ... all seem so real, unstaged and authentic.
Unfortunately, for me the camera angles did ruin all of that greatly. For exemple, between, 1.57 and 2.06 - or 2.58 and 3.10 - or even worst between 3.23 and 3.35 - again between 4.13 and 4.18 - or from 6.21 to 6.45 ... etc. the camera angle completely cut off from the action. I do love the anger, the impulsivity, the spontaneity ... but still want to see the spanking rather than the wall :-)
I know I am very picky and demanding on this... otherwise a great movie ! Love Jake, love the scenario :-)

mstr_spkr | 20th May 2019 19:09 (87 weeks ago)
I agree with philimare. Jake is fantastic and got a well deserved spanking (can't wait for a real bath brush beating). I love the scenario. I also love the sink. Sadly we saw more of it than the spanking at times. If the angles were better (I kept moving my head trying to see behind the frame!) I would have given this a 10/10.

Serena89 | 20th May 2019 19:56 (87 weeks ago)
I do agree as well sadly. I was able to still wnjoy it was Jake was great as was dad but it was dissappointing.

Dave - Straight Lads Spanked | 20th May 2019 22:22 (87 weeks ago)
I hear your comments about camera angles and clearly it means something to you.

However, I make no apologies. The camera's could not have been set up any other way in that kitchen setting.

Some factors you might not realise that have to be taken into consideration,

In this particular scene I am using 3 fixed cameras. They need to fixed as once the action starts there is no operator to attend to them.

All the cameras have to positioned in a way that captures different bits of the action, whilst at the same time not getting any the other 2 cameras into shot. They also need to not include my face.

So I had a look at one of the time slots you mentioned. You said it was one the worst for cutting out all the action - 03:23 to 03:35

This shot mainly featured onto Jakes face. Quite right too.... I mean his reactions were so real and raw.

There were 3 spanks during this 10 seconds and we could not only see Jakes facial reactions we could also see his legs shake and buckle under the intensity of it all.

The previous shot had been focussed directly on his bottom and we then went straight to another angle directly onto Jakes bottom.

One recurring theme about this particular video was that is all seemed so real, unstaged and authentic.

I'm delighted this was picked up on as this was the exact feeling I wanted to convey. I'm glad we got there.

The reason it feels like this is because of how it was shot. Not in spite of it.

With some studios you are lucky to even get a camera picking up any facial reactions never mind a multi camera shoot, all shot in one take, completely real.

I do find these moans frustrating as there was literally no other way I could have shot the movie.

You mentioned 04:13 to 04:18 as another section where the 'camera completely cut off from the action'.

These 5 seconds were from a camera that was literals inches from the bottom being spanked, You couldn't have got any closer,

You know the only other alternative would be to have built a large kitchen set to film in, employed anther actor who was happy to have his face in shot to do the spanking and crew of experts to take care of everything else...

But you know what.... the end result would be NOTHING like this movie. No other actor doing the spanking would have the trust I have built with Jake for Jake to allow me to do what we did to him,

It might be better lit and better shot but it would be dull and safe and scripted and fake, not real, unstaged and authentic.

For me to even have a lad like Jake to allow me to soap his mouth and spank him with such intensity when he is just a regular lad with no acting experience or any interest in CP or MM Spanking is a massive achievement in itself.


Reply

Orla | 20th May 2019 09:39
Yes yes yes this is my favourite kind of movie ,Father & Son, cute model,great acting,great spanking, sore red bottom and a hug . This movie had it all.Thanks Dave xx
Reply

JamieJones | 19th May 2019 08:12
Blimey!!! Dad was not holding back in this one, was he? Jake did amazingly well to cope with that spanking and slippering and not even once try to reach back to block the spanks He is going to have some nasty bruises as a reminder of how not to speak to his mother in future but I hope he hasn't totally learnt his lesson as I would like to see him again…sorry Jake!

I was so into it I can't say I noticed the camera angles but then Art's editing is always a joy to watch. 😊 Thanks Art and thanks Dave for coming up with the idea and filming it but most of all thanks to Jake for agreeing to go through with it, it really can't have been easy.

Reply

Serena89 | 17th May 2019 19:50
Surprisingly, I loved this one. The position, the slipper and the type of model are not usually my thing but I feel this all worked together. The dialogue and mood of the dad and soon here is what worked so well for me and Jake is rather endearing. I love his sincere reactions and how unlike some guys he is not afraid to fully embrace the role of son and address Dave openly as 'dad'. His reactions were quite sexy with the breathlessness, quivering and pleading.

It felt very real how the video started straight away with the action and even though a lot of times the camera angle cut off from his bottom and the spanking felt a bit rushed and chaotic it fit the mood as this was a spontaneous punishment following straight on from the misbehaviour. I love dad being all sentimental at the end about worrying about how to be a good father. I usually prefer the spanking not to be done in anger and after dad has thought it through and discussed it with the son but dad stil felt in control of his anger and it all just felt very authentic.

Jake is not my type as he is very thin, especially in the face but he does have a very nice and realistic look and very pretty eyes so I do find him attractive although he is older and less cutesy than what I usually prefer.

I think you could be a bit more conscious of the camera views and angles sometimes Dave but it didn't spoil the video for me.

Well done!

Serena89 | 17th May 2019 19:50 (87 weeks ago)
Dad and son** not soon lol
Reply

spankmenow81 | 17th May 2019 17:52
This is a great video to kick off the weekend!
Reply