RELEASED: 11th January 2019
Jason & Marco
Caught Smoking
We've already seen young Jason getting on the wrong side of Marco, his strict line manager at the bank, for turning up to work late. On that occasion, in a bid to teach the lad a lesson, Marco adopted the slightly unconventional tactic of putting him over his knee and giving him a good smacked bottom.
In this week's brand-new male spanking movie from Straight Lads Spanked, Jason finds himself in trouble again. Caught enjoying a crafty fag in a quiet corner of the bank, the youngster is confronted by Marco. He tries to talk his way out of it, blaming the stress of work, but as his boss is quick to point out, that is no excuse for smoking in a public building.... and he orders Jason to report to his office.
Behind closed doors in the office, Jason is lectured on the rules and regulations of the bank, and reminded that Marco has a very particular means of enforcing them. And with no further ado, the older man duly perches on the side of his desk, hauls the unfortunate lad over his knee and begins to spank the seat of his tight-fitting black trousers, lecturing him all the while on his sketchy grasp of the bank's rules. Jason is left in absolutely no doubt that Marco is the boss and will not stand for any misbehaviour!
Eventually, however, Jason decides that enough is enough, and protests about his punishment. Marco stands him up and asks him to repeat his complaint.... and by way of reply, simply orders the young employee to drop his trousers.
As he reluctantly bends back over the boss's knee, Jason's spanking continues on his tight red underpants. "What happens if you disrespect me?" asks Marco, to ram the lesson home. "I get spanked," mutters Jason, sheepishly.
As the smacks rain down on Jason's pants, he dares to complain again about Marco's "ridiculous" sanctions. But Marco is unmoved by Jason's protests, and in response, ups the ante instead by pulling down the lad's pants and squeezing his bare bottom hard. "I can treat you however I want!" he says, as he spanks Jason's bare cheeks.
With his bottom now almost as red as his pants, Jason threatens to tell his parents, and Marco's boss, about his somewhat unusual disciplinary methods. Marco's response is that Jason still hasn't learned his lesson, and he
orders him to hand him the ruler from his desk....
Jason is positioned over the desk with his bare bottom out, and told to count out 20 final smacks with the ruler, while multiple camera angles reveal both the reddening of his rear end and the pained grimace on his face.
STREAM
VIDEO
Available streams for iPad, iPhone, Android, Chrome, Safari, IE or Firefox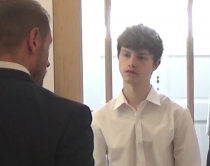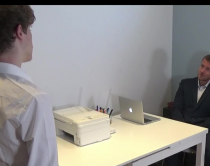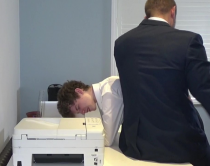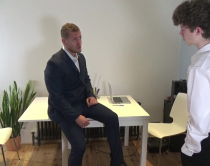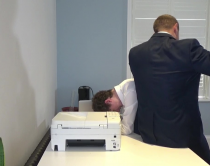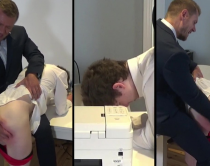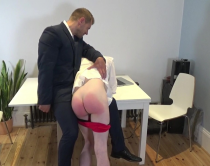 philimare | 20th January 2019 16:18
Great video with two great actors. I liked very much the storyline and the verbal interaction between the two. Not so much a fan of the spanking itself though (except the ruler part). For my taste, Marco is not the best spanker yet. It needs to be a little bit quicker, more nervous somehow, with more variation. Technically, the spanking itself was a little bit "boring". Anyway, I Love those two, they have the perfect physique for their roles and they play it well. Look forward to what is apparently coming ... :-)
Reply

drvans | 17th January 2019 14:18
Oh, by all the gods of Spankers' Heaven! Which was exactly where I thought I'd gone when I watched this video! I think this has to be Jason's best yet! I just love seeing this gorgeous little lad getting his bottom smacked – he is so absolutely perfect for spanking movies with those youthful laddish looks and very boyish physique!
Having seen Jason smacked twice now in not very flattering boner-killers of white underpants – not a particularly good fit in either case – it was just a joy to see him back in a pair of good short, tight boxer-briefs that complemented his pert bottom so beautifully and really made me think – yes, those cheeky buttocks really were carved by the gods expressly to be spanked! And what better colour pants to wear for a smacking than red, symbolic of a well-smacked arse?! I do find it's a major boner-making spanking or seeing a boy spanked over tight black trousers, but I positively salivated as the lad took them down to reveal his red underpants! It was an especial turn-on when Jason had to think about the fact that he had coloured underpants on because Marco drew attention to what colour they were! Unless I could find a pair of royal-blue briefs in Jason's pants-drawer, I couldn't have made a better selection from it myself!
One of the reasons this clip is likely to become a massive favourite with me is Marco's positioning of Jason: it's what I call the best of both worlds – Jason is laid over the knee but also really well and truly bent over in a way that leaves him (and us) in no doubt that he is in for it big time! It's not a position we see much on SLS and they should consider using it more.
Marco makes a superb disciplinarian and clearly believes that a spanking means a SPANKING! No point in a punishment that doesn't hurt! I think we see young Jason at one or two points smacked harder here than he has ever been before! Certainly his very vocal responses to his punishment suggest as much as does the redness of his bottom when his pants are finally taken down! The warm glowing of that cheeky bum is starting to rival the colour of the boy's briefs in its deep-pink glory!
The final part of the punishment with Jason being made to bend bare-bottomed over the desk is so wonderfully reminiscent of strict school discipline that it makes me wish that SLS would come up with a school corporal punishment scenario for Jason – perhaps they could lend the boy to Sting Pictures, haha!! But what is going to happen now? Will the boss decide Jason has been punished enough or that he needs to discipline him himself for his naughtiness in breaking the bank's rules? Or will he decides he needs to deal summarily with Marco's bullying behaviour? I don't know about the rest of you, spanker chums, but I can't wait to find out…!

Reply

mattnyc | 14th January 2019 16:51
Another instant classic. Two extremely sexy models who are both perfectly cast in their roles. Marco is stunning; he looks like a model and has a perfect body builder physic. Jason is adorable and boyish with a sexy, smooth body and a perfect little bubble butt. Add to all that the fact that they're both really good actors and you get a great clip. This office/boss/worker scenario is especially sexy to me; I love seeing Jason get spanked on his suit trousers and then having the humiliation of dropping his trousers to reveal the tight underpants that are perfect for spanking. And of course I love the bare bottom round as well. Great writing and directing, Dave. Great post production, Art. The clips continue to be sexy and surprising. More of these two, please. Best m/m spanking site by far! Thanks.
Reply

wardcoleman | 12th January 2019 12:32
Nice to see this pairing again, they have good chemistry and always give a great performance.
Reply

Orla | 12th January 2019 00:28
I'm loving this storyline with Marco and Jason ,can't wait for the next movie,I won't spoil it for anyone who hasn't seen it yet ...

Marco is excellent as the bully and he kinda reminds of Bailey the way he's not afraid to spank hard.He really is menacing and poor little Jason he tried to stand up to Marco saying he was going to tell the Boss and his parents but Marco wasn't having it ,those last 20 swats with the ruler ouch.
Reply