RELEASED: 22nd February 2019
Christian
Your Bet Your Ass
Well, if we thought that Dad had nipped Christian's little gambling habit in the bud with the smacked bottom he gave him after finding a slip for a £375 bet in the pocket of his jeans a few weeks ago.... we were wrong!
On that occasion, Dad more or less dragged the wayward lad out of the bath to warm his behind good and proper, with a spanking that should have taught him once and for all that gambling is a mug's game.
But at the start of this week's new male corporal punishment video from Straight Lads Spanked, Dad confronts Christian once again after he reveals that he has opened the lad's bank statement.... and discovered that he has only £10.47 left in his account, only a week after his wages were paid! And proof of where the money has gone comes in the shape of a transfer of £410 to an online casino. Caught red-handed? You bet your ass!
It's no surprise that Dad is furious. Out of a drawer, he produces a fearsome-looking hairbrush. And it is obvious from Christian's reaction that the lad knows exactly what he plans to do with it.
Dad puts the foolish youngster over his knee and spanks him hard with his hand on the seat of his tight jeans, before ordering him to pass him the brush. A well-deserved whacking follows that soon has Christian saying he is sorry and begging Dad to stop, but it's clear that Dad has got no intention of stopping until his son is a lot sorrier than this! Standing the lad up again, he pulls down his jeans and puts him back over his knee to apply his firm hand and the brush to the seat of Christian's bright red pants.
It's not long before Christian is sobbing audibly, but Dad is plainly suspicious as to whether or not the tears are for real. "If they're not real now," he adds, "they're going to be by the time I'm finished with you, young man!"
A long session with hand and brush leaves Christian wriggling in pain on his dad's lap. But then it's time for those pants to come down.... and the lad can't keep from rubbing his bottom, which we can now see is almost as red as his underwear.
Back over Dad's knee he goes, to be soundly spanked on his bare bottom. As the punishment proceeds, Dad voices how he proposes to deal with his errant boy. He is going to put an app on his phone to stop him gambling on it; Christian is going to have his wages paid into Dad's bank account, and he will give him pocket money; and they will be attending a gamblers' support group in town. The lad's gambling habit is a problem, but Dad is obviously determined to, well, get to the bottom of it!
After some final hard spanking with the brush, and a volley of rapid-fire smacks with Dad's hand, Christian is sent to the corner to rub his sore bare bottom and think about how silly he has been. You might expect him to have learned his lesson properly this time.... but let's just say I wouldn't bet on it!
STREAM
VIDEO
Available streams for iPad, iPhone, Android, Chrome, Safari, IE or Firefox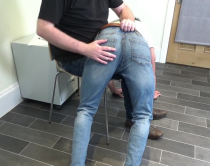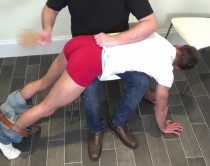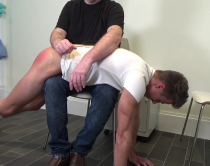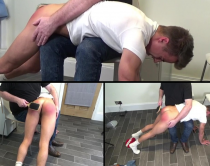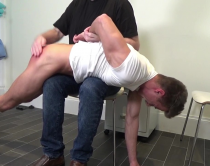 fery | 14th May 2019 13:29
it's a shame to have a beautiful boy with an amazing sexy body like that but you keep their clothes on... your videos would be so much sexier and enjoyable if you undressed the boys. why does he need his shirt on?

Dave - Straight Lads Spanked | 17th May 2019 16:02 (30 weeks ago)
I'm not sure what reason Dad would have had to remove Christian's shirt.

philimare | 17th May 2019 17:38 (30 weeks ago)
Agree with you Dave !

fery | 19th May 2019 03:01 (30 weeks ago)
because it's a spanking movie with a hot boy? it feels like a waste to me to have such an amazing body hidden under a shirt. it brings down the quality and the amount of enjoyment we can get from watching a naked sexy boy being spanked :)

Dave - Straight Lads Spanked | 19th May 2019 15:17 (30 weeks ago)
Yes, but my question was in the context of this movie, what reason would Dad have to ask his son to remove his shirt?

Christian recently appeared fully naked in a Bubble Bath Blues movie where it made perfect sense for him to be stripped naked as he was in a bath. It was also a perfect opportunity for everyone to enjoy his beautiful naked body.

When you say that not stripping Christian naked in every movie brings down the quality and amount of enjoyment, may I suggest that is a subjective opinion?

In your first post, you asked me the question "Why does he need his shirt on?" Again, I would ask you, in the context of this scenario that I am presenting, "Why would Chrisitan's father ask him to remove his shirt in order to spank his bottom?"

People enjoy the movies for many different reasons.

Some people simply enjoy feasting on lovely naked flesh, which of course is perfectly valid. Others really enjoy realistic domestic discipline scenes where the scenario being depicted is more important than the naked flesh on show.

I try and cater for both tastes across the different movies I make.


Reply

Rasputin | 28th February 2019 03:05
This is a very good video. I had not paid much attention to Christian beforehand, but in this video he responded to his spanking in the proper manner - yelping, putting his hand in the way of the blows raining down on his butt, squirming, crying, etc. He's a good-looking lad, and he seems to have bulked up since his previous video - a lean, athletic physique.

For his next video, I hope Christian builds on the performance in this video. It would be nice if Dave would spank Christian even harder OTK - perhaps a Bath Brush beating. Christian could also squirm and cry even more intensely than in this clip. Finally,Christian could wear tighter, skimpier briefs - it would accentuate his physique
Reply

Becca | 27th February 2019 20:34
Amazing! Christian is one of my favorites and especially in the dad / son scenario. I
hope he will be back soon!

However, dad needs a bigger table in his study;-)


Reply

leto1701 | 22nd February 2019 18:52
10/10. I voted 1/10 by mistake. :-)

Daddy_David | 23rd February 2019 19:09 (42 weeks ago)
I was wondering how the rating could possibly be only 8/10!

mstr_spkr | 23rd February 2019 20:53 (42 weeks ago)
Possibly because we saw more rubbing than the actual spanked butt itself

philimare | 26th February 2019 05:16 (42 weeks ago)
@leto1701 : you can "reset" your vote and then re-vote again with 10/10 if you want to ... Just press "RESET VOTE" below the rating stars above :-)

leto1701 | 26th February 2019 10:23 (42 weeks ago)
@philimare: thank you :-)

leto1701 | 26th February 2019 10:26 (42 weeks ago)
@philimare: thank you :-)
Reply

philimare | 26th February 2019 06:41
It is definitely a 10 for me !

First of all, Christian has been one of my favorite model since his first video, so I am so happy to see him back again ! He is so cute, amazing bottom and legs.

Plus, Christian has always appeared
in Dad & Son videos which are always the best for me.

Then, since the « Lazy Lad » video, we knew Christian was able to act, with lots of dialogues and interactions. I remember I wrote that, for me, all of this, such as bad attitude, dialogues, protesting, arguing, moaning in pain, trying to resist or to escape, being insolent, etc is as important as the spanking itself and Christian is amazing at that. It is obvious that he is working to be good at acting, very much into his role and the scenario. Not to speak about the tears, natural, sincere (or very well acted at least)

Also, we all know the brush is painful so, yes, it is a real, painful spanking. Christian already showed some abilities to take real spanking in the past … I am impressed (and excited).
Real spanking like this one also make this site different from many others, where spankings are totally faked … or so soft and short that it more looks like wiping or caressing than spanking.

Final personnal detail, a (too) short corner-time, merci :-)
Reply

letsdoitrn | 23rd February 2019 03:55
Reply

czech22b | 23rd February 2019 03:34
Thank you so much for this one. I love seeing the models push their limits regarding the spanking. Christian is a solid actor here. My only critique would be seeing Christian protest the spanking a bit more. It makes it feel more realistic.
P.S. I would love to see some other models take some tough punishment like this, maybe Sam or Marco...if they are willing of course.

Reply

wardcoleman | 22nd February 2019 21:54
Excellent video, with a fine performace from Christian , who also looked great, and he certainly took some punishment.

I am impressed
Reply

vinniecp | 22nd February 2019 19:43
Great video great bottom love it when over your knee and i see the jeans round the ankles looks amazing good work as always Dave
Reply

spankdad123 | 22nd February 2019 19:23
An absolutely amazing video. Christian looked gorgeous In those jeans over Dad's knee. Also like the fact that he called him sir when he entered the room. Christian did a great job with the acting. He also took a very thorough spanking with that hairbrush. Good job to all!
Reply