RELEASED: 14th June 2019
Bobby
Caught Smoking
Members have already seen Bobby falling foul of his strict football coach and ending up getting his bottom smacked more than once down at the sports club.
In the latest male spanking movie from Straight Lads Spanked, fans' favourite Bobby is in trouble again.... but this time it's with his old man.
As the scene opens, Bobby's dad is tearing him off a strip after catching him smoking. The lad has clearly been left in no doubt that Dad disapproves, but he has done it anyway.... and Dad has got his own methods for making that disapproval felt!
Before he knows what's happening, Bobby finds himself hauled over his father's knee and getting the seat of his tight shorts spanked good n' hard.
"You are a naughty little boy!" says Dad. And over his dad's knee in his shorts, with his legs kicking in the air, that's exactly what Bobby looks like.
"You won't be sitting down for a week, young man!" continues Dad. And as if to reinforce his point, he lifts the lad to his feet again, undoes his shorts and pulls them down to his ankles.
Bobby bends over his dad's knee again in his tight-fitting blue pants, to which Dad now directs his firm right hand. Lecturing Bobby all the while on the perils of smoking, Dad warns him that from now on he is going to be checking his pockets for cigarettes, and if he ever finds any more evidence, he will be taking his belt to him!
Bobby isn't allowed to keep his underwear on for long, however. Dad soon gets him back on his feet, and instructs him to pull down his pants. Dad is determined to drive this lesson home with a well-deserved, damn good spanking on the bare bottom!
By the time his ordeal is over, Bobby has a bright red backside and is promising never to smoke again. He's not the first lad to find out the hard way that smoking can severely damage your health, and he won't be the last!
STREAM
VIDEO
Available streams for iPad, iPhone, Android, Chrome, Safari, IE or Firefox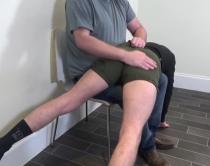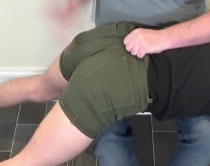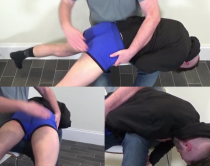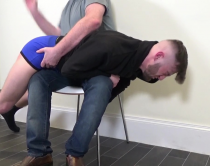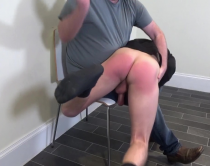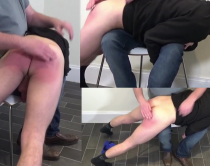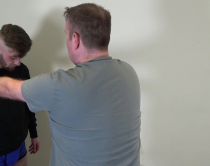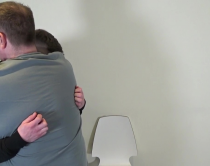 crospankee | 10th September 2020 23:22
Omg, that boner. So embarrasing 🤭
Reply

Dave - Straight Lads Spanked | 28th June 2019 17:34
Glad you all enjoyed this one.

I'll share another detail with you all about this. Bobby lives very far from me up in the North of England. Hence the soft accent.

So when he films he usually travels in the day, arrives late at night and stays over so we can film in the morning before he heads back home.

Bobby had arrived and it was early evening and we were watching Game of Thrones and I said to Bobby, do you fancy making a quick movie now? I explained I was tired and I knew he was too and we agreed lets do something with minimal set up that can be recorded quickly.

From that conversation it was less than 10 minutes and we were filming and the entire process from start to finish took less than 15 minutes!

We had no discussion at all about any dialogue before the cameras were switched on. The entire movie was shot in one take and was 100% improvised.

We then carried on watching TV!

It's really interesting to me that sometimes the most popular movies can be the ones that took the least planning and effort!

I suppose though its testament as to the easy working relationship that we have as well as total trust.

Serena89 | 28th June 2019 20:30 (121 weeks ago)
This just makes me love and appreciate Bobby even more! I would love more videos in this style and more Bobby :)
Reply

flashgordon | 17th June 2019 10:10
I entirely agree with everyone else: Bobby is a really outstanding model in every way, from his voice, his feeble excuses, and his reactions to the smacks, to his adorable little shorts - were they his own? - and his perfect bottom. This is definitely up there among the best films on the site.

Bobby's physical reaction is fascinating. If it is not actually brought on by the spanking itself (it could be the position over the knee - or by wearing those tight shorts!) at the very least the pain of the spanking - which must have been considerable - did nothing to dispel it, as you might have thought it would have done, if the recipient isn't "into" it. Dad fairly gave it to him! Mind you, the lad deserved it, for smoking.

What an interesting subject Bobby would be for an interview sometime. What are his feelings about being spanked?

I too caught the line about getting the belt "again". I assumed this was sometime in the past, and I rather like the idea that we are invited to imagine for ourselves an unseen history of previous incidents. One thing for sure: from the way Dad spanks, if Dad ever did give Bobby the belt, however long ago it was, Bobby will not have forgotten it!

Of course, I naturally hope Dad's threat is fulfilled and we do indeed get to see the belt at work again! Now that it's been mentioned, surely it eventually has to happen...

Dave - Straight Lads Spanked | 28th June 2019 17:26 (121 weeks ago)
Yeah, the shorts were Bobby;s own. It's lovely what young lads wear nowadays!
Reply

mstr_spkr | 16th June 2019 22:06
To borow from the Bard of Avon, "The lad doth protest too much, methinks." I gather this from his physiological reaction which was even more prominent than in his "First and Last" video.

I agree with every accolade given to Bobby in the other comments and add my own. He is most spankable, both in body and attitude. He truly is one of the best models you have ever had in these videos.

"Dad" threatened to spank him with a belt "again" (at about 5:20). Did we miss that or is that one coming? Were those cane marks on his upper thighs when the pants came down? I hope that means that we'll see a lot more of him (and soon!)

I think Bobby would be perfect in a Bubble Bath Blues and since he seems (physically) to enjoy the spanking, I also wonder how he'd fare in a one-shot Bath Brush Beating.

More of him more often, please.

Dave - Straight Lads Spanked | 28th June 2019 17:25 (121 weeks ago)
You haven't missed Bobby being belted, however I have a feeling that this cheeky young scamp will deserve it again sooner rather than later!
Reply

mattnyc | 14th June 2019 21:56
I don't know where to begin with how great this clip is! Every detail is so sexy. Bobby is amazing. I totally agree with Tawser, that his "naughty boy" attitude and behavior is a big part of what makes him so hot. He just acts like a bad boy getting spanked for being naughty. It's subtle but it's a huge turn on. I love his accent and he has the perfect, spankable bottom. I love that he reacts, kicks, squirms, but submits to his spanking. I love the position he ends up in with both feet in the air. Not sure why but that always turns me on a lot. I love his tight shorts; the perfect first layer for a spanking. Great choice, Dave. They're almost like school shorts. And I love that you call him a "naughty little boy" when he's over your knee in those tight, short shorts. It was already a 10 out of 10 for me at that point. Then the super cute, tight underpants are perfect and when they come down, the little stiffy is the sexiest thing EVER. I love that Bobby seems to get turned on by being spanked in spite of himself. So hot. And his dialogue is great. Dave, the scenario is classic and perfectly done. I love how you give such a good, no-nonsense, serious spanking that's hard without being excessive. Perfect spanking, Dave. Great chemistry between you two in this one. It's spanking perfection.

Dave - Straight Lads Spanked | 28th June 2019 17:24 (121 weeks ago)
Spanking Perfection!

I'll take that compliment! Thanks!
Reply

tawser | 14th June 2019 21:28
I love young men who react like boys to being spanked. And Bobby is sheer perfection! He doesn't sulk or give attitude or assert his dignity. He whines and squirms and kicks his feet, just like any little boy would do. Perfection! I could watch Bobby getting spanked all day!

Dave - Straight Lads Spanked | 28th June 2019 17:23 (121 weeks ago)
I'm not sure my arm could cope with spanking Bobby ALL day! It would however. be fun trying!

:)

Dave
Reply

Serena89 | 14th June 2019 19:54
Omg! I loved this! I knew that Bobby would make a great 'son'.

Something special about Bobby's video is because I feel he is so into it because he is not afraid at all with the dialogue and says 'dad' readily and without awkwardness.
Something that made me die about this video is the fact Bobby refered to dad as 'daddy' twice. I internally screamed hahaha. I find that so cute and sext and fitted Bobby as he seems so innocent and youthful. I always had a feeling Bobby may be the one to do this and I was right! I always wanted to comment as a suggestion for a guy to day daddy but I thought I'd come across a bit weird.

I loved when Bobby grabbed Dave's leg and his cute little voice when he said 'it's my fault'. He is so natural and great.

Simple scenario which suited Bobby's age and type of character. It wasn't anything overly special in regard to dialogue or scenario or the type of spanking but it was Bobby that made it so special it just all worked well because of him.
The spanking itself was good and fast paced.

10/10. Well done Bobby!

Dave - Straight Lads Spanked | 28th June 2019 17:20 (121 weeks ago)
Awwww! Glad you enjoyed this one. The Daddy line was totally unscripted so Bobby can take full credit for that!
Reply

philimare | 17th June 2019 16:51
I too full agree with previous comments. Bobby is an amazing boy in all aspects and he makes this movie absolutely extraordinary. He is special and unique, he has something more / above all the others. Bobby and a very simple Dad & Son scenario that is an obvious 10/10 to me. I don't know if he is actually into it but it is good that he does not act as if he is. His physical reaction is indeed fascinating, even more that it is natural. The "I don't like it" but "it makes me hard" is indeed fascinating". This is a top movie ever.


Dave - Straight Lads Spanked | 28th June 2019 17:19 (121 weeks ago)
Hey Phil, thanks for the feedback and really pleased you enjoyed this.

I agree, Bonny's physical reaction is indeed fascinating!
Reply

Daddy_David | 14th June 2019 19:15
Reply