RELEASED: 4th May 2017
Josh - Birthday Spanking Video
I discovered that real life best buddies Josh and Jenson have their birthdays very close together. So I decided to take advantage of this and film their birthday spanking videos at the same time!
I was really interested in seeing the dynamics of these lads in this type of spanking video setting. I'm not sure I've ever meant lads like Josh and Jenson before! You see both of them seem 100% comfortable with being naked. Josh in particular will literally strip off at any given opportunity and freely just struts around. It's like he is not even aware he has no clothes on!
But also, the other thing that I find refreshing about these lads is their attitude to the spanking. Normally the lads get quite uncomfortable having to watch another guy getting spanked in previous spanking videos that I have filmed. However with Josh and Jenson, they actually enjoy seeing their friend suffer! Well that is my take on it anyway!
So this birthday spanking video shows Josh receiving an Over The Knee spanking in his birthday suit, followed by whacks from different implements! None of which are pleasant! There is also quite an extensive interview at the start of this movie too. I hope you enjoy it!
STREAM
VIDEO
Available streams for iPad, iPhone, Android, Chrome, Safari, IE or Firefox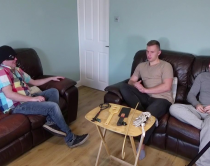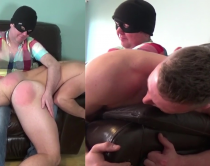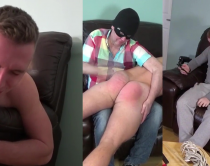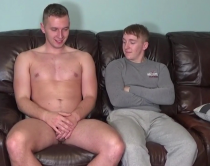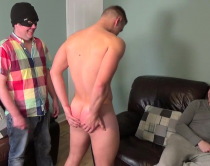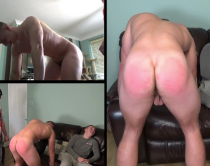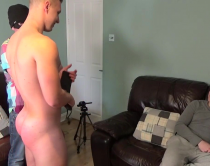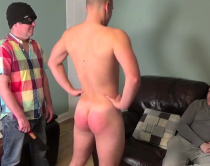 jacko | 18th May 2017 14:27
Of this 38-minute spanking video more than half of the time was taken up with the interview.
Normally, I would not have found that to be a negative because I enjoy watching the models and Dave interacting out of character and sharing experiences, opinions and feelings. However, I was very disappointed with this twenty minutes of small talk.

In the first 13 minutes of the conversation I learned only that Josh is "working hard, training hard and has holiday plans". He also agreed with Dave's opinions on the changing attitude to sexual preferences. Possibly the only information I found of interest was the age difference of the two lads. I suggest that a comparison with Kevin or Dan's birthday spanking interview would demonstrate why I was unimpressed with this one. Unfortunately, Jenson's involvement was limited; a pity as he is a cheerful character whose conversations are usually cheeky and provocative.

I was surprised to hear that Dave considers a birthday spanking to be "lame" without a punishment angle after he previously described this activity as a "happy circumstance" and "not a punishment." Many times I have advocated that a birthday spanking should be a fun occasion that the models don't come to view with trepidation; something like the spanking games. A spanking video can still be challenging and memorable without the guilt promoted in some previous spanking videos with this theme. I was pleased to note that in this video Josh was at least given the opportunity to determine the order in which the implements would be used. With a model claiming some ownership in the video's planning, the customary anxiety might be replaced in part with light-hearted comments and commentary from both the model and an accompanying witness. I like the idea of a good friend being on hand to lend "moral support" and offer encouragement. A video featuring these suggestions would more than compensate for the punishment aspect while still presenting an entertaining spanking spectacle. It brings to mind Liam's "Valentine Caning" which was enjoyable to watch without being a punishment. It was a tough challenge for Liam nevertheless.

It is important to maintain a model's privacy to the extent that he desires. However, asking the question "Is there something which you've done…." continues to reveal intimate details that are best left undisclosed, particularly in the case of this video. A little personal information from the models helps the viewer to draw closer to them and have greater appreciation of their efforts for SLS. However, unsavory revelations such as the one included in this video can only motivate this viewer to have less respect and admiration for the model/s. Perhaps the question should have been, "Is there something that you did when a child...." Even then, I don't agree that a birthday spanking should involve a punitive aspect.

I consider that Josh's OTK use by date is close to expiry if not already expired. This video did nothing to change my view. (Pun intended.) While I appreciated the tight-fitting, skimpy white briefs for providing a more spankably-attractive target, I considered that his positioning over the knee looked awkward and contrived. Although Josh's facial expressions and changing color were indicative of an effective hand-spanking, his limited vocalization decreased the realism.

Josh's much improved positioning for the implement spanking did not feature the separated bum cheeks of which I have been critical in the past. Thank you! It cleverly allowed Jenson's reactions to be observed at the same time as the hits. Permitting Josh to rub his backside after individual strokes was an excellent innovation for the brief time it lasted because it highlighted Josh's pain. Compare again Liam's "Valentine Caning." I would hope that shortage of time was the only reason for the about face.

The implement spanking section of this video was worth waiting for. I'm appreciative that the punishment facet was not mentioned again which permitted this part of the spanking to be less stressful and more fun. Despite his obvious pain, Josh was able to grin and bare it. (Pun again intended) His efforts to both endure the pain and make light of the occasion helped me to enjoy the latter part of this spanking video. The relatively silent partner, Jenson also deserves credit for his not insignificant involuntary contribution although a little more commentary would have been a bonus. Dave and Art, thanks too for your hard work.

I trust that I have not been too harsh with my comments. It is not my intention to devalue the efforts of all concerned in the production of this video. Rather, I offer constructive criticism to explain the lower-than-usual score that I have awarded it.

While I eagerly await the second part of this spanking video featuring Jenson, I am still impatiently waiting for Round 3 of "Spanking Game - Karl, Fraser & Jay."


Uchikimatsu | 19th May 2017 14:07 (74 weeks ago)
You must be fun at parties.

jacko | 19th May 2017 21:03 (74 weeks ago)
Parties? What are parties?
Reply

Slipper Boy | 19th May 2017 07:15
Josh and Jensen happy birthday have a great time
Reply

Slipper Boy | 19th May 2017 07:13
Dave and the boys well done this was the best birthday spanking video can't wait for part two of this one just a little thing as josh is Jensen's friend please let him give Jensen a couple of spanks although you didn't DL this one josh what a pity it would of been fun two friends spanking each other but except for that once again well done
Reply

Rasputin | 5th May 2017 03:58
Excellent video, guys. Josh is one of my favorite models - good-looking, athletic physique, spankable bottom, and demonstrative acting style. Josh looked fine stark naked, but he also looked great in those tight-fitting, skimpy white briefs. (Please have Josh wear them in other videos.) I loved the way Josh looked when he was lying face-down on the couch, over Dave's knee - his handsome face, his muscular body, his facial expressions while getting spanked, etc.

I gave this video a 9 out of 10. If you had spanked Josh for a much longer time on the seat of his briefs before pulling his pants down, I would have given it a 10 out of 10. I very rarely give a video a 10 out of 10 rating, and the fact that this video came so close to being a "10" is an indication of its quality.

Well done, guys.
Reply

Orla | 5th May 2017 00:10
Like the first spanking game this movie was so much fun to watch and it included 2 if my J Boys,Josh and Jenson really work well together loved the joking and laughing and the banter,but can't believe that Jenson is older than Josh,Jenson has such a babyface in comparison.The story about them copping off with their mates girlfriend was exactly what I'd expect from 2 cheeky chappies as a girl i should find it offensive but these guys are so damn cute together and they were apologetic kind of ha ha.

Jenson so funny when he said i thought this wad bare bum when you started spanking Josh over his briefs , and loved Josh jumping and rubbing his very sore red bottom.

Can't wait for Jensons turn .....hopefully you won't keep us waiting too long..

Plus dying to see their friend ..fingers crossed he hasn't been scared off ...

Great job Dave,Josh and Jenson plus Happy B'Day xx 🎁 🎂 😊 💋 ❤ 🍻🍻
Reply

mstr_spkr | 4th May 2017 20:19
Absolutely fantastic! Congratulations, Josh, on a great performance, and happy belated birthday. Great delivery, Dave, and great editing, Art. Nice banter and a solid spanking. It was great to have Jenson there, too, so he would see what he is to get (and even more since he is older.) It will be interesting to see how Josh reacts and encourages Jenson (and Dave) in Jenson's upcoming spanking. Josh's time in the gym definitely shows. Thanks again to all.
Reply