RELEASED: 7th June 2019
Alfie
Enough is Enough
Part Two
We have met Alfie before, when he was getting his bottom smacked by his dad after misbehaving and losing his job, his girlfriend and his home in one fell swoop. On that occasion, Dad decided that a good spanking might help get his errant lad back on track, and promised that there would be more of the same if he didn't get his act together.
A week later, it's reckoning day. Dad had printed off 100 CVs for Alfie to distribute as part of his hunt for work, but it turns out that all 100 are still sitting in his office! Alfie hasn't even been out of the house in a week! Dad had been looking for a change in attitude, but instead he finds Alfie lazing on the couch with one hand down his pants!
No surprise, therefore, that the "present" Dad has brought back for Alfie from a shopping trip this morning turns out to be a leather paddle.... the gift that keeps on giving!
Dad puts Alfie over his knee and begins to warm the seat of his tight black shorts with a firm hand.... and the leather paddle. He tells the lad that from now on he will be leaving the house with him at 8am and staying out until he finds a job.
Eventually he pulls down Alfie's shorts and continues the punishment on his son's tight-fitting blue underpants, lecturing him all the while. Conscientious parent that he is, Dad has even been conducting extensive research online to find out all there is to know about keeping lads in order by spanking, and come across several very helpful websites, including one called Straight Lads Spanked, which features a professional community disciplinarian called Mr X!
Alfie hadn't thought that his old man was serious about enforcing his rules with corporal punishment, but Dad is warming to the new regime, and is of the opinion that what has been missing in his son's life is some good old-fashioned discipline!
Dad has clearly been doing his homework very well, because before long, Alfie is told to stand up and pull down his pants, for the spanking to continue on his bare bottom. Dad tells Alfie that he is going to get a smack for every one of the CVs that are still sitting unused in his office.... and will have to count out each one!
One hundred hard smacks later - the last 20 of them dispensed while bent over the sofa - Alfie is left with a very sore red bottom, and a whole new determination to shape up! But only time will tell whether he manages to stick to it!
STREAM
VIDEO
Available streams for iPad, iPhone, Android, Chrome, Safari, IE or Firefox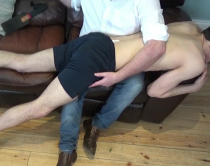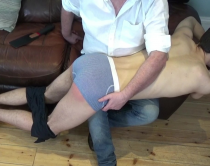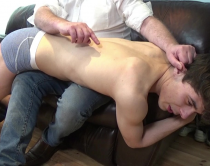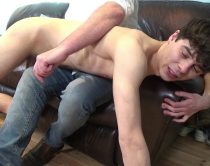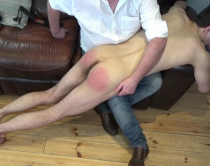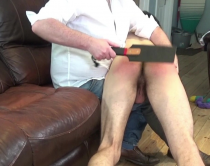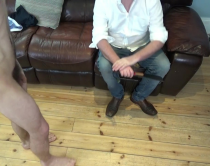 Lee | 6th September 2019 22:15
I just love Alfie.
Reply

Serena89 | 23rd June 2019 04:17
I like Alfie a lot. I preferred his first video as the set up and dialogue felt more real but I did love his reactions toward the end and his movements and the positioning of the spanking. He has such a nice body and I like how it felt natural to have him fully naked at the end as he had his shirt of to begin with.

Alfie has a very cute face and expressive eyes and like in his first video I felt it looked he was close to tears toward the end again and I feel it may be only a matter of time until that happens for him.

I found the whole name drop of the website and the Mr X mention umconfortable rather than funny and I cringed at it. I hate when tv shows or movies do this too its just a pet peeve and takes me out of the moment lol I guess we all have have different sense of humour.

Hope to see Alfie again :)
Reply

Orla | 18th June 2019 09:59
Love this movie ,Alfie reminds me so much of Fraser who is another fave of mine. Great chemistry and acting between father and son ,so natural .So funny hearing Dad talking about SLS and Mr.X .Really good spanking and paddling and poor Alfie looked liked he was about to cry at the end when you shook his hand .
Reply

mstr_spkr | 8th June 2019 18:01
I hope "dad" will need to use on Alfie the other ideas he learned from the spanking sites. I wonder how Alfie would react to find out that Mr X actually lives nearby.
Reply