RELEASED: 14th April 2017
Josh
Wait Till Your Father Gets Home
Fighting! Josh has been fighting and brought home by the Police. The only reason he was not brought to the cop shop is because the Policeman was a friend of his fathers.
Josh is not getting away with this completely though. Dad was told that if he does not deal with Josh then he will be getting arrested. Dad of course is furious and decides that his grown-up son should receive a good belting!
Dad has to go to work though so Josh is left at home to stew over what is going to happen.
Dad does not hold back and Josh is naked on the bed, with his beefy butt presented ready for the belt, The strokes come down hard and you can see the red lines forming across his bottom. Josh can't escape this punishment and the pain is clear to see on his face as Dad whoops his bottom!
STREAM
VIDEO
Available streams for iPad, iPhone, Android, Chrome, Safari, IE or Firefox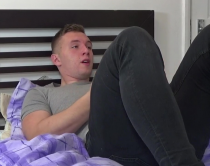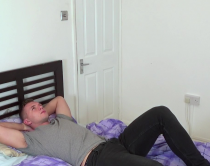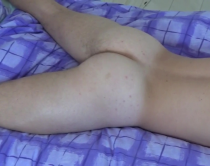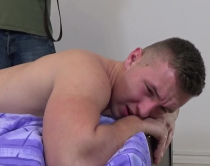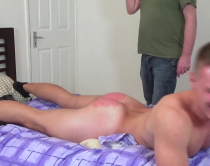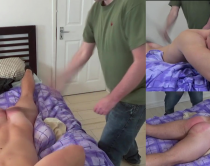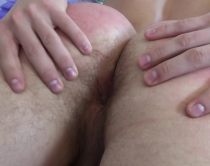 srandhr | 22nd April 2017 12:41
A top recommendation!
Reply

mstr_spkr | 14th April 2017 22:35
Fantastic! Great editing, Great spanking delivery. Great dialog. Realistic punishment for a plausible reason with a model who has a fantastic body, sports a butt that appears to have been made for spanking (one of the best in my opinion), and can play the part very, very well.. Thanks to all.

Will we see Jenson's side of the story? I hope so. Maybe not only see Jenson's dad spanking him but also the boys should have to spank each other (full 3-stage spankings) to make up for fighting and set the record straight. It's a theme that has played well before, as long as the spankings the guys give each other are realistic.

Rasputin | 15th April 2017 02:03 (65 weeks ago)
Great idea, mstr_splr. I'd love to see Josh and Jenson give each other a long, hard OTK spanking.

jacko | 15th April 2017 12:31 (65 weeks ago)
I welcome any opportunity to see Josh and Jenson paddling or slippering one another as they did in the game movie but to ensure that neither has a unfair advantage an implement should be used which has the added bonus of not requiring OTK positioning. However, as they have already attempted to knock one another around there is a need for renewing friendship rather than continuing their aggression. Spanking one another would therefore lack realism and purpose. Perhaps a scenario could be created in which they are punished together for the same misdemeanour. This would demonstrate that their friendship had been repaired particularly if Josh took the blame. Josh must be in the queue to become a spanker sooner or later.

mstr_spkr | 18th April 2017 16:27 (65 weeks ago)
Jacko, I respectfully disagree. On at least one occasion (Andy and Bailey in"Builders Fighting" comes to mind), the warring parties did spank each other to put an end to the argument. This could be realistic, especially because the two lads have been friends and should become friends again when the reciprocal spankings are over. They are in a controlled environment that lets them resolve their resentment and aggression with a happy outcome afterward.

I for one know the scenes are contrived but I know I am not alone in my appreciation for whatever context we are given as to the reason for the punishment. When one video easily provides a segue to other films, I think it helps reduce the stress of having to create yet another context for a spanking video, especially if it can lead rather seamlessly to Josh and Jensen spanking each other.
Reply

mattnyc | 15th April 2017 19:39
Josh is an amazing model. I'm much more an OTK fan than an "over the bed strapping" fan but anything with Josh is good for me so I like this one. He has the most spankable butt on the site, in my humble opinion. I love his acting as well. He's totally convincing and commits to the scenes and the role playing. I also love seeing him totally naked especially when he rubs and spreads his butt. He's just a super sexy model. I love the other members idea to see him get spanked by Jenson. I'd love to see him over Jenson's knee for his comeuppance. Thanks, Dave for the great work and for shooting these amazing models.
Reply

jacko | 15th April 2017 13:54
In my opinion, the benchmark for "Wait Till Your Father Gets Home" movies was established by the most recently released video in this series which featured Taylor. I awarded that film a perfect score for visuals, characterisation, acting, dialogue, severity and appropriateness of punishment, reaction, camera work, direction, audio and editing, storyline, realism, fluency, impact and stimulation. Unfortunately, I could not give this movie featuring Josh top marks in many of those categories.

Apparently in my opinion only, whacking Josh's big, beefy, pale butt with a strap does not excite no matter how much it reddens and he reacts. To me, it is like pounding an unyielding mound of concrete. I must admit that I much prefer him lying on a bed than OTK or kneeling on a bed, but I consider that his ideal position is against the wall. In comparison, while beautifully sleek and muscular, Taylor's backside has an aura of vulnerability which invokes fellow feeling whenever it is subjected to physical attack.

I could continue to compare both models in similar films using the categories above but that was not my intention when commencing this review. Rather I wanted to indicate why in my opinion this film failed to reach the same exemplary standard overall of what I consider to be Taylor's benchmark film. In both movies the models contributed to the overall impact but there were many influences outside of their control. Both Josh and Taylor work hard to turn in fantastic performances and deserve credit and praise for their efforts.

I agree with other viewers that an initial spanking on boxers should precede the bare-bottom spanking as it builds anticipation, helps to cover up an already marked or pale backside, provides additional visual appeal and offers the opportunity for a longer spanking. Although not applicable in this movie, I prefer to see a model remove his own clothing. It can be slower and more revealing of the model's anticipation.

While I was pleased to see some innovative camera angles, the effective head-on overhead shot was utilised on only a couple of occasions and the shot from behind the father as he belted his son was sadly lacking or used so infrequently that I failed to notice it. Although for the most part, split screens were used to advantage, the use of three split screens at the same time is not necessary and distracting when the full body is in view. The spectacular facial and front-on shots of Taylor's film were also missing so the reactions were not portrayed as spectacularly.

I appreciated the interesting scenario in Taylor's movie (ironically similar to Josh's "Bubble Bath" movie) where although he was awaiting his father's return from work, it was not in expectation of a belting but rather in expectation of having to ask for his father's help on a matter of extreme urgency and seriousness. In this film we were back to the mundane "wait to get belted" storyline which is well-worn and no longer draws the viewer into the period of anticipation. A monologue or telephone conversation by the son would help to give this period a bit of a boost.

After receiving a total of 97 swats with the belt, I am sure that Josh wouldn't agree, but his punishment appeared to be considerably lighter than that administered to Taylor. However, it is a fact that Josh received 97 whacks on the bare bottom while Taylor received 23 on the boxers and 118 on the bare behind. Josh received 6 sessions of at least 4 successive hits while Taylor received 9. The largest number of successive swats Josh received was 37 and Taylor 20. The extent to which speed, sound and power of swats, reaction and camera angles influenced this impression is hard to determine. Suffice to say that both were very sore and sorry for themselves at the end of it.

At the end of Taylor's film, father and son brought closure to the punishment with a mutually respectful and loving interaction. At the conclusion of Josh's movie there was no such closure, the father remaining unforgiving, vindictive and aggressive. Not a pleasant way to conclude a video although perhaps a realistic portrayal of some families in the past!

As usual, I hated the full frontal ending, firstly because I find it visually unappealing and secondly because it seems unrealistic for a recently belted lad to lie on his back. Also, I find that pulling the bum cheeks apart is unnecessarily unattractive. However, I respect the preferences of others so now edit the films to increase my future viewing pleasure.

Overall, this film was a tribute to the focussed efforts of the SLS team. Congratulations Josh on enduring to the end.





Reply

Orla | 15th April 2017 10:16
Great movie Dave 👏👍. Josh really took on the character and just loved his reactions and eye rolling when you said 'You get your good looks from me' and also when you said 'When i was dating your Mum i was lucky to get a kiss and a cuddle '.

I really loved that he wasn't lying ready waiting for you and that he thought he could change your mind about the punishment, plus a Garda inspection at 9 o clock 👀

Now i know for the WTYFGH movies you like to belt your boys on the bare arse so you can see the red marks right from the first belt but in Josh's next movie can he please wear them boxer briefs he wore here i really like them 😆
Reply

Rasputin | 15th April 2017 02:16
Josh is a handsome, healthy, wholesome, muscular young man, and he is a very good actor. Kudos to Art for letting us viewers see between Josh's splayed legs, both while he is being punished and as he rubs his sore bottom.

Dave, I rated this video a 9 out of 10. I would have given it a 10 rating if the following had occurred:

1) "Dad" had belted Josh harder and faster throughout the video:
2) Josh had initially been belted hard on the seat of his briefs; and
3) "Dad" then pulled down Josh's pants to belt him on his bare bottom.

In summary, a very fine video.
Reply

Slipper Boy | 14th April 2017 23:27
Great to have Josh back Dave
Reply