RELEASED: 29th March 2019
Christian
First and Last
Locker Room Spanking
Christian wants to join the local football team. He is a talented player. The football coach has some old traditions that he likes to maintain. Discipline is key to a winning team!
The Football Club has a long history of using Corporal Punishment to keep unruly players in line.
Most lads of today have no idea what it's like to get spanked. So the coach gives a demonstration of exactly what a spanking is all about!
The idea being that once experienced it will be the first and last time the lads have to go through with it!
If you enjoy seeing a cute, toned, young lad getting stripped and spanked over the knee then you will LOVE this movie!
STREAM
VIDEO
Available streams for iPad, iPhone, Android, Chrome, Safari, IE or Firefox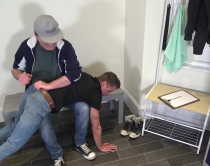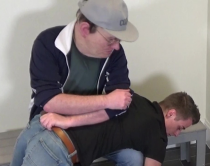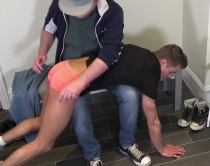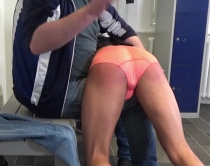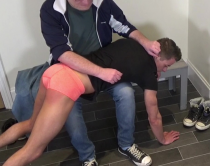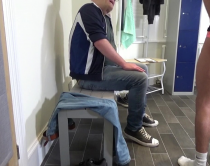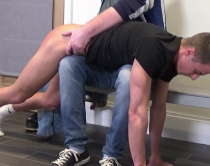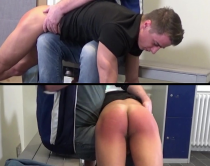 Orla | 21st April 2019 00:53
I like Christian but those pants though definitely looked like ladies to me too ha ha , more Chris for sure xx
Reply

Kass44 | 29th March 2019 18:48
Oh boy Oh boy I am a fan of Christian - Dom & Oliver will always be my favorites - but Christian is giving them a run for their money! Fantastic briefs! I don't wish to annoy you or anyone - but I do like a good storyline and I thought Christian already belonged to the team in an earlier film? [I was the one who annoyed everybody by saying I thought the boss should not have been spanked in front of Jason in one of your other films]. Any chance we will be seeing Christian spanked/paddled/hairbrushed by another actor? I hope a good mouth-soap-washing is in his future. That film you made with Dom getting his mouth washed out with soap is my all time favorite. You did a film without the grandpa make where you caned Tyler in the locker room - can you and Christian do one of those where you are not all dressed up like grandpa? I still wish you made more of a meal of the actors pulling-up/pulling-down their jeans and rubbing their colorful briefs and sore backsides. Another wonderful film - thank you very much! - By the way any chance of seeing the actor John again? He was fantastic! Loved his sour cocky "Eddie Haskell" attitude.

Serena89 | 29th March 2019 19:04 (94 weeks ago)
I second this about John!! He was amazing.
He reminds me a lot of my ex boyfriend so maybe I shouldn't be saying that haha but yes John was great.

tinhead | 6th April 2019 07:41 (93 weeks ago)
Agreed, what a wonderful looking lad. I just cannot stand that mask
Reply

Dave - Straight Lads Spanked | 5th April 2019 19:06
I appreciate its not to everyones tastes but I personally like the idea of some movies where the spanking is not all about anger and telling off! So this theme gives me the chance to do that...

One thing I can be fairly confident of though, from knowing these lads in Straight Lads Spanked world, is that this WON"T be the last time Christian gets punished from coach!
Reply

Daddy_David | 31st March 2019 14:24
I think a problem with this video is that we know the character Christian plays - one who is routinely spanked a lot harder than that by his dad - with hairbrush and belt and naked to boot.

Some discussion between Christian and the coach about how his home spankings are conducted, and the coach giving him a real spanking, would have helped.

Maybe alter the definition of "first and last" - like the first spanking is a full, proper spanking and the last part is that it's the last time it will be just the hand.
Reply

mstr_spkr | 29th March 2019 18:07
Christian is a fantastic model. I love his work. I downgraded this video because I'm not enthusiastic about the series. I like videos where guys get spanked for real (albeit often very contrived) reasons. These F&L spankings are not all that serious and seemed more for the benefit of the coach than the players. Personally, I would prefer Christian (and the others) get a red card or be caught fighting and have to pay the price for that. Perhaps he and Bobby, another new guy, could be caught fighting and we get a short series of their dual spanking

Kass44 | 29th March 2019 18:54 (94 weeks ago)
I agree with you mstr_spkr concerning the series too - like I said above - I do love a good story line - with Christian I loved the film where he was being spanked and his friends were all outside hearing it - there was even a line or two like "what is your coach found out" and Christian was being grounded so he could not play football - the team losing games because of that and one of the fellow players or the coach himself paddling Christian for that would have been more enjoyable.

Serena89 | 30th March 2019 00:10 (94 weeks ago)
Oh I would love Christian and Bobby together soooo much but like as friends and I could see Christian being the more mischievous or cheeky of the two and may lead Bobby to trouble or Christian says something to offend the usually adorable and sweet Bobby and they fight. No one can change my mind that Bobby is just a precious angel and would never do much to get into trouble on his own. So i hope he doesn't turn into one of the lady's men characters or complete mess always f*cking up. Yep. I may be obsessed with Bobby.
Reply

philimare | 29th March 2019 19:06
I totally agree with you mstr_spkr, Christian is a fantastic model. I have always been a fan from day one and still is. But for me, spanking for no reason makes absolutely no sense. This scenario was so "empty" that I even had the feeling that Christian (and even Dave) did not really know how to make something of it.
Reply

Serena89 | 29th March 2019 19:02
Christian is such a doll. He and Bobby have the exact mannerisms and personalities I love. Hes so lovely and cute I feel I can't even fancy him haha more like I want him as a son which is weird as I think he is only six years younger but whatever.

I can't praise him enough and just thinking about it I really praise all of these guys so much for doing this for our entertainment it cannot be easy at all and must be rather nerve wracking. I am sure you are wonderful to them Dave but it still must be difficult for them.

I love Christian he is easily a 10/10 in this field and you're a great actor in the disciplinarian role Dave.
I just feel you both didn't know where to go here due to the flimsy scenario. I so so appreciate that you try new and interesting ideas for us but sometimes the tried and true ones are better. I feel this F and L series was so perfect to introduce Bobby but for a gyy we have seen a lot and in more harsh punishment scenarios it didnt work as well to me.

Maybe it is because i prefer a spanking to be a punishment.

Anyway. More Christian please.
AND BOBBY SOON PLSSSSSS??? AND KEEP HIM AS THE ADORABLE AND PRECIOUS ANGEL HE WAS BEFORE HAHA OKAY THANKS

I look forward to next week.
Reply