RELEASED: 21st September 2017
Bully Gets Spanked
Charlie & Ashley
Ashley thinks he is a tough guy picking on the younger boys at School. Well Ashley bullied the wrong person as the guy he was picking on has a big brother called Charlie. You don't want to mess with Charlie!
In this movie Charlie takes care of the Ashley the bully by putting him over his knee and giving him a dam good spanking!
STREAM
VIDEO
Available streams for iPad, iPhone, Android, Chrome, Safari, IE or Firefox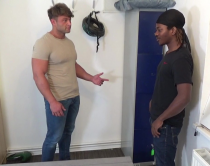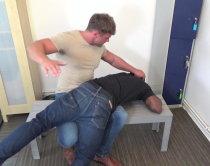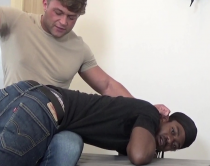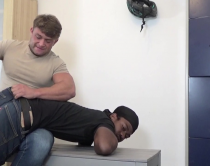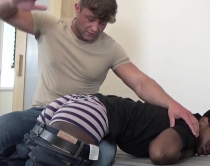 LucienG | 22nd September 2017 20:41
Charlie is pretty good at spanking. Has he done this before? Ashley is a good actor and takes a spanking well, but I could barely see his tiny, flat bum, and what I saw wasn't anything to write about. I don't find Ashley attractive at all, although again he's a good actor. With Charlie as the spanker, this short video could have been so much more. I'd be totally disappointed if not for Charlie.

flashgordon | 23rd September 2017 16:55 (64 weeks ago)
I liked Ashley in this. It was important that he was a lot smaller and slighter than Charlie, otherwise the scene wouldn't have worked, and yet he had that cocky way that made you believe he could be a bully. And his (presumably improvised) dialogue, about the boy being too fat, was hilarious - and so unwise coming from somebody bent over Charlie's knee!
Reply

mstr_spkr | 22nd September 2017 18:35
Charlie definitely shows great promise as a spanker and Ashley was very brave to go across his knee. It will be good to see Charlie give someone a full-on Mr. X- or dad-type spanking at some point (hopefully soon, but let's not forget to get him back in the role of spankee.) He has good technique and a good balance of action (however short it was) and dialog. Ashley made for a good subject for Charlie's role as spanker.

I agree with the comment about pants and underpants needing to be all the way down. This has been a disappointment in the past when brothers or flat mates spanked each other (Stolen Vacation Money comes to mind here.) It adds to the effectiveness of the spanking and creates a proper level of humiliation when pants are down. Besides, when pants are still up, the tendency is to spank too high up the backside. I know straight guys have an aversion for another guy's private parts touching them, even if it's through their jeans, but that is part of the spanking and they should get over it. They are now professionals. In addition, making the guy stand for the pulling down of the pants or underpants gives a short break and perhaps even a break in the shooting as well.

Now, as a sequel, if only coach had caught Charlie spanking Ashley or Ashley's step dad would find out and deal with Charlie for taking matters into his own hands and not letting the proper authorities deal with it. Of course coach or Ashley's step dad also needs to deal with Ashley as well for being a bully. Maybe Charlie's brother (I could not make out his name) should be brought into this as well. And, perhaps Charlie has to deal with his kid brother to teach him to stand up to bullies. (Just some thoughts to keep this series going.)

If Charlie didn't actually say his brother's name, I think Jason would be a great kid brother to protect and bring into this mix.

This video was much too short but a good first effort for these guys working together. I would have liked to have given it more stars but it was way too short and Ashley should have been more exposed.

mattnyc | 23rd September 2017 10:23 (64 weeks ago)
I second the motion! Jason as Charlie's little brother would be perfect. I'd love to see Jason wriggling around over Charlies knee. Great idea.

flashgordon | 23rd September 2017 16:44 (64 weeks ago)
Agreed. I believe he did call the brother Robert at one point. But that's OK: we all know that the guys in these films are acting. There'd be nothing wrong with a credit in the titles, something like "Featuring Jason, in the role of Robert" - would there?
Reply

| 23rd September 2017 12:19
Wow that's a great spanker! Better than Bailey and Andy!!! Great how hard he spanks from the start.
Reply

newspank | 22nd September 2017 18:58
I'd hate to see Charlie wielding a paddle (by that I mean "would love to see") - the power he delivers when spanking is awesome. Well done Ash for taking that like a pro. And what a natural Charlie seemed - I genuinely felt he was the aggrieved big brother. Fab with dialogue, even better with his right hand. I find myself comparing him to Bailey. If he and Sebastian ever filmed a spanking competition (remember those?) then I know where my money would be and Sebastian's face would be a picture! Bravo one and all. And I love the suggestion from mstr_spkr about Jason being his younger brother.
Reply

mattnyc | 22nd September 2017 15:50
This clip is right out of my dreams! I had a feeling Charlie was going to be a great spanker and I was definitely right. He's so sexy. From the first, perfect, smack I knew he was going to deliver. He's really the perfect spanker: big, muscular, handsome, and a natural at scolding and smacking butt. He's a really good actor and for his first time in this role he was kind of amazing. Ashley was great, too. I loved the whimpering and squirming. The scenario and direction are great, too. One suggestion which probably applies to all the guys on the site when you have them deliver a spanking. It's so much sexier when the spankee has his underpants pulled all the way down revealing the whole, unprotected butt. I also love the humiliating fact that the guy is fully, frontally naked even if we only catch an occasional glimpse. It's something most of the guys on the site don't do instinctively, for obvious reasons. The exceptions were Andy and Bailey who both had a sexy sadistic streak. Andy just naturally knew how to spank and embarrass another guy. But back to this new clip: Great work, Dave. I love how the site keeps evolving with new models and new scenarios. This was a fantastic surprise. I didn't expect to see Charlie spanking another lad so soon. And now that we know how good he is at it, please have him do more. Of course I also want to see him over your (or anybody's) knee getting that perfect butt spanked, too. Flawless editing as always, Art. Thanks Dave. More please!
Reply

flashgordon | 22nd September 2017 15:33
This is fantastic!

I always did think that the "school bully gets his comeuppance" scenario had good potential, and (like a lot of others here, I think) from his first appearance I thought Charlie was going to make a great spanker one of these days. But I couldn't have imagined something so triumphant as this!

Just look at Charlie - what a figure! What a big brother to have! And what a spanking he lays on to Ash! There's some real power behind those smacks!

I'd love to know what were Ash's thoughts when he was first introduced to Charlie...
Dave: "...And this is Charlie, who's going to be spanking you today." And Ash looks at Charlie's muscles... I think some people would have made a hasty exit at that point! Credit to Ash!
Reply

FraserFan | 22nd September 2017 15:14
Another good one Dave. Your video's are good. They are realistic, never brutal, and just generally great.
Reply