RELEASED: 25th November 2016
Josh
Fiance Gets Revenge!
The mm spanking movie continues the story from Josh - Bubble Bath Blues.
Having cheated on his girlfriend and getting into trouble with his father, Josh may well have thought that was the end of his problems. Well the truth is, they had only just began! Josh's girlfriend wanted Josh to feel the same shame and embarrassment that she felt, so she arranged for Josh to visit the local community spanker Mr X for some further punishment.
Josh is really humiliated. In fact, to make matters worse, his girlfriend even sent Josh with their own fun 'sexy time' paddle for Josh the get punished with.
Josh is a tall, handsome muscular straight lad and his Jeans fit perfectly around his beefy butt. Which is very much on display when Josh is draped over Mr X's knee for his spanking.
This tough lad tries to put on a brave face, but there is no hiding his shame as he is made to strip down for a proper spanking on his bare bottom!
STREAM
VIDEO
Available streams for iPad, iPhone, Android, Chrome, Safari, IE or Firefox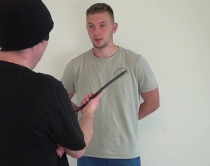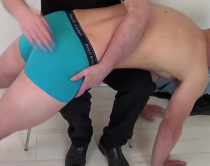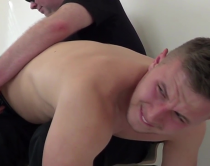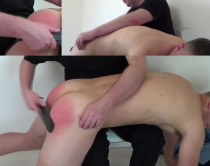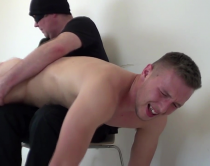 jacko | 23rd January 2017 02:39
In my opinion, this is the benchmark Mr. X movie. Although I hasten to add that there are many SLS movies that I have yet to watch, this is undoubtedly the best yet and will be hard to beat. It reaches a standard to which all future Mr. X movies need to aspire. It is a movie of which all involved can be very proud indeed.

There are many reasons why I consider this movie to be exemplary! It is innovative, creative and different; not one of the mundane "victim gets spanked" movies. There have been Mr. X movies since and maybe some before that have contained a twist in the storyline, particularly the ones that have involved two victims and their interaction. However, the highlights of this movie are not just limited to the storyline which in itself is unique with novel twists and turns.

The acting was top class. Josh was very convincing as a remorseful fiancé. The dialogue was fluent and smooth with a very natural, appropriate and meaningful interaction between Mr. X and Josh. Because Josh is so well-spoken I understood every word of dialogue in this movie which is quite unusual for me. Josh's clothes accentuated his physical features which was no doubt appreciated by lovers of the aesthetic and added to the impact of the spanking. His responses to the punishment were realistic and believable. Due to Josh's outstanding acting skills, especially his facial expressions, the viewer was emotionally torn between feeling empathy for his suffering and regret and disgust at the situation that he had brought upon himself.

The direction and editing were spot on and contributed to the effectiveness of this movie. Congratulations to the persons responsible.

Just one criticism which applies to many of the Mr.X movies. Please make sure that the piece of paper delivered by the victim has writing on it. In one movie there were just squiggles and in this movie the lack of writing was the only blemish in an otherwise believable storyline.

Anyone who has not yet viewed this movie is missing a gem. The performance of Josh in this movie has me craving for many more movies in which he features..
Reply

Slipper Boy | 27th December 2016 17:41
Josh must have the best spankable butt on the site
Reply

Slipper Boy | 27th December 2016 17:39
Best movie with Josh
Reply

Ooleary | 28th November 2016 11:15
I've watched this movie a lot this wkend, I just can't get enough of Josh, he's so gorgeous and a great actor with a lovely soft voice and yes he was very sincere with his apologies and accepting of his punishment, loved the idea of his girlfriend sending along the little spanking paddle xx.Mr.X great to have him back too and i love all his lecturing and telling Josh his girlfriend was going to post pics on facebook,and of course the beautifully spanked bottom nice and red,I could feel the heat through my phone lol ☺☺
Reply

LucienG | 27th November 2016 15:05
Excellent video! I love to see Josh, his bum is quite lovely. I wish the hand spanking on the bare was longer and without so much lecturing. Josh was clearly contrite--but oh that bum!
Reply

Ficwriterjet | 27th November 2016 07:25
It has been a while since the first movie, so I had to go back and look it up to remember what the issue had been in that one before watching this one. I liked Josh's demeanor in this one - clearly being sorry and repentant before the punishment even happened, and it was nice to see Mr. X acknowledge that when Josh asked if they could get it started. I loved the added humiliation of having his girlfriend send along an implement that he'd used on her for fun. That's awesome. I especially enjoyed the last swats at the end when Josh had to count, and his distress could be heard in his voice. Very nice.
Reply