RELEASED: 5th April 2019
Josef
Time For The Belt
Poor Mr Roberts. That poor, long-suffering man goes out of his way to do his bit for international relations, providing a home-from-home for foreign students enrolled at the nearby college. But no matter how he tries to keep them on the straight and narrow, he always seems to end up having to discipline them for oversleeping, missing lectures and not making the most of the opportunities presented to them.
Mr Roberts has a somewhat old-school approach to rules and discipline; he believes that lads learn best with a firm hand, usually applied to their bare bottoms! And it's not as if he enjoys doing that, clearly. He would much rather be taking them out for an occasional pint and a fatherly chat, but in Josef's case, he has already had cause to take a rather more strict line. He has twice had to spank the lad for missing college, and on the last occasion, he warned him that if he had cause to discipline him again, he would be getting a taste of his belt!
Josef may be a bright student, but he seems to have a bit of trouble learning his lesson! At the start of this week's new male corporal punishment movie from Straight Lads Spanked, we discover that the lad has been caught spitting and littering on the pavement, and picked up a £60 fine for his trouble, which it will fall to Mr Roberts to take care of. Mr Roberts is furious.... and when it comes to retribution, he is as good as his word!
Ordering his young house-guest to lie face down on his bed, the landlord whips off his belt and begins to whack the seat of the lad's jogging trousers, warning him that he won't be sitting down for a week after he has finished dealing with him!
It's not long before young Josef is ordered to take off his trousers and tee-shirt, and the thrashing continues across the seat of his tight white underpants. "You're going to learn, young man, that there are consequences to actions," says Mr Roberts, "and those consequences are a sore bottom!"
By the time his pants come down and Josef is totally naked on the bed, that bottom of his - propped up on three pillows to provide a better target - is visibly red and sore. But Mr Roberts isn't finished yet - not by a long chalk. His young tenant is going to pay that £60 fine one way or another, and if he hasn't got the money, his landlord is going to be taking out on his bottom, with 60 more strokes that Josef is going to have to count out!
Again and again the leather cracks down across the lad's bare behind, as Josef counts each stroke, bucking and writhing all the while. By the time Mr Roberts is done, tears are pouring down Josef's face, and his bottom is fire-engine red.
When his ordeal is over, Josef is allowed to put his pants back on and sit down, albeit gingerly, on the bed. He hugs his host, says he doesn't want to be spanked again, and promises to be a good boy from now on.... but then, he's said that before, hasn't he? We'll see if he manages to keep his promise this time!
STREAM
VIDEO
Available streams for iPad, iPhone, Android, Chrome, Safari, IE or Firefox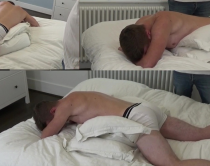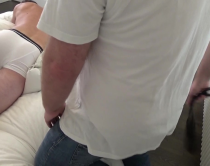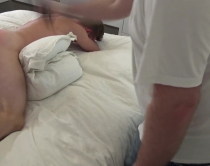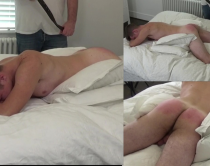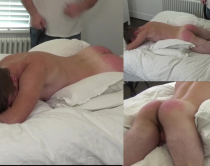 Orla | 21st April 2019 00:27
Josef such a sweet boy and when the tears came I was shouting at Dave to stop ,put loved the sit down talk and hug after ,well done Joe that was hard to watch what a brave boy ,thank you Dave off another amazing video xx
Reply

jddavidson61 | 5th April 2019 17:42
Finally! What a great video. This is exactly why I love this site. This video is so real. A father figure giving a bad boy a true discipline spanking that has tears flowing by the end while still not being abusive. Rather an actual dad/son spanking. I gave it 9/10 only because Josef was hiding his face (most likely from being embarrassed) for the first half of the spanking.

I feel like the past month of updates were not successful (for me and my tastes) so this was a welcome new addition and has convinced me to stay on as a member. Thank you for your hard work, Dave. And for listening to our feedback. You are doing a great job.

Dave - Straight Lads Spanked | 5th April 2019 19:02 (93 weeks ago)
Hey, thanks for the nice comments I appreciate it and I'm glad you enjoyed this video.

mstr_spkr | 8th April 2019 11:55 (93 weeks ago)
I agree with everything here. I also downgraded the video because Josef kept hiding his face. I could not tell if he was really sobbing or just acting most of the time. If we could have seen the impact of the spanking on his face, it would have been a 10/10 from me.
Reply

srandhr | 5th April 2019 22:23
Brilliant video!
Reply

Serena89 | 5th April 2019 17:54
I am finally a full member of Josef's fan club! He was always good but has upped his game a lot and has become so natural. I actually adore his relationship with Mr Roberts.
The ending was the most heart warming and genuinely nice and cute moment in any spanking video.
You both were very commited and into your roles herw.
Josef looked extra lovely in this video, his eyes are beautiful.

Well done!

Dave - Straight Lads Spanked | 5th April 2019 19:02 (93 weeks ago)
Welcome to the club! Yeah he really does have dreamy eyes!

Serena89 | 5th April 2019 19:50 (93 weeks ago)
Indeed they are :) and they looked extra sparkly and bright with the addition of tears.
You are lucky to get to meet and work with such beautiful and lovely guys!
Reply

philimare | 5th April 2019 18:30
Well, I am THE Josef fan, I was the only commenter of his last video. So, no wonder I am so happy to see Josef back !
I still think Josef is a total cutie, adorable, sweet and so touching (in addition to a beautiful natural body).
Above all, in this video : real tears (18'53) and a so heart warming spontaneous cuddle (23'06).
I found that the camera angles were not optimum in this video, we often do not have a nice view of the action and the image is even often cut-off which is a pity and ruins it a little bit for me by moments.

Dave - Straight Lads Spanked | 5th April 2019 19:01 (93 weeks ago)
Oh I'm a Josef fan too! I have always thought so. Such a great bottom for spanking! :) I'm sorry you were not so keen on the camera angles I used. I personally thought Art's split screen effect really showed off the important angles at once.

philimare | 5th April 2019 19:19 (93 weeks ago)
The fact to sometimes split the image is very good. It just seems to me that you used not your usual camera angles in this video, may I am wrong ? So we do not fully see Josef taking off is underwear for ex, or his legs/butt are often cut off ... and those damn pillows are partially hiding Josef's butt ... Or maybe I am a too big fan of Josef lol
Reply