RELEASED: 21st June 2015
Fraser
Wait Till Your Father Gets Home
Warning! This movie contains scenes of a very real, hard punishment!
Fraser has been fighting. Fighting in the football changing rooms. Fighting over a girl!
Fraser got sent home, early shamed.
Fraser's furious Father is waiting for him at home!
Dad has to go to work, so Fraser is sent to have a shower and wait in his bedroom for his Father to return.
This movie starts with handsome straight lad Fraser, stripping off and having a long, hot shower before returning to his bedroom. He then faces an agonising wait for his Father to return home... He knows he is in bog trouble!
What happens next is a very real, hard punishment. Fraser receives a strong lecture from his Father before getting belted. His Father is furious and this shows in his punishment as the belt lashes Fraser's bare bottom and thighs.
This ia a lesson that Fraser is not gong to forget for a very, long time!
STREAM
VIDEO
Available streams for iPad, iPhone, Android, Chrome, Safari, IE or Firefox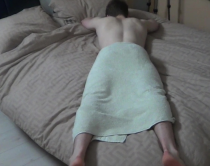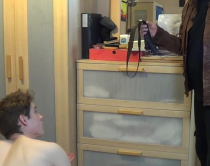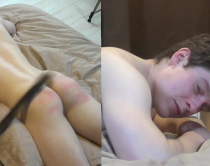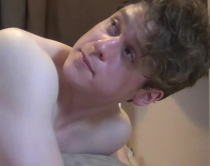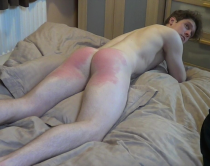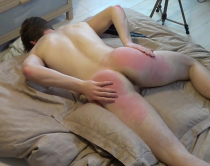 Domfan | 22nd June 2015 20:42
I like these new lads like Fraser and Kevin. Fraser seems a bit posh and has lovely legs and nice floppy hair and Kevin is very expressive facially.
But .....the camera always seems to pan out just when we should be seeing their naughty bits. In the old clips with Andy and Dom we got to see all the wobbly bits rubbing on Mr X's lap and also some crack close ups and balls between their thighs. All sorts of nice angles. OK that's probably because they kicked a lot and moved around. And the current crop don't do that so much. So, yes I like the stories too, but I think sometimes it seems to be at the expense of the saucy stuff. Sorry if I'm being crude in front of the ladies.

uchikimatsu | 22nd June 2015 21:10 (209 weeks ago)
Hey Domfan, I was just wondering where you've been!

I have to be honest and admit that the thought that there has been a recent reduction in visible dangly bits has crossed my mind. But I will also say that I sincerely believe this is not deliberate, just really random!

Glad to see you're still around!

Domfan | 23rd June 2015 00:33 (209 weeks ago)
Thanks Chiki. Nice to be missed ha ha! I haven't been around as much for various reasons. Mostly work and stress. I don't know about you but I kind of got used to the old models as they seemed like they were all friends who were having fun. Takes me time to warm to the newbies as they seem to operate as solo artists and takes me a while to get an emotional attachment.

jacko | 22nd February 2017 10:02 (122 weeks ago)
Domfan, it's a bit hard to get an "emotional attachment" if they've stopped showing them. I note that your comment was written in 2015 so hopefully you've become familiar with all the fabulous models who have appeared at SLS since then and enjoy their efforts to please. While "emotional attachments" don't appeal to me you should be pleased with all the full frontal scenes that appear in SLS movies these days. An abundance of "emotional attachments" to be found.
Reply

Rasputin | 26th June 2015 02:21
This is a request, Dave. In future "Wait Till Your Father Gets Home" videos, please include a sequence where the bad lad is spanked/belted on the seat of his tight, skimpy briefs as well as on his bare bottom.

uchikimatsu | 26th June 2015 13:53 (209 weeks ago)
I agree with Rasputin on this one. It seems that in both the BBBlues and WTYFGH movies we've moved away from pajamas and shorts/briefs to just soppy towels, or often just nothing, as if underwear and nightwear are just too bothersome, or perhaps too time consuming during filmmaking and it's easier to just dispense with those steps. :/

I'd like to see PJ's and underwear make an occasional appearance again in the BBBlues and WTYFGH clips. Pretty please? With sugar on top? And a cherry?

Dave - Straight Lads Spanked | 26th June 2015 16:47 (209 weeks ago)
Hi Rasputin, You probably wont see many instances of the WTYFGH movies where the lad gets belted over his underwear. I like the effect that you get of the initial belt lashes causing red stripes across the pale cheeks! I feel like an artist paining a picture for you all to enjoy!

Chiki, the BBB movies are more likely to include underwear & PJ's, although Dad seems to have found a new liking to spanking the lads, whilst dripping wet, straight from the bath! I'm sure once he gets bored of that, then the underwear will resume!

There most likely example of PJ's will be in any bedtime spankings that I do.

uchikimatsu | 26th June 2015 17:37 (209 weeks ago)
Wet-bottom spankings are sexy, but so are pants down power struggles ;-)

Ooleary | 26th June 2015 20:48 (209 weeks ago)
I'm with Dave on the belt like to see the mark from the first lash of the belt in the WTYFGH but for the BBBLUES I'm with Chiki on the boxers or pj's and whole not wanting to take them down.

jacko | 22nd February 2017 09:52 (122 weeks ago)
I agree with Dave that an implement spanking would be more effective if applied to an unspanked bare bottom. Spankings that commence on boxers or PJ's could be reserved for models who already show signs of a previous spanking. Of course, there will be times when the previous spanking needs to be disclosed. This can be achieved by wearing a towel, as in Fraser's Bubble Bath Blues film or by examining the bare backside before spanking over clothes.
Reply

jacko | 22nd February 2017 09:42
The word "beautiful" does not slot into my vocabulary very much these days, especially if describing males. However, for the life of me, I cannot think of a better word when explaining how I felt about Fraser lying nude on the bed early in this film. It was like admiring a precious figurine of the finest porcelain. Certainly Fraser is a virile lad and "extremely handsome" would be a fitting description of him even when he is not scantily clad; but lying there waiting to be belted he was "beautiful." Yet, while so prostrated, his perfectly-curved bare bottom was screaming out to be spanked, preferably with a wooden paddle.

Fraser has cared for his gorgeous body so that it presents with the sleekness of a sports car without the distraction of unsightly tattoos or piercings; in many ways resembling Michelangelo's David. He displays it without inhibition or flaunting. Dave, you have chosen this 22 year-old lad well.

Even in the early stages of his SLS career, everything Fraser has touched has turned to gold; except his bottom and face which regularly have a tendency to glow bright red. Well-spoken, polite, quick to blush and gentle in personality, Fraser portrays an innocent young lad deserving of empathy and forgiveness. His characterisation highlights his exceptional acting skills that will be further honed in later movies. The tone of his voice and entreating gaze are enough to melt any heart.

In the shower scene, with the exception of his distinctive hair but including between his toes, Fraser administers a thorough wash, even going back for a second squirt of liquid soap. It was very convincing, made more so by not even the hint of a glance at the cameras. Those who like eye candy would not have been disappointed but it was achieved naturally without obvious zooming. More tasteful than so many bubble bath films and much appreciated. This whole scene was totally natural as if no cameras were being employed. Well done!

In the bedroom scene, I was pleased to notice that Fraser didn't spend the whole two hours lying on his bed but adopted various contemplative poses and was even engaged in activity. While it would have no influence on his impending punishment, true to character, he attempted to apologise to Harry. I thought that the towel was used to great advantage. With the assistance of timely camera work it enticingly revealed the contours of his backside to build the tension as the minutes ticked away.

I am impressed with the way in which Fraser brings his character to believable life; blushing during the lecture, swallowing hard, sighing and gesturing with his hands. During the belting he grimaces, vocalises, kicks his legs, pleads and fights the pain so energetically that his face colours markedly. Is the real Fraser hurting or not? It is not possible to tell but Fraser the character is suffering very early in the piece as the red marks of the belt weave painful patterns on his defenceless backside and thighs.

Fraser remains well-mannered and remorseful throughout, actually turning to face his father when he replies. This genuinely intimate interaction between father and son, despite the stinging whacks that are being dispensed, clearly indicates a mutual respect.

I consider the extent of the punishment was excessive. The belting should have been enough with a warning that the other aspects of the punishment would be applied if things didn't improve. A "suspended sentence" is what I am suggesting. However, Fraser remained submissive and polite.

My impression was that Fraser copped a very harsh punishment; at least that is the story his backside and thighs tell. You did extremely well, Fraser to survive this ordeal. I hope that your red bum doesn't prevent you from having fun with the girls for the next month as Dad suggested.

Cameras were visible at several times during this movie. However, they didn't make the slightest difference to the realism. By the way, I hope you remembered to take Daisy out of the cupboard when you had finished filming. I didn't like Fraser's sexy pose at the end but I guess you have to satisfy all needs to keep the members happy.

This was a brilliant film. The split screens were essential to enable Fraser's facial expressions to be scrutinised at the same time as the belting. Very well done Art! Dave, you belted this young man's backside mercilessly; about 85 hard whacks by my count. You should have been very pleased with his performance and reactions. Some of Fraser's kicking was not visible and probably required a long shot. Otherwise the camera angles were great. Although I don't usually like this format, Fraser managed to hold my interest to the end. Sorry mate, that I enjoyed watching your "beautiful" arse being belted. At least you now know it was worth it.

I'm pleased to see that Fraser is still filming with SLS. Thank you for a job well done.

Reply

James | 5th August 2015 21:22
Another great WTFGH movie I do like these movies makes a change to just hand spanking
Reply

TDT69 | 30th June 2015 08:40
I think its about time Fraser got the bath brush. Please?!!!
Reply

red1967 | 25th June 2015 17:07
Wow I loved the movie Fraser was great love how cute he is lovely body good acting . Fraser took the belting well so well done.Davie you where grate you and Fraser work well together I think Dad was a bit mean spanking Fraser so hard with the belt and taking his phone I pad and giving him a very early cufrew I hope to more of Fraser. Art as I say a lot I love your work. Thank Dave, Fraser, Art and Amiee coming up whit a grate storyline
Reply

mattnyc | 25th June 2015 01:54
Fraser is just the sexiest! I'm not a huge fan of the belt scenes, although many members love them, and I prefer OTK. But anything with Fraser is going to make me happy. As has been said, he's the perfect model for this site; handsome, masculine, and with AMAZING legs and and even more AMAZING butt. He's great with the dialogue and is totally believable and in character. I've said this before but it bears repeating; I would love to see him in an Uncle Andy video. He'd be the perfect new nephew, with Kevin as his naughty friend. Or he could be a friend of Lee's. Well, pretty much any scenario that has him OTK would be great for me. Great work on this one, Dave and Art. And thanks for the bonus. More Fraser, please!!!
Reply

karlfan | 22nd June 2015 23:25
Fraser is so beautiful. What legs? What a bum. He took his strapping like a man too. More Fraser soon please. Would love to see an interview.
Reply

Peterbrown1 | 22nd June 2015 08:42
Bravo Dave - an excellent production. Why is Fraser so good? Well, the authentic football kit for a start. Any chance we could see him bending over in those shorts doing stuff before the reveal? As others have said, Fraser seems quite well spoken and polite. Is he in work? I suspect he could be busy 100% of the time in the cp world! This video is great and also tells us that unlike some other models, Fraser is "comfortable" (I know, not the right word) with implements. If he is prepared to take that, surely he can take paddle, cane etc? Finally, while in some ways it might affect the impression we have of Fraser but do you plan to interview him so we understand him and his motivations a bit better? Indeed - is there a girlfriend on the scene because with such a white behind it could be a while before those marks fade. He is a very "Irish" looking young man!
Reply

Cherylkay | 22nd June 2015 07:36
OK, I'm home now and have had a chance to watch this one and process it properly. I had to do something first though. As someone who loves being strapped (especially on the thighs), I had to kind of break with that and approach it from the position of someone who would hate that with all their being. It wasn't easy, but I did manage it lol.

I thought Fraser was perfect here. He had the skinned knees (and other small boo boos) of a football player. And he had a dirty uniform, which made it look like he really came straight from practice or a game. So the stage was perfectly set. I adored his entrance, where you're there to meet him and he says "I suppose you've heard?" Fraser is the new star of Straight Lads Spanked, in my opinion. If we had to lose Dom (and I'm not comparing them) then Fraser is a suitable replacement. He's great with dialogue and takes a hard spanking. He's also great to look at. One of my favorite things that you do is have someone mentioned in a storyline without that person being physically present. It just makes it seem more like a real community. I especially liked it when Fraser tried to phone Harry up to bury the hatchet. That was a nice touch and makes it seem like Harry is still a part of things (sniff sniff).

Dave, you were in top form here. Some of your gestures (such as the removal of your leather jacket before taking off the belt) had me feeling all squirmy in anticipation. The way you listed the ways in which his "easy ride" was over also made me feel for Fraser. What youngster wants to be without their smart phone, let alone having to carry one that's only good for making phone calls? Like others, I also laughed at the mention of how many condoms he was using. I know there are members here who dislike the "preachy" parts of the videos. but for many like myself, the scolding sets the stage for the physicality of the remainder of the film. Also, in this situation, I feel it's most appropriate.

The belting was as good as advertised. I don't think I've ever seen you meaner with the belt (except maybe with Ryan). It's to Fraser's credit that he was able to take it so well. His responses and facial reactions were just priceless. I enjoy seeing reaction that's not over the top, but a bit more subtle. Fraser treads that line very nicely. He lets you know it hurt (and I'm sure it did!) without making a Hollywood production out of it. Igave this film a 10/10 just because this one was just lovely to come home to and it delivered in every possible way.

Art, you're the man! Loved the way you rotated the scenes (sorry, I don't remember the technical term for that...when a horizontal take is turned to look vertical) on some of the split screens. It added an awesome dimension to the film, along with all the other loveliness :)
Reply

Ficwriterjet | 22nd June 2015 03:42
Very nice. I didn't realize this was one of the movies from the list until Chiki said something. Awesome. :) Was that Daisy in the background wanting to come out and play?

Dave as Dad was great in this movie. Lots of wonderful points Dad makes about Fraser's horrible behavior. I loved the long list of things that were going to be taken away. I did have to laugh when Dad says Fraser's mother is going to get his phone, and he'll get hers which can make and receive phone calls - that's all my cell phone can do. LOL! I can imagine the horror some 19 or 20 year old would feel if they didn't have their smart phone with them at all times. It would be like losing an appendage.

I especially enjoyed the last bit where Dad told Fraser he had to get dressed and go visit his grandmother. I can imagine him trying to sit still while having to listen to boring old people talk. Torture! Especially with no phone. LOL

The spanking looked quite painful Fraser took it very well. He's seems so sweet and soft spoken with all of his 'yes dad' answers. I can see his character having many girlfriends if he's anything like that when talking to them.

Thanks Dave for the extra movie, it was great.
Reply

lorilee | 22nd June 2015 02:55
Fraser did a great job. I think Dave is spanking harder, I am glad you now have a son that cleans his room it looked so nice, he took that spanking like a pro. At the last spank the whites of his eyes were almost the same color as his bottom. The comment about him messing with so many women if he was not using protection he would have 25 children that would mean you would have 25 more bottoms to spank is there a downside to those odds . One last thing Daisy sounded like she wanted to help, Thank you another good one.
Reply

johnbezjian | 22nd June 2015 00:44
This was a really great video! Fraser is incredibly handsome, great build and perfect butt for the belt! Really liked seeing the back of Dave's real head and hair. In many ways this was the most believable Dad/son strapping with the belt for me. Love that you strapped him down the back of his legs, below his butt the way many/most dad's do in the real world when strapping their sons. Those of us that got the belt growing up as well as give beltings ourselves, know that area just below the butt, the "sit spot" is more painful and not as well "padded" and makes a real impression and reminder for quite a few days after the strapping every time you sit down, or at least try to sit! Excellent work by everyone on this as always. And I agree with the other comments here.... love to see more of Fraser!!! Thanks for the great Father's Day gift guys!!
Reply

Dave - Straight Lads Spanked | 22nd June 2015 00:13
So glad you are all enjoying this! It makes me happy! Please keep the comments coming! :)
Reply

Cherylkay | 21st June 2015 23:09
This is really unfair! I'm at my night job and can't watch this till later :::sobs::: but I'm so happy to see Amiee's story come to life! I'll review this tonight!
Reply

Hunter | 21st June 2015 21:50
Yet again another masterpiece dave

Fraser surely learnt his lesson after belting or I hope he does he reacted like any naughty boy does when he has belt. Well done Fraser

Dad was at his meanest today even though it was fathers day
Reply

NovaDad | 21st June 2015 17:42
Huh! "Cavalier Casanova" movie????
(I checked Google, Wikipedia, Wiktionary, and IMDb, but nothing gave me that ah ha moment. Is that a British cultural allusion, perhaps?)

BTW, this is a really fine WTYFGH video, Dave, Art, and especially, FRASER!
As far as I'm concerned, Fraser is welcome back whenever possible.

-- Don

uchikimatsu | 21st June 2015 18:21 (210 weeks ago)
Hi Don,

Dave took a list (that Orla kindly organized) from the Suggestion Blog and started filming movies using ideas suggested by the members. Aimee's request was to see a young man punished by his father for "womanizing ways." In the clip, Dad calls Fraser a "Casanova" so I just made up the term "Cavalier Casanova" to describe Fraser's attitude toward women in this film. It wouldn't be a British cultural reference as I am an American. I think Dave pulled this off quite brilliantly and will have lots more to say when I make a full review!
Reply

Ooleary | 21st June 2015 18:21
Well It's Father's Day here today so it had to be a Dad movie .

Thanks Aimee for the great story line like chiki said it's so cool when our ideas come to life where else would that happen , Thanks Dave.

That was one serious belting so fair play to Fraser not just his bottom but his legs too OUCH what a guy esp the last one number 12 Dad really swung that one.

I loved the whole story line cheating with his friends girlfriend and of course mentioning our Harry and Fraser trying to ring and sort it out .

Dad's lectures are always my fave in these movies and he didn't fail had a little giggle ehen he mentioned the amount if missing condoms how embarrassing for poor Fraser.Fraser's acting was good too but maybe a little timid he should have made more of a fuss about the 7 o clock curfew,the no phone and no ipad but then i guess that would have meant another round with the belt.

Art loved the split screen,the close up of Fraser clenching his butt cheeks after every hit and his face all screwed up in pain xx

Now this was cruel poor Fraser couldn't even lie there for too long and sooth his sore bottom he was off to visit his grandma xx

I hope you haven't broken Fraser and scared him off and that he agrees to come back for some more.xx
Reply

wardcoleman | 21st June 2015 17:32
Poor young Fraser, that must have stung like a swarm of hornets! He deserved every smack though!

Av very enjoyable movie well done Dave, art, and, of course, Fraser (I guess you will not be doing much sitting down for a while eh'' Kid?)
Reply

uchikimatsu | 21st June 2015 16:11
AIMEE-KITTEH! I do believe this is your "Cavalier Casanova" movie !!!!! HOORAY! Its so incredible to see our ideas come to life like this! Thank you, Dave!

Review to follow, because this one is just... :::sigh::: its just pretty dang amazing! I think Dave would call it a "corker." So many things to write about. I should view this a few dozen more times, just to make sure I catch all the details before I write the review. Work, work, work....
Reply