RELEASED: 19th May 2016
Kevin
Bath Brush Beating
Male Spanking Video featuring Kevin and the Bath Brush!
Working for your Dad can sometimes lead to problems. In Kevin's case it has led to an over the knee spanking with the Bath Brush!
This male spanking video starts with Kevin sneaking home when he should be at work. He is a young lad and is feeling quite horny! So he decides to take advantage of the wifi connection at home to watch some mucky movies on his phone. Kevin is clearly aroused when undoes his trousers and starts playing with himself.
Kevin was not expecting Dad to come home looking for him and he is caught in the act! Embarrassing!
Dad is furious! He does not pay Kevin to be jerking off when he should be working. Kevin is just humiliated that he was caught.
After a long lecture the male spanking video really begins when Dad fetches the Bath Brush and tells Kevin there is going to be punishment! No matter how much Kevin protests Dad does not listen and orders Kevin to lie over his knee. Kevin has been spanked many times before but the bath brush brings things to a different level! Even through his jeans it really hurts!
The jeans do not remain on for long though and the spanking and thrashing continue. Eventually the underwear is removed and Kevin gets spanked on his bare bottom, He is kicking and pleading but Dad continues until he feels the lesson is truly learnt!
Kevin is left with a very sore bottom and a red face!
STREAM
VIDEO
Available streams for iPad, iPhone, Android, Chrome, Safari, IE or Firefox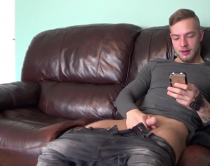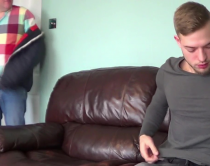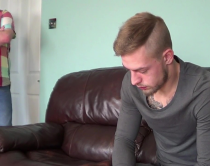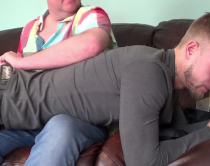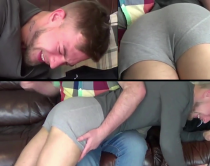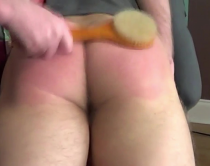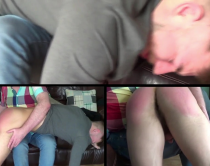 manlyspank | 21st May 2020 21:02
To much talking in almost all of these videos and why do you have to constantly talk about WOMEN!!!!

Dave - Straight Lads Spanked | 25th May 2020 12:44 (73 weeks ago)
I really like dialogue & I also like making it about domestic situations which includes Mothers, Fathers, Boyfriends & Girlfriends.
Reply

Cmwilson | 13th June 2017 20:38
Reply

Haverford | 29th May 2016 00:23
I'd quite like of seen Kevin ''finish' off what he started at the end of the punishment, as final compensation and humiliation, in front of Dad.
Reply

sumai-Davefan | 26th May 2016 05:24
I've been expecting this movie for a long time.Kevin is really poor , Because of this mistake have bath brush beating would be too severe.But both Dave and Kevin acting are very good. by the way,I'm very pleased to become a member again.Wish Kevin be careful when driving .Don't hang scraping the car again .I love kevin very much.
Reply

CassieAnne17 | 23rd May 2016 17:39
I really liked this one! Kevin is such a natural! :) At first I kinda agree that the punishment was a little harsh for the misdemeanor, but when you add in all the other events it's more like a wake up call for Kevin, and I thought I was kind of brilliant!! I also love the counting and sir at the end. Great job by all!
Reply

Kevinfan | 21st May 2016 15:29
On a totally base level I loved it because I like watching his balls and dick between us legs and also the side views if his dick flopping on Dave's lap. Also nice ending views of his asshole when he pulls his cheeks apart.
On an emotional level, I loved the way his discomfort shows in his face and how his tough guy voice cracks every now and then.
Kevin's also a good actor without being OTT.
Whoever said that Dave should've rubbed cream on his bum afterwards made a good point. Would have been the cherry on the cake. Bit still a classic!
Reply

Dave - Straight Lads Spanked | 21st May 2016 00:34
Really enjoying reading all the comments here. Please keep them coming. 😄

wardcoleman | 21st May 2016 13:00 (283 weeks ago)
Hi Dave

Did Kevin say how he found the experience? I imagine that was the most painful of all the spankings he has taken from you and other SLSers. Was it more painful that he expected? Would he be prepared to take it that hard again? As Orla said, it would have been interesting to see a post-spanking interview.

Some people have suggested that Kevin's Dad was unreasonable, that might be true. However, he made it all the more entertaining for us viewers.
Reply

Ficwriterjet | 20th May 2016 15:14
Amazing and wonderful movie. I LOVED it. :) Kevin is always great with his dialogue, but it's always more impressive to see someone sticking to their character when the punishment is more harsh. I thought it was fantastic at the end that his voice was a bit unsteady as he counted out the numbers. I also really enjoyed Dad saying that Kevin was grounded, and that neither of them wanted the mom to know the real reason behind it. I thought it was sweet that Kevin didn't like Dad's suggestion of a lie because he didn't want his mom to think he'd been disrespectful in front of another woman. :)

I agree with lazycat999 though - as far as the storyline goes, I thought the bath brush was a little harsh for what Kevin had done, even if it was for the other things he'd been doing recently as well, but it was easy for me to overlook that and enjoy the movie anyway.

A fantastic job done by all, it's going to be one that I watch again. Thanks to everyone who worked on it.
Reply

uchikimatsu | 20th May 2016 02:02
"I don't pay you to play with yourself...."

Oh, Dave....

I love that the irony didn't seem to be lost on Kevin either. Clever boys....

Ficwriterjet | 20th May 2016 14:56 (283 weeks ago)
Hey Chiki,

Yes, this line and Kevin's reaction to it certainly made me smirk. :)
Reply

wardcoleman | 20th May 2016 14:46
A very good video, which, as Kevinfan said, is likely to become a SLS Classic, and deservedly so.

Speaking of "deserving" Kevin certainly got what he deserved, and certainly suffered for our entertainment.
Reply

Anthony | 20th May 2016 01:10
You spot his new tattoo on his hand and nose piecing

wardcoleman | 20th May 2016 14:43 (283 weeks ago)
oops! I spotted the tattoo, but thought the nose piercing was a pimple!!
Reply

lazycat999 | 20th May 2016 05:41
Poor Kevin.I think dad was a bit too harsh in this one.Athough the bath brush was the consequences of Kevin's several bad behaviors rencently,he do not deserve a brutal bath brush from his own dad (without any cream and word of comefort).
If I were the dad in that situation, I might give Kevin a half-day holiday to sort himself out after the serve punishment rather than order him go to work immediately because he could not sit down.PS: It was so funny that dad reminded Kevin to wash his hands before he came downstairs.-_-#

for Kevin took a hard spanking 10/10

Both of Dave and Kevin's acting and dialgue 9/10

For the storyline and dad treat kevin like a stepfather, I am sorry but 6/10.

Reply

Ooleary | 20th May 2016 02:10
OMG This was amazing, so much better than I expected.

Kevin proving why he's my no.1 10 / 10

Dad gets better and better 10 / 10

Spanking Hard 10 / 10

Dialogue Top notch,believable 10 / 10

Acting Worthy of an award 10 / 10

Does last 10 with the bath brush 10 / 10

Orla's happiness scale right now 10 / 10

Personally this is my new no.1 movie,going to watch this over and over this weekend, the only way you could make it better is if by some chance you've filmed an interview before and after the spanking.
Thanks to Kevin ,Dave ,Art , loved all the split screens and camera angles , that captured that delicious red bottom and those beautiful facial expressions. ...definitely having sweet dreams tonight.xx
Reply

Anthony | 20th May 2016 01:12
Can you still rate the videos Dave can't seem to see it.

Was Kevin ok after this one, for some reason I feel he struggles with the harder punishments was shocked that he did wtyfgh and now the bath brush
Reply

Dave - Straight Lads Spanked | 20th May 2016 00:55
So pleased the comments so far are positive. Can't wait to read more about what others think of this movie. 😄😄
Reply

Anthony | 20th May 2016 00:54
You spot his new tattoo on his hand and nose piecing
Reply

Kevinfan | 20th May 2016 00:11
Oh yes. Instant classic!
Reply

Anthony | 19th May 2016 23:35
Oh and my names changed on this too, I'm James
Reply

Anthony | 19th May 2016 23:34
Haven't commented for a while for a few reasons but
Amazing amazing movie. Well done Dave.

Hope was not too much for Kevin for him not to come back anymore.

And well done on the new models I guess it was hard to have so many new ones at once with the others friends of friends/family
Reply