RELEASED: 30th November 2018
Jason
Mouth Soaping
At the beginning of this week's brand-new male spanking movie from Straight Lads Spanked, we discover that naughty Jason has been swearing at his mum. And as we are all aware by now, Dad really doesn't like bad language.... especially when it's directed at his missus by a lippy lad!
Dad has an old-fashioned approach when it comes to punishing disrespectful youngsters, and he decides there's nothing else for it but to drag the brat to the bathroom and wash his mouth out with soap! Bending Jason over the sink, he makes him open his mouth so that he can wash out all that nasty language with his soapy fingers and a face flannel.
With a mouth full of lather, it's clear that Jason is already regretting swearing at his mum. But if he thought that was all that Dad was going to do, he's got another think coming! Dad is also going to give the lad a well deserved smacked bottom!
With Jason still bent over the bathroom sink, and ordered to hold the bar of soap between his teeth, Dad swats the seat of his black jeans with his hand. But he clearly feels that that isn't enough to get the message through, so he takes off his belt and uses that to thrash his impertinent son's backside.
Of course, it was only ever going to be a matter of time before Dad stepped the punishment up a notch by taking down Jason's trousers, and indeed it is not long before the lad is feeling his father's firm hand, and his belt, across the seat of his tight white pants.
Even that flimsy protection doesn't last long, however. Ignoring the muffled protests, Dad pulls down Jason's pants, and with a firm and heavy hand, spanks the lad's already very red sore bottom.
By this time, Jason is a very sorry boy, but Dad hasn't finished with him yet. He tells him that he will shortly be going to bed, with no supper, but first he will have to stick his bare bottom out for 12 final strokes with the belt. At least, with that bar of soap in his mouth, Jason is spared the indignity of having to count them out!
When Dad has finished, Jason is finally allowed to remove the bar of soap and rinse his mouth out. With an unpleasant taste in his mouth and a bottom like a beacon, you can be sure it's going to be a while before Jason swears at his mum again!
STREAM
VIDEO
Available streams for iPad, iPhone, Android, Chrome, Safari, IE or Firefox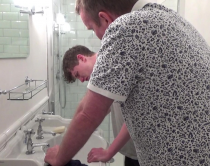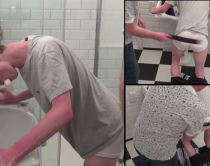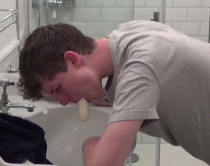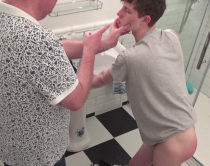 oliboy92 | 9th August 2020 14:28
LOVE this video - especially the face slapping and harsh lectures! Really powerful and v horny!! Any idea which other vids may be similar?

Dave - Straight Lads Spanked | 18th August 2020 09:10 (76 weeks ago)
There was another mouth soaping with Blake that you might enjoy.
Reply

Lee | 7th September 2019 01:25
Didn't like the aggressive face-slapping and ear pulling. For me, corporal punishment is about measured, authorative control not aggression. I'm sure Jason must have agreed to it but I found it uncomfortable viewing. There should only be one part getting hit and that's his bottom.
Reply

Nevermore | 4th January 2019 20:09
This is wonderful!! Would love to see another mouth soaping video for either Jason or Christian if they can be persuaded!
Reply

Kass44 | 14th December 2018 22:59
Bravo! Mouth Washing is my fav and all too rare! Wished you used bath brush though - but hey - perfect all the same!
Reply

Orla | 1st December 2018 02:04
This is straight into no.1 of my all time favourite movies,one I will certainly be watching over and over.I adore Jason .I think the only thing that kept him from crying was the bar of soap in his mouth,that was a hard spanking and belting ,just look at how red his little bottom is.Any chance we might be seeing before and after videos of Jason (early Christmas pressie 😉😁).

Thank you Dave for this amazing movie xx

jddavidson61 | 3rd December 2018 03:43 (165 weeks ago)
OMG. Same. Same. Same.
Reply

jddavidson61 | 3rd December 2018 03:42
Literally the BEST Dad/Son spanking scene I have ever seen. Both the Dad and Jason are absolute stars. Incredible. Worth an entire years worth of subscription. More Jason. More Dad/Son. This was so realistic. It was perfect.
Reply

| 2nd December 2018 09:06
Jason is amazing. I love him so much. Please more Jason.
Reply

dantheactionman | 1st December 2018 22:01
WOW! Just Wow! This has to be my favourite video I've ever seen on your site. I hope you paid Jason handsomely for this. 10/10
Reply

mstr_spkr | 1st December 2018 16:02
Excellent! I think more guys need a good mouth soaping for their language. Jason is a true star.
Reply

Tomboy1 | 1st December 2018 15:34
Great Video! Please more Jason.

Reply