RELEASED: 31st May 2019
Blake
Paddled
Members will recall Blake's inauspicious debut on Straight Lads Spanked a few weeks back, when he ended up getting a very real punishment spanking from Dave for messing him about.
Blake, who thought he was going to be paid to film a spanking movie, was less than happy that Dave proposed instead to tan his bottom as an authentic punishment.... without paying him a penny!
Left with little choice in the matter, however, Blake opted to take his punishment in the hope that, by doing so, Dave might consent to cast him for paid work in future spanking videos.
A few weeks down the line, Blake is back, now in the role of a young footballer who seems to be making a habit of turning up late for training. And with a coach as strict and old-school as this team's, that's not recommended!
Blake says he won't do it again, and Coach promises that by the time he has finished with him, that is likely to be true! The lad does know that he has messed up, though, and as per Coach's rulebook, he is going to get a taste of the paddle!
First, however, he is going to go over the coach's knee for a sound spanking, first on the seat of his black football shorts. By the time he is told to pull down the shorts and bend over again, his bottom is almost as red as the tight pants he is wearing underneath.... but it's not such a perfect match that Coach is ready to call it a day just yet!
Pulling the lad's pants right up his crack, Coach is effectively already spanking Blake's bare cheeks. But when he is told to remove the underwear altogether, Blake is completely naked over the coach's knee, and feeling the full force of every smack.... especially two sets of extra-hard spanks that he gets for swearing involuntarily under his breath!
Ordered to stand facing the wall with his bright red bottom on display, Blake is told that Coach hasn't finished with him yet; he's going to be getting a dozen strokes with the paddle!
Bending over a bench in the changing room, Blake gets four firm strokes of the wooden paddle over the seat of his shorts, before being ordered to remove them for four more whacks on his pants. Finally, four solid strokes with the paddle across his bare bottom ensure that this young footballer will try a bit harder to be in time for training in future!
Back in the corner with his hands on his head, Blake is told that if he has to be punished again, it won't be with the paddle but the cane! A hug for his coach at the end suggests that Blake means it when he says it won't happen again.... but then, he wouldn't be the first naughty lad to promise that and then be proved wrong, would he?!
STREAM
VIDEO
Available streams for iPad, iPhone, Android, Chrome, Safari, IE or Firefox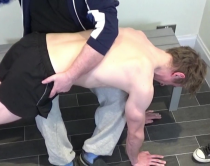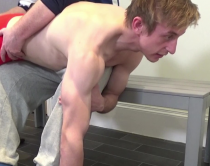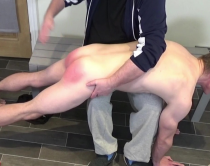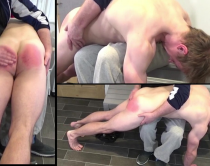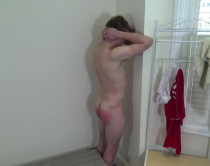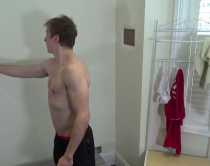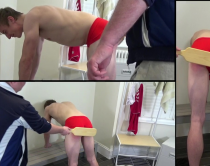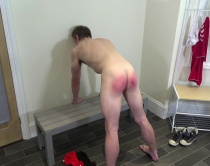 Yilia | 1st June 2019 12:06
This video is spectacular! To be honest, I never thought of Blake can be such a talented spankee, all the dialogues makes the story very convincing. I can tell from his words that he is truly sorry for what he have done. Thank you Dave for making everything possible and showing us a different respectful Blake. Always love the final hug, it's very sweet and comforting. (First comment here, my apology for my English, I'll try harder)
Reply

Serena89 | 1st June 2019 01:33
This is my favourite video in probably a few months. It was outstanding quality. The sceanrio and acting and camera work and editing were so good. Every shot was so clear and the 3 screen split worked so effectively in this one.

The best thing though, was Blake! I remember thinking he had good acting potential from his debut in the 'Blake's real spanking' movie but I didn't expect this level. Wow. It's so strange that when someone is this good and realistic I almost feel like I am intruding on a real and private, vulnerable moment. I could sense all of his fear at the beginning. I loved that opening with him waiting and playing with the paddle. And I could feel all of his shame for doing wrong and remorse and pain! It was so realistic feeling that I had to take two breaks to process it.

The actual spanking was so good. The right build up and intensity and the colouring of his bottom and positions and the fit of his underwear. It just all worked amazingly.

I loved how you played the coach Dave. Very strict but fair and giving chances and even the emotional investment in Blake's character from the small back story of knowing him since he was 3. All great, small touches which made for a memorable video and instant classic for me.

I didn't expect this kind of very nice and respectful character from Blake I could of seen him being more of a cheeky kind of guy or having more attitude but it was a nice surprise. He was so sweet and hes so pretty and has a lovely body.

Awww the spontaneous hugging of the coach at the end instead of the handshake was so nice and fit the mood.

Blake could be one of my top models on here ever. I'm still obsessed with Bobby lol but Blake could be a close 2nd.

Great video. Couldn't fault it!
Reply