RELEASED: 4th September 2013
Real Punishment - Clark - Learn Some Respect
Clark has been wanting to work for Straight Lads Spanked for many months. He is an older Dad and the extra money he could earn would come in very useful.
So after months of planning it was finally arranged. I even agreed to collect Clark from the local train station.
Everything would have been fine if only Clark had turned up!
I was left standing and waiting for 30 minutes. Eventually Clark got in contact with some excuse about not being able to get a train ticket.
After some consideration I agreed to reschedule for the following day but explained that everything we had planned had changed and that Clark was going to get punished for real!
What you see is the whole lecture when Clark is told off for messing me around. You also see Clark being told what his punishment would be.
Clark is given a difficult decision and a way out of being punished.
After some consideration Clark accepts his punishment!
The entire spanking was filmed without a break. It was hard and real and every moment was captured on film!
Clark wont be messing me around again!
STREAM
VIDEO
Available streams for iPad, iPhone, Android, Chrome, Safari, IE or Firefox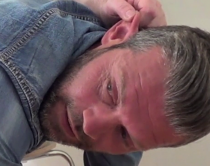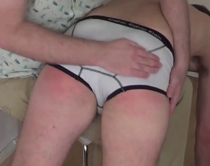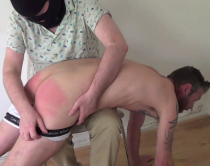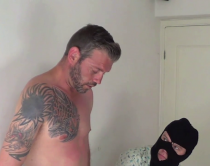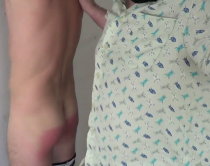 JamesBianco1968 | 25th January 2022 08:51
There is nothing hotter than a grown confident man getting spanked, far hotter than a younger guy who is already in an inferior position (age, as a son etc) which is kinda overkill. A grown man being taken down is pure humiliation and hot as hell. I make my own videos of Grown men getting spanked every other week on sp tube. Otter bottom
Reply

bearcreek51 | 7th May 2020 15:24
I know this guy posed a long time ago but I like him he has a sincere quality about him Would he do another?
Reply

jacko | 28th January 2017 20:30
A loving father and husband, waiting for pay day to afford food for the family, finding it hard to make two ends meet, prepared to submit to a harsh spanking so that he could provide treats for his kids; a scenario to tug at the heart strings.

That is, until we were told how he had wasted Dave's time without making any effort to communicate. A BIG mistake! And to make matters worse he had managed to find money for cigarettes!

By the time the interview with the masked one had been concluded and all had been revealed there was little sympathy for Clark; only the desire to witness a well-deserved physical onslaught.

Generously, he was offered a choice of implements from a range including the bath brush and cane and wisely he decided to have 12 lashes with the leather flogger applied to his bare backside after a torrid spanking. Not an inviting proposition, but possibly the best on offer other than the belt.

How did he get talked out of his selection, instead choosing to have his final 6 strokes with the butt blisterer? He certainly regretted the decision. The hefty strokes revealed Dave's mood and frustration at being mucked around.

To his credit, Clark survived the ordeal; the pain, the humiliation, the nagging counsel .... but only just.

Although invited back Clark didn't return for what would probably have been a 37 lash birthday spanking. He no doubt found a much less painful way to manage his finances.

As this was Clark's only SLS movie there is not much point in commenting further.

Suffice to say that for lovers of tough spankings, the sight of a 36-year-old dad being spanked was a little more interesting than first anticipated.

Clark got his money and Dave got his pound of flesh. A well -produced movie was the result.
Reply

rm7guy
|
Voted Video 10/10
| 5th September 2013 16:12 (438 weeks ago)
I like Clark :)) Slightly older with that super sexy silvery hair - very handy for the "head up" command. Looked a bit nervous but you could tell he was feeling it. I'm sure a second visit would see him slightly more relaxed but a great first video!
(P.S. Is it my imagination or did I spot a TARDIS in that room???)

Dave - Straight Lads Spanked
|
Not voted video yet
| 5th September 2013 16:16 (438 weeks ago)
Oh you never imagined it! Mr X is a massive Dr Who geek! :)

rm7guy
|
Voted Video 10/10
| 5th September 2013 16:45 (438 weeks ago)
I guess I am too, sexy bloke getting spanked but I still spotted it :))

welshboy
|
Voted Video 8/10
| 5th September 2013 16:58 (438 weeks ago)
Yes Clark needed a good spanking for standing you up, But I think I will have to watch this video a few time to know if I will like him, Nice ear pulling Dave and a great real life story, I would have been very upset if some one had done that to me too. On the plus side Nice underwear Clark.

cami
|
Voted Video 10/10
| 5th September 2013 19:14 (438 weeks ago)
Ummmmmmm Mr.X you got some bugs on your shirt. lol..
Clark did a good job in his 1st movie :) . But he sure did learn his some respect that is for sure.
he handled the spanking really well. Good think you have a kind hart Mr.X cuz if we had a No Call No Show at work 2 things will happen your fried or you get written up for it. But i like yours spank him so hard that he will not do that again. Well done Clark. See Mr.X is giving you an other chance so plz don't blow it clark.. well love to see you in more movies :)

But for Dr. Who you like the old or new Dr. Who ????
I love the old Dr. Who with Tom Baker. the is my favorite Dr. Who. Never watched the new Dr. Who yet lol.

Art you out did yourself again. well done my friend :)


fitguyn5
|
Not voted video yet
| 6th September 2013 12:40 (438 weeks ago)
like to see him get a formal caning

gkk1952
|
Not voted video yet
| 6th September 2013 23:42 (438 weeks ago)
WOW! Another just about perfect one. They keep coming

Art
|
Not voted video yet
| 7th September 2013 02:21 (438 weeks ago)
Thanks, cami :-)

rm7guy
|
Voted Video 10/10
| 8th September 2013 01:45 (438 weeks ago)
Just watched this again. I think Clark could get in my Top 3. Such a dish and I loved the camerawork especially the six with the paddle. Hope he comes back soon

welshboy
|
Voted Video 8/10
| 8th September 2013 14:03 (438 weeks ago)
I have watched this video four times and each time I see Clark he has grown on me, He has a cute bad boy smile, Like rm7guy I love the six spanking with the paddle. Art the split screen was great on this one, also loved the lighting. The cutting between Clark's face and his red bottom was top notch. I also loved the script between you Dave and Clark. Well done all.

Dave - Straight Lads Spanked
|
Not voted video yet
| 8th September 2013 14:34 (438 weeks ago)
Glad you enjoyed this one Welshboy.... I know Clark is a bit different to my regular models but I thought he would be popular. Oh and there was no script, every word I said reflected exactly what happened! :)

rm7guy
|
Voted Video 10/10
| 8th September 2013 15:05 (438 weeks ago)
I think this is why I like him because he IS different from the regular models - not that there's anything wrong with them, but the muscles and the round firm bums do make me feel SOOO inadequate at times LOL :)

Dave - Straight Lads Spanked
|
Not voted video yet
| 8th September 2013 15:21 (438 weeks ago)
Tell me about it! How do you think it is for me having them draped over my knee!!! The things I go through for you guys (and gals)!

denimclad
|
Not voted video yet
| 8th September 2013 15:28 (438 weeks ago)
Its good to see some different models. Age is just a number - what really matters is a nice bottom, and the ability to take a long, hard spanking (something many youngsters cannot do)

rm7guy
|
Voted Video 10/10
| 8th September 2013 16:14 (438 weeks ago)
Oh, I can WELL imagine. It's much appreciated :)

Art
|
Not voted video yet
| 9th September 2013 17:05 (438 weeks ago)
Thanks welshboy. It's good of you to mention the editing. I appreciate that it helps your enjoyment of the video. That's my job :-)

matt
|
Not voted video yet
| 12th September 2013 10:55 (437 weeks ago)
I think Clark is handsome and, as others have said, it's nice to see a different look/age. I'd love to see him as the spanker in some videos. Since he's a bit older, he'd be great as a boss, uncle, young step-dad, etc. It would be great to see Dominic or even one of the bigger guys like Andy, Patrick, or Harry wiggling around over his knee. Great work, Mr. X and Art. Looking forward to Friday.

Rasputin
|
Voted Video 3/10
| 13th September 2013 04:42 (437 weeks ago)
I have nothing against sexy older guys getting a spanking. I could watch George Clooney or Hugh Jackman getting spanked, dressed in skimpy briefs, squirming and kicking and grunting in pain, all day long! :-) Channing Tatum would be even better, although he may not be considered "older" as he is only 33.

Clark is good-looking enough, but I would prefer a model that would be more muscular, more clean-cut (i.e. fewer tattoos and clean-shaven), and dressed in tighter, skimpier underwear.

I look forward to seeing future videos featuring hunky older spankees.

newspank
|
Voted Video 9/10
| 14th September 2013 19:30 (437 weeks ago)
I wasn't expecting to enjoy that...but wow, I did. It felt so real. Great editing and love the split screen (thank you Art) - never sure about older guys in spanking movies but this (being very frank!) gave me the horn....brilliant Dave, all power to your elbow as it were

swespanker
|
Not voted video yet
| 3rd November 2013 22:12 (430 weeks ago)
As I have mentioned before in other comments, I prefer seeing MEN getting spanked, not so much into skinny teens. Therefor this model is right up my alley. I wouldn't mind seeing some more older guys getting spanked, stocky, muscular.... YUM! =))

Dave - Straight Lads Spanked
|
Not voted video yet
| 24th November 2013 09:01 (427 weeks ago)
Hi Swespanker. Yes Sebastian is pretty Sebastian and no doubt a real man and not some twink. He takes a real hard spanking too!

leatherbelt
|
Voted Video 8/10
| 6th December 2013 04:49 (425 weeks ago)
Another good movie although I would prefer for clark to be spanked on the sofa. I think the 12 strokes with the implement is too lenient. I am happy that clark choose to be spanked with the belt. The idea of using his belt is a good idea too. I would prefer that the spankee is wearing a thick wide belt to allow the spanker the choice of using his belt aside from the spanker's belt too.

leatherbelt
|
Voted Video 8/10
| 6th December 2013 04:51 (425 weeks ago)
I am hoping that there would be a movie about clark using his belt for spanking others aside from him being spanked with his own belt and Dave's belt

Regina
|
Voted Video 10/10
| 6th December 2013 08:00 (425 weeks ago)
I real like Clark! Any change of getting back anytime soon?

DrWyatt
|
Voted Video 10/10
| 30th December 2013 17:55 (422 weeks ago)
This was really excellent, only just had time to sit back and listen to the interview and then anjoy the punishment.
Lets see Clark again.

liuhaoda
|
Voted Video 10/10
| 6th March 2014 11:44 (412 weeks ago)
Will he come back? Love him!

Dave - Straight Lads Spanked
|
Not voted video yet
| 8th March 2014 17:56 (412 weeks ago)
Hi liuhaoda, I'm sure we will see more of Sebastian! :)