RELEASED: 3rd March 2016
Lazy Worker
Chris & Declan
In this male/male spanking movie Declan is meant to be assisting Chris with some building work. Declan is just a lazy, individual with no real work ethic or sense of responsibility and is constantly late.
Chris has had enough of Declan's attitude and comes to his house and finds him still fast asleep in bed. If the work does not get done then Chris will face consequences so he decides to teach Declan a lesson.
Declan soon finds himself over Chris's knee and getting his bottom thoroughly spanked by Chris!
STREAM
VIDEO
Available streams for iPad, iPhone, Android, Chrome, Safari, IE or Firefox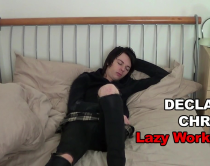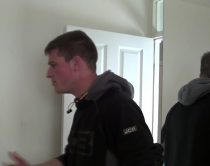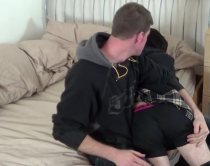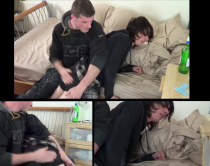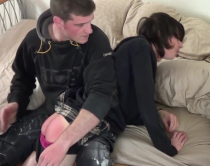 spank100 | 4th March 2016 05:45
I agree with everyone about Declan he didn't do anything for me he seemed to me as someone off his face and didn't care. He didn't put anything into his dialogue of reaction to the spanking.

Great work with Chris with his dialogue and he knows how to redden a butt properly.

I like the way the miniature cricket bat appeared on the bed head table. I call that magic.

Dave - Straight Lads Spanked | 4th March 2016 20:12 (207 weeks ago)
I do like to sprinkle a bit of magic into the movies now and then! :)

Declan certainly wasn't "off his face", however he was directed to play the part of an annoying brat that just had no respect for authority or responsibility and just "wasn't bothered" and he did that well.

Maybe, with hindsight, too well! :)

Serena89 | 5th May 2019 04:58 (42 weeks ago)
HAHAHAHA I love reading old comments and get such a laugh from some people's wit and even snark on here :') I have a stranged (maybe warped sense of humour) but i find the idea of a lad being 'off his face' during the spanking f**king hilarious. I know this is 3 years old but I love Declan he is hilarious. I loved in the BBB video with dad he called Mr X mental hahaha because really we all know he is mental and the lads are usually taking it all very seriously and as if it is realistic for some man in a balaclava to slap their ass for being bad (which is largely the appeal to have that fantasy element transferred into a world where it us all normal) but having someone who is so incredulous about how bizarre it really is from time to time is hilarious for me. I never thought I'd ger humour in videos like these sometimes and that is why this site is my fave :')
Reply

ronwade | 4th March 2016 05:14
Declan is not handsome, well built, or spankable in any way. Man, are you scraping the bottom of the barrel with this kid! Don't care at all for Chris either.

Dave - Straight Lads Spanked | 4th March 2016 20:15 (207 weeks ago)
Hey Ron, I'm not sure about scraping the bottom of the barrel. I always have a variety of models to choose from and occasionally I like to mix it up with someone a bit different. Sometimes when I do that, it really works and other times not so much. I've never really had a skinny "ego" lad before and was interested to see how what people would think.

Anyway you can rest assured that it's business as normal with this weekends bonus release of Kevin and Karl! :)

CassieAnne17 | 5th March 2016 23:49 (207 weeks ago)
That seems like a harsh statement Ron!

mrdave | 4th February 2018 23:34 (107 weeks ago)
Cassie Anne17 I totally agree. Everyone has an opinion, and I am every bit as supportive of having Declan as Ron is against him! As a total top, it gives me great pleasure to have a bottom who is rough around the edges. I am so over "pretty boys" who are so unrealistic. Declan plays an outstanding role as a skater boy. If those who put Declan down would open their eyes and visit an empty parking lot or abandoned area, outside the beaten path. That is where you will likely find real boys similar in appearance and behavior to Declan.

Thank goodness skaters are not what the straight vanilla community would call "handsome" or "well built". They typically have beautiful long hair that is sometimes dyed or styled in a very abstract and unique way. Their hair and clothing that sets them apart from the crowd. They are usually boys searching for an identity to call their own, that is unique, rather than just being golden boys and following along with the norm. Declan's attitude whether scripted or natural is very genuine and realistic. It is the combination of the looks and behavior that makes such a boy very deserving of a spanking. I have helped raise several boys in my years and it is Declan's type that can reward you the most if you keep them in role. They will grow and learn from you. All people need to do is accept them as being different and show them you care.

Uchikimatsu | 8th February 2018 23:57 (106 weeks ago)
Thanks, mrdave, that was very well said! I'm also a fan of Declan for many reasons, but I love the drastic attitude transformation between when he is with Mr. X or Chris, where we get to see that sassy mouthy side of him as opposed to when he is with "Dad" and we see a very polite, respectful, and subdued side of him.

If every lad that resided in SLSville had the same attitude all the time that would be totally boring! I for one would love to see more of Declan, especially a two-parter where we see the snark when he's outside the home away from Dad's influence, maybe in trouble with the swim Coach or some such, and then home to face Dad where we see him humble, subdued, maybe even a little scared of Dad, LOL!
Reply

pv82 | 20th July 2016 00:47
That comment worked, so I'll repeat what I said in my previous one:

this may be a bit late, but for what it's worth I think Declan is brilliant. I love his look, I think he's a good actor, and his manner and physicality are really different and refreshing. I personally would love to see more of him :)
Reply

pv82 | 20th July 2016 00:40
I tried to post a comment on this a couple of days ago but it hasn't appeared :-/
Reply

mbk260 | 6th March 2016 21:20
I like Declan. I think he does a great job playing the obnoxious teenager who does need a good spanking on a regular basis. He has a cute little bottom that I certainly would love to spank anytime.
Reply

MistressAlex | 5th March 2016 03:14
I think they both did a great job, I like Chris and Declan and like the dynamics each model brings to his film as an individual. Declan may not look or act like the other models but I like that. Dave has a variety of models, it makes things different as per which model he uses.

Dave - Straight Lads Spanked | 5th March 2016 16:53 (207 weeks ago)
Thanks for your feedback MistressAlex. I've noticed you posting recently and I really appreciate you joining in. I'm glad you liked this movie. :)
Reply

Cherylkay | 6th March 2016 01:54
This was a very interesting pairing! I think I may have mentioned before that I would like to see Chris as a spanker. He really did an incredible job here, not just with the physical spanking, but also with the scolding and verbal play. I thought he and Declan played off each other quite well.

Now, for those who are jumping on Declan because he's not "their type"...let me just say he's not my type either. But I truly believe this (and I've said it before in defense of Paul and Aaron and a few others) that every model brings something unique and positive to the movies. Declan was funny in this movie, in my opinion. He really played his character to the hilt, probably knowing that all of us would be cheering Chris on as he spanked him. Because of his thinner build, he fit nicely over Chris's lap and I enjoy that. I really do love to see a size difference between the spanker and the spankee. I also thought that Chris and Declan had good chemistry in this one. And it also had a good running time and featured an implement.

I love to see the lads spank each other. There's always an awkwardness that's really sweet to me. And, of course, I love the visual of pants pulled down to just below the bottom, so I think that Chris went as far as he was willing to go as a straight man.

Dave, I do enjoy the variety of models you give us. Look on just about any other site, whether M/M or M/F and you will see that most of the bottoms look similar to each other. We get all different kinds getting spanked here and that, for me, is part of what I like about SLS. Sure, not every model is going to go over as well as Kevin or Jay or Dom or some of the other really popular guys. Those guys are one in a thousand. I have been on this site for about a year and a half and I have yet to see a model who was a total turn off. So keep mixing up the pairings and surprising us. I, for one, intend to keep watching!
Reply

Dave - Straight Lads Spanked | 5th March 2016 16:51
So I think it's fair to say that Declan is not the most popular model. That is perfectly fine and don't worry. I always take your comments onboard & I am not intending to be using Declan much (if at all) again in the future.

I thought though that I would tale the opportunity to ask, if like Tinhead, there are any other members out there that actually like his appearances in the movies?

Dave - Straight Lads Spanked | 5th March 2016 16:55 (207 weeks ago)
Oh and I should have also mentioned MistressAlex too alongside Tinhead.

CassieAnne17 | 5th March 2016 23:47 (207 weeks ago)
I actually do like Declan! At the first Mr X spanking not so much, but I was pleased with the different attitude on BBB movie and I actually started to like him even with his recalcitrant attitude and all. He may not have a lot of meat on him but I think he plays his part well and has a spankable bum, and he is demonstrative enough for me. Plus he is younger and I actually liked that he is only 19! But this story was a little bit of a stretch for me.
Reply

mattnyc | 5th March 2016 18:27
Not to dog pile on Declan but I have to agree with the members who don't respond to him. He's definitely my least favorite model so far on the site. Other members have said it pretty well (and some pretty wittily). He's oddly unattractive, too skinny, and the deal breaker for me; not a spankable butt. That said, Chris is one of my all time favorites and he's hotter than ever in this clip. His acting is really, really strong. Great with dialogue, good at scolding, and being the strict disciplinarian, etc. For someone new to the role, he did amazingly well. I'd love to see him as a spanker paired with another model; Callum, Kevin, etc. Of course I want to see him get spanked as well. He has a beautiful, world class butt. My one suggestion for him/Dave is to make sure, when possible, to yank the spankee's underpants further down to fully expose the boy's bottom, etc. It's much sexier to me when there's more exposed. This was a great scenario and one I'd love to see you revisit, Dave. I'd love to see Sebastian or Tom as a spanker with Kevin or Chris. Thanks for the great work, Dave, Art, and all the models.
Reply

tinhead | 5th March 2016 06:53
Agreed that Chris is a brilliant spanker in this video - and totally rocking the worker look! :-D However I'll make a stand for Declan. While I'm not overly into the emo look, I do like his build and his very spankable backside. Also love the mini cricket bat - my own spanker has one of these, uses it the most and it is very effective. Cheers Dave, a refreshing video.

Dave - Straight Lads Spanked | 5th March 2016 16:55 (207 weeks ago)
Glad you liked this one Tinhead and it's good to hear that at least one member digs Declan's look! Oh the little cricket bat really did come from a chicken shop!
Reply

kayjoe | 5th March 2016 12:26
Chris - totally right. Def need more of him spanking and being spanked. Declan - nice to have met you. Take care. Bye now.

Dave - Straight Lads Spanked | 5th March 2016 16:53 (207 weeks ago)
Haha! This one made me laugh out loud! Poor Declan! :)
Reply

Ficwriterjet | 5th March 2016 02:44
I'm surprised to be saying this, but I liked Chris more in this video than I have in any of his other videos. For me, he's more fun to watch giving the spanking than he is to watch receiving the spanking. I liked the way he spanked - he seemed at ease with it. I also really enjoyed the way he counted the number of swats at the end. :)

Declan does a good job of giving off teen attitude. I found myself smiling at his lines a few times during the movie.

Dave - Straight Lads Spanked | 5th March 2016 16:52 (207 weeks ago)
Yeah, Chris surprised me too. He took to the spanking role very well indeed!
Reply

Ooleary | 3rd March 2016 23:12
Chris: Chris was amazing here and I had a feeling he would he was good atbthe actual spanking and with the dialogue very impressed with him well done Chris and would like to see him in the spanker role again.

Declan: Declan for me anyway was a little disappointing he wasn't great at the dialogue and couldn't see his face and his reactions weren't great to the actual spanking but having said that i can understand that the poor boy is only 19 and being spanked by another lad only a couple of years older is strange and kinda embarrassing and totally different to Dad or Mr.X but he did have a nice red bottom at the end .

Chris was definitely the star here for me,thank you Dave.

Looking forward to the boys being spanked by their Nutter of an employer lol xx

Dave - Straight Lads Spanked | 4th March 2016 20:17 (207 weeks ago)
Really pleased you liked Chris in this one Orla. I have a feeling we might see Chris dish out some more spanking at some point.
Reply

Kevinfan | 4th March 2016 00:11
I'm not particularly interested in Declan sexually, but I find him hilariously funny. His petulant and blasè attitude is great.
Hunky Chris is a dreamboat as always.


Dave - Straight Lads Spanked | 4th March 2016 20:16 (207 weeks ago)
I actually just told Chris that someone called him a 'Hunky Dreamboat' and he was very pleased indeed!
Reply

wardcoleman | 4th March 2016 20:06
Oh My! I hope Declan doesn't read the comments on this website!! His acting is certainly good, he portrays a teenager with attitude very well.

Chris as a spanker is a revelation, he plays the role very well, I am impressed, despite my preference for seeing him on the receiving end

Dave - Straight Lads Spanked | 4th March 2016 20:09 (207 weeks ago)
I'm sure Declan will be able to handle the comments if he reads them. He certainly does pull off the ;nonchalant teenager' very well.

I thought Chris was great in this movie too. It's clear that he has learnt a lot about spanking from being spanked himself..
Reply

lazycat999 | 4th March 2016 08:38
I agree with Kevinfan.Declan is not handsome,well built as some other models(I dont know how he can so thin like a spaghetti),but him hilariously funny.His blasè attitude always make people want to spank him.In fact ,it is a very natural attitude when a teenager listening some lecture and waiting to be spanked.I think it would be lovely if he say more"I am sorry, I've learned my lesson"when he were spanked by Chris.
Chris:His performance is absolutely wonderful.A great actor, one of my most appreciated model(of course, there are lots of models in SLS I appreciate) PS:When will Chris will be spanked by other model?😉

Dave - Straight Lads Spanked | 4th March 2016 20:07 (207 weeks ago)
Not sure about Chris being spanked about other models. I will have to work on that one. Yeah, I agree, Declan certainly has the type of attitude that makes you want to spank him! :)
Reply

rgsix | 4th March 2016 17:58
Agree with most of the other comments. Thumbs up to Chris in spanker role. Declan unfortunately does nothing for me.


Dave - Straight Lads Spanked | 4th March 2016 20:05 (207 weeks ago)
Hey rgsix, thanks for the feedback and great to see you commenting! Glad you liked Chris in the spanker role.
Reply