RELEASED: 26th April 2019
Blake
Real Punishment
Blake is one sheepish lad. In a protracted interview at the beginning of the latest male spanking movie from Straight Lads Spanked, we learn that Blake has been clamouring to do some filming with Dave because he needed the money. He

was supposed

to show up yesterday, and Dave had gone to some trouble to get everything ready for a shoot and meet him at the station, only for Blake

to be

a no-show.
The filming had eventually been rescheduled for today, but Blake had missed the first train, and shown up late. There was a faint whiff of Blake having partied the night before. "What do I film here?" asks Dave eventually. "Spanking videos," replies Blake. "And what else?" continues Dave. "Begins with 'P'....?" "Punishment," says Blake. "Punishment," says Dave. "So that's where you're going with this?" adds Blake. "That's where I'm going with this," says Dave.
As the lad shifts uncomfortably in his seat, Dave goes on to spell out that Blake's is an attitude he is seeing more and more often among people of his generation. He adds that when he was Blake's age and had a job interview, he would have made sure he was at the appointed place at least half an hour before, and if anything had happened to prevent him from showing up, he would have made sure he phoned to explain.
"I think you need

to be

punished," he says. And he goes on to explain to Blake exactly what his revised proposal is for the work they will film today. He proposes to give Blake a punishment spanking for wasting his time; Blake will be able to refuse it, or stop, but only

in order to

leave, abandon filming and get a lift back to the station - not for the breather that he would otherwise

have been allowed

- and most important of all.... he

will not be

paid!
It suddenly dawns on Blake, who until this point

has been agreeing

that everything Dave says is fair enough, that although Dave is not ruling out paid work in the future, as a result of his own actions, he might still end up getting his bottom smacked, but all for nothing! Blake is beginning to appreciate the very real consequences of irresponsibility!
When he realises that he doesn't have much choice, Blake agrees to go ahead, and bends over Dave's knee for a spanking on the seat of his tight blue jeans. But it's not long before he is back on his feet, being told to remove the jeans entirely and bend over again. "So now, Blake," says Dave, "you're now wearing just your pants, over my knee, getting your bottom spanked, for no money. How are you feeling

right now

?"
As his well-practised right hand warms the seat of Blake's pink underpants, Dave takes the time to voice his philosophy on discipline and how a spanking really only begins when the person being spanked wants it

to be

over. "There already," says Blake, with feeling.
Back on his feet, the sorry lad

is told

to take off his tee-shirt, pull down his pants and bend over again. And suddenly he finds himself naked, wriggling over a man's knee, getting his bare bottom smacked, and all for no reward! By the time his ordeal is over, he is crying out, "I'm done! I'm done! Stop!"
I think we can safely say that this is one lad who

has been taught

a very painful lesson he won't forget in a hurry, and that next time he agrees to do something, he might think twice about letting someone down!
""""More

from

Producer Dave....
For those who have

been

following me and this 'hobby' for some time you will be aware of my quest to bring to you as real a punishment scenario as I possibly can. Blake certainly provided me with an opportunity to do this.
Other lads have been in similar situations before, however I believe this is the first time I have EVER spanked a lad without offering him any payment.
What you see on this video is EXACTLY what took place on the day of filming. Before I turned on the cameras', Blake had no idea what was about to happen.
Let me share with you some details about Blake that I feel make this scenario even more thrilling.
1. Blake has never done any kind of Adult work before. He is a complete amateur (he initially answered an ad that I placed looking for a 'trades-man' and it was only after a series of emails that I gave his this opportunity to get spanked for cash.
2. Blake describes himself as a heterosexual male, who has never felt any urge to experiment sexually with another guy. He has no interest in being spanked and was only doing this work to earn some cash.
3. Blake has never been spanked before, especially by another man!
4. Blake told me over emails that he was shy about getting fully naked. When he goes to the gym he tries to avoid being naked in the changing rooms in front of other men. So with this in mind I took extra care to

ensure

he strips off fully as part of his punishment!
5. Everything happened in just one take exactly as you see on this film.
I hope you enjoy watching Blake's punishment as much as I enjoyed administering it!""
STREAM
VIDEO
Available streams for iPad, iPhone, Android, Chrome, Safari, IE or Firefox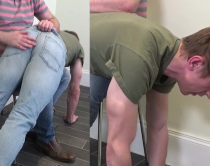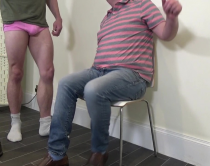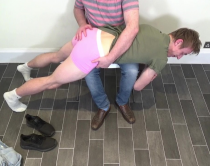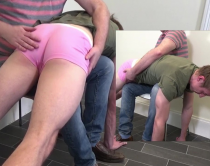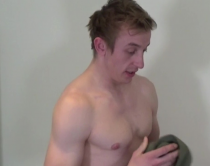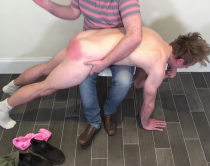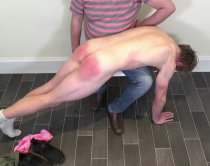 | 13th January 2020 22:55
Reply

Paddleboy | 27th April 2019 07:06
Nice to to see new model he deserved his real punishment I would have used a small paddle Dave

Dave - Straight Lads Spanked | 27th April 2019 07:22 (144 weeks ago)
Oh I'm sure there will be some future opportunities for you to see Blake paddled!

LoveGood | 9th May 2019 00:46 (142 weeks ago)
I certainly hope so Dave!! Looking forward to more of him!
Reply

JamieJones | 4th May 2019 19:14
Mmmm I like Blake. Hope we get to see him again because he could definitely become a favourite. 😊

That was a hard spanking and Blake looked as if he was starting to bruise so I hope that doesn't put him off filming again. Well done Blake and welcome to SLS.

Reply

mattnyc | 29th April 2019 14:07
Blake is SO sexy. What a great new model. He's perfect for the site. He's checks all my boxes. He's handsome, blonde, has great eyes, and the perfect body for a spanking model; smooth and muscular with beautiful thighs and a perfect butt for spanking. He's really masculine and didn't seem super nervous in his first movie so I think he'll be great with acting in anything else he shoots. He has an intelligent presence that makes him particularly attractive and great for this site. Dave, you've found yet another 10 out of 10 model! Amazing work. I like parts of the real punishment scenario. I love that Blake has to talk about getting spanked and say the word. That stuff is a big turn on for me. Great spanking, Dave. Very exciting debut. I can't wait to see more of Blake.

Serena89 | 30th April 2019 04:47 (144 weeks ago)
I totally agree at the whole having the guys have to decribe being spanked and even just say the word is so exciting and a huge turn on... no idea why I always thought that was just me being weird!
Also agree that Blake is sexy AF

mattnyc | 30th April 2019 17:37 (144 weeks ago)
AF!!!!!
Reply

vinniecp | 28th April 2019 12:35
Love Blake nice body nice bum too very cute to definitely now one of my favourites.hevtook his punishment well and so he should for messing you around well done Dave
Reply

Serena89 | 27th April 2019 16:09
I like Blake a lot, totally my type and not the conventional 'hot' and 'buff' guy. I love his hair and facial structure and lead body.
Real punishments are not my fave, especually as a first time show for the model as I am not sure how he will be in acing scenarios but at the same time I am excited to see and there is a lot of potential.

Glad to see this update and I hope you are doing well, Dave.
And omg I am a broken record but will we see Bobby again ahahaha I am a bit obsessed. Thanks for continuing to work hard and welcome, Blake :) It made me laugh a lot at how pissed off he was initially at the deal but well done to him for going through with it!

Serena89 | 27th April 2019 16:09 (144 weeks ago)
LEAN* body. Not lead lol
Reply

Orla | 27th April 2019 15:07
Another new model xx Blake did a super job here ,well done Blake for agreeing to do it knowing there was no payment and no actual guarantee of future paid work .I'm definitely looking forward to seeing more of Blake super cute guy and he took his spanking well,great job as well Dave for finding him, I was sure he was going to say no cos he got a little bit pissed when you said he wouldn't be paid.xx
Reply