RELEASED: 4th June 2015
Aaron
Health & Safety
Aaron works as a builder. He is a typical 21 year old and does not take things too seriously. That also seems to include Health & Safety issues at work!
Aaron does not follow the correct procedures when it comes to using the correct safety equipment and ended up falling off a ladder at work. Aaron was given an ultimatium by his boss. Lose his job or make a visit to Mr X the local community spanker!
Aaron chose the punishment!
Aaron thought he could talk his way out of the punishment!
Aaron thought wrong!
After a long lecture this masculine lad finds himself going over another man's knee and getting his bottom spanked! Aaron becomes less cheeky as more clothes get removed and the spanking intensifies!
Soon this tough builder is reduced to squirming around in pain as his bare bottom gets spanked hard!
""More from producer Dave, it was a lot of fun working with Aaron, he was really good with the dialogue. Very natural indeed. Anyway, I would be very interested to hear what you think of him. Would you like to see more Arron?""
STREAM
VIDEO
Available streams for iPad, iPhone, Android, Chrome, Safari, IE or Firefox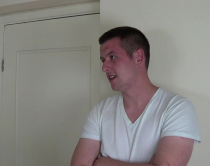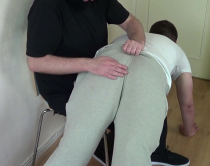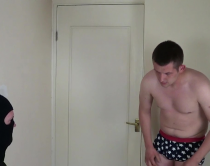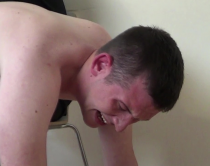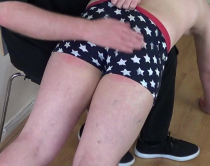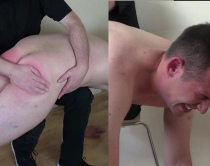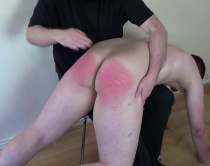 Serena89 | 13th February 2019 03:20
Hahaha I never thought I'd be having such a laugh in one of these videos. I know people who would react like that to Mr X I'm actually creased :') Calling him mate hahahaha I'd probably so the same just due to the bizareness of it all.
Also I find Aaron really attractive he has nice and expressive eyes and the same body type as my boyfriend so obviously thats my type. (ONE OF MY MANY TYPES APPARENTLY AHA)
So it's a more real world attraction for me as this is the type of guy I'd go for in real life not the pretty boys or more slight figured ones that I seem to favour on this site... I guess I have a more fantasy type preference and then my more real world preference... interesting.

Can't wait to see Aaron again.
Reply

jacko | 14th February 2017 11:57
Wow! So many positive comments and so well-deserved.

Our introduction to Aaron is immediately an introduction to his character, as facial expression, body language and tone of voice combine to establish this irresponsible builder as the convincing character around whom the scenario will develop. Then the wonderful smile which instantly catches us off-guard and draws us into the moment.

I have seldom witnessed newbies visiting Mr. X for the first time who have reacted so realistically and confidently. Aaron walks through the door, is confronted by a bossy man in a mask and wants to know, "What's happening?" Not a sign of the nervous fidgeting, stunned silence or the occasional "Yeah!" which is so prevalent when Mr. X's first-time clients find themselves face-to-face with their nemesis.

The ever-alert Mr. X is not to be mocked, however, so indignantly responds to Aaron's amusement with a barrage of stern words which wipes the smile from Aaron's face. Reacting to a warning from Mr.X, Aaron now adopts a respectful, wait-and-see attitude as he explains the reason for his visit. His voice is calm and clear as the interchange of dialogue darts between them. Now it is just a matter of time before this meek young man is obediently over Mr. X's knee and begging for forgiveness and mercy. Or is it?

So many funny lines and moments in this movie. What a joy! The many comments below provide conclusive evidence that Aaron is already appreciated and respected as a talented member of the SLS team.

The many twists and turns in this movie keep Mr. X on his toes and Aaron on his high horse. The constant struggle between the two adds interest and impact to a brilliant movie.

Aaron might not have the physique of Bailey or the cuteness of Dom but he does have a backside that is capable of hurting like hell and also glowing red. And boy, he has superb acting skills to go with it.

Thank you for the privilege of watching Aaron at his best.

I could go on and on but it has all been said in the comments below. The editing, direction, story line and acting were all first class. Congratulations to you all for a memorable video.

Reply

Hunter | 28th June 2015 23:21
I can't wait to see Aaron Again he a brilliant I have watched his debut video again and again today
Reply

Dave - Straight Lads Spanked | 7th June 2015 13:26
I am glad someone noticed the 'broken plate' analogy and enjoyed it! I really had no idea where that one came from! :)

Cherylkay | 7th June 2015 17:44 (260 weeks ago)
@Dave, I forgot to mention the broken plate bit. That was pretty nifty and a good way to demonstrate that an apology doesn't always fix things. I rather like your fertile imagination :-)
Reply

red1967 | 7th June 2015 17:34
Welcome to SLS Aaron I loved the movies and have to agree with some of the comments that Aaron good with dialogue the boy next door look how, cheeky he is This is only a few points I loved about him all of it has been said before I loved to see Aaron again and again Thanks Davie for making a great choice in picking Aaron I of course lol Mr X how mean he is but he gets his point across lol Thanks Davie Aaron and Art as always love your editing.
Reply

uchikimatsu | 7th June 2015 12:36
@Pridds - I agree, Aaron has that perfect "guy next door" vibe and an accent I love. I have a feeling my entire review is going to be made up of "I agree with's" because there are some really great points posted here! I'm not sure whats going on with the whole baby-fat issue, but I'll chalk it up to crowd mentality. Once a group gets a hold of something its usually a while till they let go. Exhibit A: Ryan's Hair.

Aaron is absolutely believable as a day laborer and could be any person we know. I don't think I've spoken about this before but sometimes an important element in film and television is the inclusion of an audience surrogate. This is a character that is written specifically to allow the audience to relate to him or her. They are just everyday people that get caught up in a fantastical world or situation. If everyone in a show was amazing and perfect, we might not be able to identify with the characters and thus never become invested in the story. I can think of two really good examples of audience surrogates. In Doctor Who it would be the companion(s) and in Torchwood its Gwen Cooper. These are just ordinary people that get swept into unbelievable storylines, and for just a moment, with all the unselfconscious delight of a child, we think, "that could be me!"

So, while its nice to have those bow-chicka-bow-wow oiled-muscled porn-stars to look at (I'm guessing...?,) when Aaron is up in front of Mr. X, with all the unselfconscious delight of an incredibly picky spanking video watcher, I think, "that could be real! look how natural and real that looks! SLSville exists!"

Like everyone else that posted a review I cannot go without mentioning how incredibly amazing he is in front of the camera. I use the phrase "in front of the camera" because I think he was more than just good with dialog and improv. He knew how to use body language and positioning, voice inflection, facial expressions, had good comic timing, didn't over-act, and never looked directly into the camera. I'm curious to know if he's ever done any kind of acting before or if he just has some innate talent.

There is nothing that anyone wrote here that I disagree with. Everything was a joy, so I won't re-type all my favorite parts because I think most of them have already been mentioned. The one I don't see that really made me blush and giggle is when Aaron called Mr. X "mate" for the second time, then realized his mistake and scrambled to correct himself. Everything about that scene was so perfect! His expression, the timbre of his voice, his timing... all of it really spot on. It was comical, yet at the same time elicited sympathy from me because I was a little scared for him!

Aaron is an absolute gem and I can't wait to see more from him. Please, Dave, don't make us wait too long!

Reply

I loved it.

Aaron really sums up what Straight lads is all about. he may not have a models body but he is just typical of the straight lads you see in London and I am a sucker for the accent :-)
Reply

Ficwriterjet | 7th June 2015 08:19
You're right, Dave, Aaron did do an excellent job with the dialogue. I find the videos so much more enjoyable when the person getting spanked is able to make it 'feel' real by staying in character, and saying things you imagine a guy in that situation would say, instead of just awkwardly being silent or stumbling over what to say. So great job Aaron - I'm impressed.

Great idea for a spanking movie too. I think it's pretty normal for people to cut corners on the job when it comes to safety issues, especially the younger people who think their invincible.

I thought it was funny that Aaron tired to say his back hurt to get out of the spanking, and then later said the spanking should be considered against his health and safety. LOL I loved the extra spanks for the swearing. He has an adorable smirk when he's being snarky, and it was cute to see his face change as he realized he probably shouldn't be snarky. I loved how reluctant Aaron was with each stage of the punishment, refusing to go onto the next phase without an argument. :) I thought it was pretty funny that he couldn't possibly imagine his friend Andy going through with getting spanked. The rest of us sure can. LOL

His body type isn't my favorite, but that doesn't mean I didn't enjoy the film. Andy, Matt, Scott, and Rico aren't really my favorite body types either. I prefer the lean/lanky look of Kevin, Karl, or Dan Lee. BUT I'll take someone who can act and stay in character over someone who can't, no matter what body type they are. For me personally, the acting is more important for my enjoyment of the film than the physical appearance. So I'd love to see Aaron in more films. :)

Thanks Art for the split screen work, thanks to Dave for making the movie, and thanks to both Dave and Aaron for the acting.

Reply

mattnyc | 6th June 2015 16:04
Aaron is great with the dialogue. I wish he was in better shape. Maybe following a string of amazing looking guys, Fraser, Matt, Kevin, and Scott, puts him at a big disadvantage. So for what it's worth, I definitely prefer a fitter body for a spanking model. That said, as always, the spanking action is great, the scenario great, and in this case, because Aaron is a good actor, the dialogue was great. So ok for me, not a home run. Thanks, Dave and Art. Looking forward to next week.
Reply

Ooleary | 4th June 2015 20:57
Hurrah for Dave you have another winner in Aaron I want to see him again he is a natural the conversation was effortless and well i always love Mr.X but the dialogue between the two of you was the best I've heard yet so natural and easy.

Loved Andy being mentioned and Old Mr.Smith, i could go on and on but i won't ruin it for anyone who hasn't seen it yet .

Im off to watch again .

Thanks Dave xx Orla xxx

Hunter | 4th June 2015 23:18 (261 weeks ago)
I did exactly Ooleary the it was worth it because Aaron was a star so like you I want to see more from Aaron to come back for more spanking of that good formed butt of yours especially when it turns red.

Dave - Straight Lads Spanked | 5th June 2015 12:32 (260 weeks ago)
Oh feel free t go on and on Ooleary! :)

Ooleary | 6th June 2015 01:12 (260 weeks ago)
Ok so i will go on and on and on ha ha .

When you asked Aaron what he found amusing and he answered You ,i just knew he was going to be a cheeky chappy and i was going to love him.

When you said he was going to have a sore bottom and he looked shocked and he's like your going to spank.me WHY that was so cute like a little kid.

I loved it when he called you mate and asked if there was another way to sort things out

So hilarious when he was trying to make out to you that his back was still hurting and sore ,his cheeky smile is adorable.

When you were talking about Andy and Aaron was like you never spanked Andy he wouldn't allow it i could hear the laugh in Mr. X voice too

I was like oh no you didn't just say the spanking didn't hurt silly silly boy outcome ... harder spanking

The whole conversation about the imaginaty

Ooleary | 6th June 2015 01:23 (260 weeks ago)
(Damn the tiny buttons on my phone hit submit by mistake )

The whole conversation about the imaginary plate genius so going to use that myself lol

I just knew this was going to happen and i kept waitimg for it so when he said FUCK i was like yes what a silly boy and the extra 10 spanks were hard

Jumping up when getting pants down i love when this happens

Kicking, squirming, squealing and pleading I love it all plus the nicely reddened bottom .

Yes i want more Aaron his acting dialogue he can take a spanking .Thanks again Dave and Aaron,
Reply

Lynne | 4th June 2015 21:28
I can tell it was along day. I downloaded the vid, saved it as usual and then couldn't find it. The vids save in alphabetical order and I kept looking for Aaron's vid after Andy's. It took a minute or so for me to remember that "Aa" comes before "An" :).

As a former safety inspector and accident investigator myself, this type of issue happens so often despite the threats, warnings and fines and this is a perfect response to the problem :)

I like Aaron; he seems to be a natural and he does remind me of a certain someone else attitude wise and in how he responds and argues :) . He did very well and will fit in great with SLS.

Hopefully he returns and soon :)

By the way Dave..when are you going to touch up the paint on that wall? :)

Lynne | 4th June 2015 22:14 (261 weeks ago)
As a follow up as in truth I hadn't watched the vid all the way through yet when I commented :).

Art, I really liked that split screen at the end so both Mr X and Aaron were visible.

uchikimatsu | 5th June 2015 04:08 (261 weeks ago)
Lynne, I thought the same thing about the paint on the wall...

Dave - Straight Lads Spanked | 5th June 2015 12:36 (260 weeks ago)
Well ladies regarding the paint on the wall..... One of the lads was meant to be doing that. I kinda left it there to shame him into finishing it but it never happened! lol!

You will however be delighted to hear that all the grouting in the bathroom has been fixed up!

Ooleary | 6th June 2015 00:59 (260 weeks ago)
Glad to hear about the grouting lol
Reply

Hunter | 4th June 2015 18:15
Aaron is another great new model Dave he is great with his dialogue With Mr X

Well done to Aaron for taking his deserved spanking without much fuss.

Aaron is going to be a great addition well done Dave

Dave - Straight Lads Spanked | 5th June 2015 12:30 (260 weeks ago)
Thanks for the feedback Hunter, I am glad you approve... So you would like to see more Aaron then?

Hunter | 5th June 2015 22:08 (260 weeks ago)
Hi Dave

Yes certainly Dave I would like to see more of Aaron

Hunter | 5th June 2015 22:10 (260 weeks ago)
Hi Dave

Yes I would Dave he was witty and I think he will prove a big hit
Reply

Rasputin | 5th June 2015 02:08
Aaron's a good actor, Dave. I'd like to see him in future videos PROVIDED he works out, develops his shoulder and upper arm muscles, and firms up his abs.

Dave - Straight Lads Spanked | 5th June 2015 12:35 (260 weeks ago)
Hi Rasputin, thanks for setting out your provisions. Do you have a particular training regime I should pass onto Aaron so that he can alter his physical appearance in order to be more pleasing for you?

Reply

Cherylkay | 5th June 2015 17:39
I thought Aaron was fantastic for his first film. He showed himself to be very good with dialogue and he also took a good spanking. Despite the fact that it never works, I like how he tried to negotiate his way out of a spanking by protesting that, at 21, he's too old for it. It may be a time-old phrase in spanking videos, but when Aaron says "You're gonna spank me?", I properly squealed. That line just never gets old for me. And like @welshboy, I liked Aaron's baby fat. Aaron might also be the first model I've seen with an appendectomy scar (I have one of those, too!). I just thought his imperfections added to the film and is a good reminder that we get all kinds of lads here. I'm not saying that Aaron isn't attractive, because he most certainly is. Please, please bring him back for more movies.

I think it might be time for Old Mr. Smith to rein in his employees a bit. They seem to get sent to Mr. X on a regular basis. But it's a great way to keep the builder storylines going.

I thought the extra spanks Aaron got for swearing were appropriate. It might be OK to swear on the job site or in the pub, but you have to "Respect The X" lol. I love it that you correct the guys' bad language. I know that's not cool and it makes me appear somewhat prudish, but I really dislike bad language. What can I say? I'm old fashioned LOL.

Dave, you and Aaron had tremendous chemistry in this one. I know "chemistry" is a word that gets thrown around a lot, but I really feel that you have it with your models. As I've said before, if I just wanted to see a cute guy get spanked, there are lots of sites out there that offer that. And I'm not even saying that the aesthetics aren't important. But for me, they're only part of the picture. SLS offers something that we can't get on other sites: one of which is good rapport between you and the guys who shoot for you. That's a huge feather in your cap, Dave.

Art, I'm running out of ways to say "job well done". But as usual, you did an amazing job with this one.
Reply

welshboy | 5th June 2015 16:25
For a first film Aaron did so well. His acting was first class. It seemed real and it flowed and their was no break in the way you talked to each other. The only down side for me was Aaron wearing sweat pants. But that was a small point. I for one loved Aaron's puppy fat. It was cute to see, and I do hope to see more of Aaron. Again Art your editing is getting better with each film. The spanking sounded great in this film. Well done all.
Reply

uchikimatsu | 5th June 2015 04:13
Oh my actual god.

I just... Aaron... I can't.... He... Nhjmd juju kiolp iyt...

:::brain melting:::

Dave - Straight Lads Spanked | 5th June 2015 12:37 (260 weeks ago)
Chiki! I really have no idea if this is approval or disapproval??

I look forward to reading your full report!

uchikimatsu | 5th June 2015 12:57 (260 weeks ago)
Say-Say approves... There are just no words, or maybe not enough words... I can't tell because my brain has melted from the nuclear brilliance of this film....

Aaron is precious... My Precious... I wants it...
Reply

lorilee | 4th June 2015 23:50
Welcome to SLS Aaron, you did a really good job for your first video. I think Dave is getting harder on the new models or you could handle more. I loved the story line it seemed to flow very well between you two. Hope to see more of you. Dave you are just so good with story telling and Art great as always.

Dave - Straight Lads Spanked | 5th June 2015 12:33 (260 weeks ago)
Thanks Lori, of course it's not Dave that it is getting harder, it is that mean Mr X!
Reply

kayjoe | 4th June 2015 21:48
Thanks Aaron! Welcome and I definitely want to see more of you. Great video. Thanks, as always, to Dave and Art too.

Dave - Straight Lads Spanked | 5th June 2015 12:31 (260 weeks ago)
Cheers Kay.... I'll see what others say about Aaron regarding getting hi back. It's looking fairly positive so far though! :)
Reply

MJM | 4th June 2015 18:41
Definitely need to see more of Aaron!

Dave - Straight Lads Spanked | 5th June 2015 12:30 (260 weeks ago)
I'll see what I can do MJM1 :)

Reply