RELEASED: 7th July 2017
Revenge Spanking
John, Elliot and Gavin
This spanking movie follows on from the previous production Spanked Bullies.
After being spanked by Mr X, Elliot and Gavin are looking for revenge! They really don't think it's fair that young John gets away with 'sexting' their girlfriends.
Elliot and Gavin decide that John should also get to feel a spanked bottom. So they go round to house with the intention of getting some revenge. After some discussion, Elliot grabs John and drags him over his knee and proceeds to spank the young man's bottom. Gavin stands by egging elliot on and making sure John gets what he deserves.
At first John thinks it's all a joke, but it ceases to be as funny when his trousers get pulled down and the spanking begins over his underwear. You can see the spanking is really beginning to work as John's cheeky attitude changes.
Eventually the pants come down and John's bare bottom is fully exposed as the spanking contnues! The spanking is rapid and hard and you can tell it's really hurting! Eventually Elliot and Gavin feel that lessons have been learned and they allow John to get up and pull his trousers and pants back up!
""More from Producer Dave. Unfortuantely there was a technical glitch with the cameras during the filming that give a result where the colour balance was out. I only realsied this once the filming was over and the lads were back home. I was really disappointed as I knew the footage was good. I decided to send it to my editor Art anyway to see what could be done. Having looked at it, the suggesiotn was made that the best way to salvage this was to turn it into a black and white movie. I really wanted you to see this movie and was happy that a solution had been found. What I like about this move is that even though it's not as long as some of my other productions, you can see that Elliot is spanking REALLY hard! I know that John could not have taken any more than what he took that day. Everything was filmed in real time so the end result replicates what happend on the day. I hope you enjoy this movie even in black and white. Normal service will resume next week""
STREAM
VIDEO
Available streams for iPad, iPhone, Android, Chrome, Safari, IE or Firefox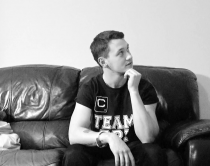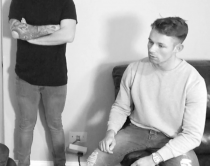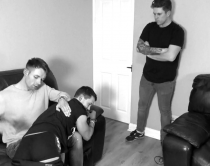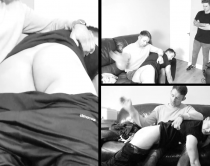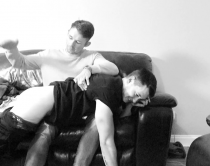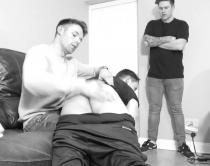 tinhead | 1st December 2019 02:43
Do you know Dave I reckon this is one of your best movies. Elliot really knows how to spank and he's learned from the best
Reply

tinhead | 18th May 2019 20:31
What a fantastic scenario. Elliot really dishes it out and John needed a spanking. Gavin looked moody and glad to see the lad being punished. What a cracking scene.
Reply

Ficwriterjet | 23rd September 2017 05:07
I love this movie. I've seen it a few times now. I don't mind the black and white at all. Elliot is lovely as the spanker. I have to admit I like him better as a spanker. He seemed very confident, and not at all hesitant. I thought it was amusing that he called John 'Little John', and asked him things like if he was sorry yet while spanking. John did a great job of taking a hard spanking, and keeping his cocky attitude for as long as he could.
Reply

JoeBro | 3rd August 2017 23:19
Congrats to Elliot for great energy and attitude administering the spanking. He's a natural - he kept up the lecturing, scolding and threats without a hint of awkwardness and punished with conviction. It took a while for John to start taking it seriously, and once he did it was suddenly over; so I think he got off a bit too easy. It would have been nice to see Gavin add his contribution to the lesson. I did like how they made it a pax and let bygones be bygones at the end. But Elliot has the spirit - he needs to spank more deserving rears.
Reply

Slipper Boy | 20th July 2017 21:26
A pity Gavin didn't get into the action candidate spank John
Reply

LucienG | 12th July 2017 23:16
Not a fan of the black and white. Elliot administered a good spanking. He appears to be a natural.
Reply

Kass44 | 7th July 2017 23:19
Oh! Damn! I am so torn - I was thrilled to see 2 of my fav actors in a film together - but DAMN! in black & white??? Love that you made the film. Loved that you shared the film! Loved the film! But please PLEASE tell me you'll get Elliot & John together again for a color film! Although Oliver and Chris and Dom will always be my 3 fav stars - these 2 men are giving them a real run for their money. They are both fantastic!
Reply

mstr_spkr | 7th July 2017 22:55
Well done, Elliot as a spanker! John, you took it well, too. Gavin, is a bit of a wimp. All John has to do is say he's sorry and Gavin says he's had enough. What was John sorry for? Was he simply sorry for getting caught? Gavin should have spanked John, too.

One-take videos are great for real punishment but this was not real punishment. Obviously the lack of color was disappointing but the length of the video was disappointing as well. For videos like this, I would prefer if they took breaks and Elliot had given John a proper spanking. Did Mr X simply pull their pants down? Both Elliot and Gavin should have given John a "Mr X-type" spanking like they got.

I know these guys are straight but as professional models, they have to get over their phallophobia. A full 3-stage spanking should be the norm in my mind. That's what these guys got just for wanting to shave John's head. Sexting is a whole lot worse. I hope John gets his due from his dad for having messed with these guys' gals.
Reply

Orla | 7th July 2017 22:43
Even in black and white it was still a great movie . Elliott is such a good spanker with his big hands and he went full on,poor John.Good banter between the lads and of course cheeky John, I love him so much and even in black and white his bottom is so cute ...this movie reminded me of the old days with Oliver,Andy & co.in the brother in charge movies must watch them again over the weekend
Reply