RELEASED: 9th June 2017
Elliot & Gavin
Spanked Bullies
Part Two
This spanking video continues directly from Part One.
The punishment continues for Gavin and Elliot. It reaches a whole new level when both lads are requested to remove their underwear and get spanked on their bare bottoms.
Elliot goes first and is fully naked over Mr X's knee. Gavin hardly knows where to look as his friend is getting spanked. Clearly Mr X is not in the mood for any messing around and takes his job very seriously as he dishes out a hard, hand spanking. Elliot is squirming around in pain as his bottom gets redder and redder!
Next it's Gavin's turn to pull down his pants and present his bottom to Mr X for a good, hard spanking. Gavin has a firm, beefy bottom and Mr X makes sure that every area of it is spanked.
The punishment is not just a hand spanking though, Both lads have to stand facing the wall and receive some lashes from the belt! 12 in total! Both lads are sore and humiliated as they stand there fully naked getting their bottom's belted!
STREAM
VIDEO
Available streams for iPad, iPhone, Android, Chrome, Safari, IE or Firefox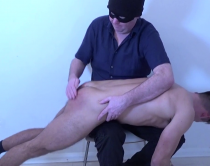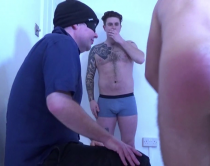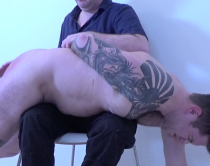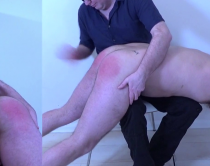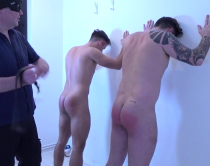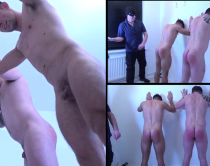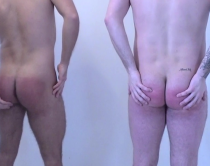 Edmund47 | 10th April 2018 22:15
Elliot is a hot lad
Reply

Slipper Boy | 17th June 2017 06:17
Nice to have a new model
Reply

Rasputin | 11th June 2017 23:46
This story began with these two lads trying to shave the head of their friend John because he sexted their girlfriends. Gavin and Elliot were stopped before they could shave John. It will be interesting to see what kind of punishment is in store for John. :-)






Reply

Rasputin | 11th June 2017 23:35
Good video, guys. However, instead of culminating in a belting with the two lads leaning against the wall, I think the video would have been even better if Dave had continued their OTK spankings, but this time with a bath brush.
Reply

Orla | 10th June 2017 20:42
Poor Gavin he got it so much worse than Elliott but great job by both guys ,seeing as these 2 are actual real life friends i was hoping for more banter etc but i guess Gavin was nervous being his first time and all maybe next time....

Loved all the split screens when you were smacking them with the belt ..close up of the bums and their facial expressions
Reply